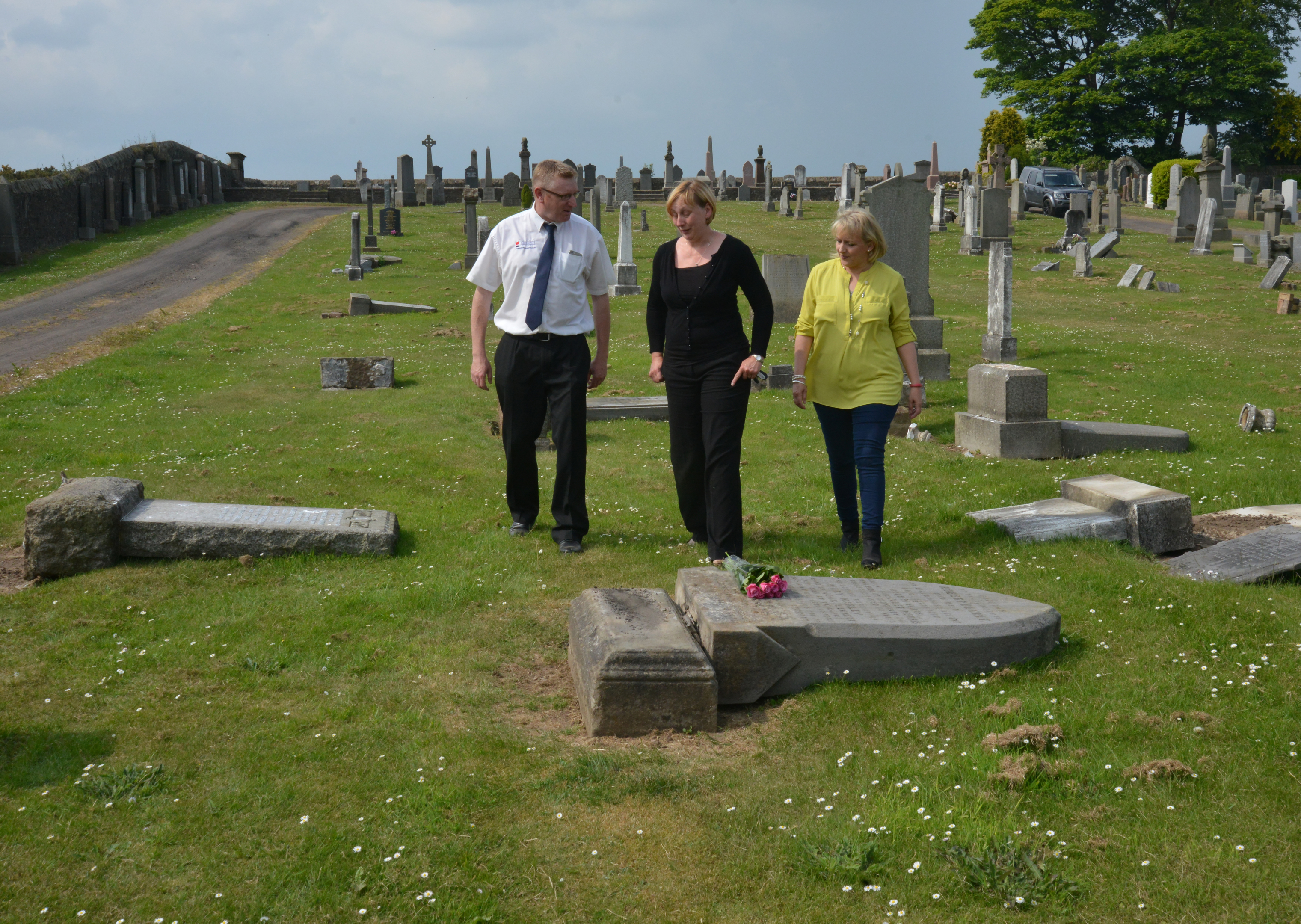 A charity has stepped in to help repair headstones in a graveyard desecrated by vandals.
The Skene Trust has pledged cash to fix the damage caused in Leslie Cemetery when more than 65 headstones were knocked over.
Locals were shocked to learn of the wrecking spree last month.
The Skene Trust dishes out an annual fund of £20,000 from the operator of Lomond Quarry to good causes.
Trustees decided to help when they heard with horror of the wanton destruction wreaked over the weekend of May 28 and 29.
Andrew Forgan, trustee and joint managing director of quarry operator Skene Group Construction Services, said: "It was a despicable act by whoever carried this out, just mindless.
"People are really quite upset about it.
"If it was one of your family's headstones which had been knocked over you would want it repaired but we are aware that not everyone has the financial resources."
The Skene Trust has already given £100,000 to good causes in Leslie and its environs, including the children's gala and floral displays.
It is awaiting Fife Council's assessment of the costs but expects to contribute several thousand pounds to help.
Mr Forgan said: "We want to help the families first and foremost but we also want to make more people aware of the Skene Trust and that this fund is available."
Liz Murphy, bereavement services manager for Fife Council, said: "Following the recent despicable vandalism in Leslie Cemetery, where a number of headstones where knocked over, we have been approached by the Skene Trust with an offer of financial assistance.
"The headstones are technically the responsibility of the families but we recognise damage on such a scale requires intervention and welcome the kind offer of assistance from the trust.
"Work will now take place to identify which stones can be re-erected safely with new foundations installed where necessary.
"Any families concerned that their headstone may have been damaged can contact Kirkcaldy Crematorium on 01592 583524 for more information."
Police are still hunting those responsible for what they described as a "deplorable act of vandalism".
An appeal for information about the crime was issued by Police Scotland shortly after it was reported.
The Skene Trust can be contacted at Skene House, Viewfield Industrial Estate, Glenrothes.