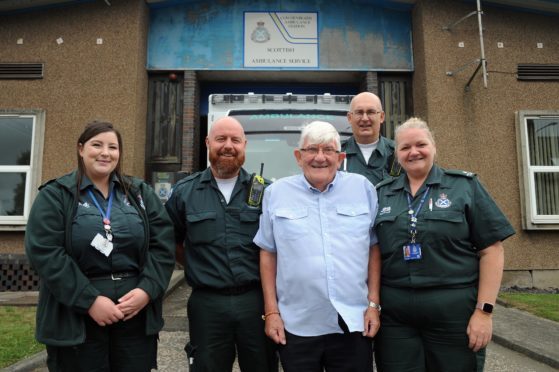 A pensioner has thanked members of the public and paramedics who saved his life after his heart stopped for nearly half an hour while a guest at a primary school nativity play.
Retired financial worker Stephen Nardone, 71, of Crosshill, Fife, suffered a cardiac arrest and had emergency CPR performed on him after falling ill at St. Kenneth's Primary School in Ballingry.
He had been invited to the December 15 show because of his work with the school as a member of the area's community council.
He did not regain conciousness for four days.
As he reunited with staff who helped him, Mr Nardone said he does not recall much and has relied on others to fill in the blanks.
He described how he entered the hall, spoke to a few people and bought a some raffle tickets before collapsing as he went to take his seat for the performance.
He said: "I vaguely remember speaking to people and just before it was about to start, I had a cardiac arrest.
"I collapsed on the floor. There were four off-duty nurses in the audience – their daughters or sons were in the play."
After an emergency call was made, instructions were passed by the call taker, Claire Stewart, to bystanders who performed emergency CPR until the Scottish Ambulance Service arrived.
Two crews were dispatched to the scene; the first was from Cowdenbeath, manned by Kevin Fitzgerald and Jim Hutchison.
Another crew from Perth, manned by Derek Mitchell and Nathan Thomson, soon arrived.
After Mr Nardone's cardiac arrest, the play was stopped and people were asked to leave.
Mr Nardone said: "People knew it was something serious, and they knew who I was.
"The kids were not in the hall at the time, they had not arrived yet.
"It took 27 minutes until my heart started again. The next thing I remember is waking up from an induced coma."
Stephen woke up on December 19 in the Victoria Hospital in Kirkcaldy.
He said: "My wife told me what happened when I woke up.
"It took a wee while to sink in. I was a wee bit groggy.
"I knew something had happened. I was confused more than anything else. I had never had one before.
"I was scary, but I imagine it would have been a 100 times worse for my wife. The treatment by everyone has been first class."
Mr Nardone said he has just finished a 10-week rehabilitation course and is to begin another one at the end of August.
Since the incident, Mr Nardone has been on a fundraising drive to raise money for a defibrillator at the school, as it does not currently have one.
Some of the money was raised from a race night while the school also assisted in donating around £1,000.
He said he was hoping to speak to the school to arrange having the devices installed.
On being reunited with some of the SAS staff who assisted on the day, Mr Nardone said it was great to say thanks in person, adding: "What can you say to someone who has saved your life."