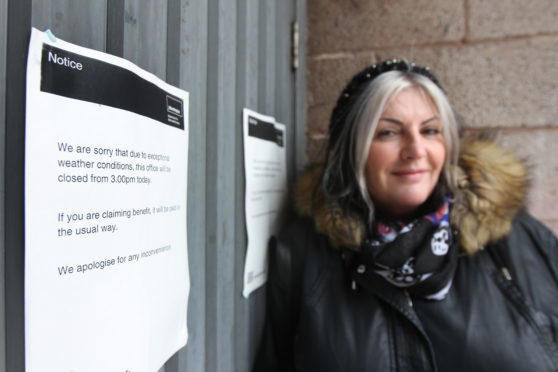 Benefit claimants in Dundee were reportedly left crying as a lack of communication left them in the dark over sanctions on their benefits.
Job seekers made the journey through the appalling weather to the JobCentre Plus office, near the Wellgate Centre, to find it closed.
In the 20 minute period The Courier spent at the door, at least a dozen people turned up for their appointment unaware of the closure.
Some even had to take their children with them due to schools being closed. Most said they were worried they will receive sanctions — despite the missed appointment not being their fault.
Lynn Lamond turned up on time and said she saw more than 20 people, many "worried sick" that they will have sanctions put on their benefits as a result.
She said: "The centre never contacted anybody. People were crying, they were not sure what was happening with their benefits. I got a text on Monday saying my appointment would go ahead and haven't heard anything since.
"People often get warned about being put on sanctions if they miss an appointment so it's not fair for not them to not get in touch over this."
Casey Tona, 37, who had to unnecessarily bring her two children from the "top of Hilltown", was also not told about the closure.
"I am worried," she admitted.
"I cannot afford to get sanctions. There should be a text alert if something like this happens."
Jade Soutar, 30, also had to take her two children on the futile journey.
"I messaged my work coach (a point of contact for someone on Universal Credit) the night before to see if my appointment was still on but I never heard anything so that is why I came," she said.
"I had to get a taxi from Lochee because of the weather. That is an expense for nothing.
"People have gone to a lot of trouble to get here. It's not fair."
A note on the office door read that the centre would be closed "today from 3pm", but this was presumably left on Thursday as people turned up before 3pm on Friday to find the door shut — adding to the confusion.
A Google search suggested that the office was open as usual yesterday. The Department for Work and Pensions (DWP) did tweet a list of closed centres, including Dundee, but calls were made for them to make more effort and contact everyone that would be affected directly.
"They are quick enough to tell us when we're late or don't turn up," Casey added.
"It's only fair they do the same when they can't make the appointment."
A DWP spokesman said: "Contingencies have been in place and people won't be sanctioned at offices affected by the weather.
"Every effort has been made to contact people with appointments directly in advance.
"We've also used social media — through local Jobcentre accounts, as well as DWP accounts — to get the message out.
"Normal service is expected to resume from Monday March 5."