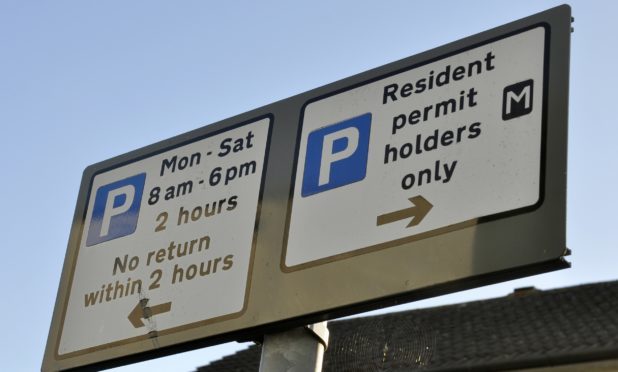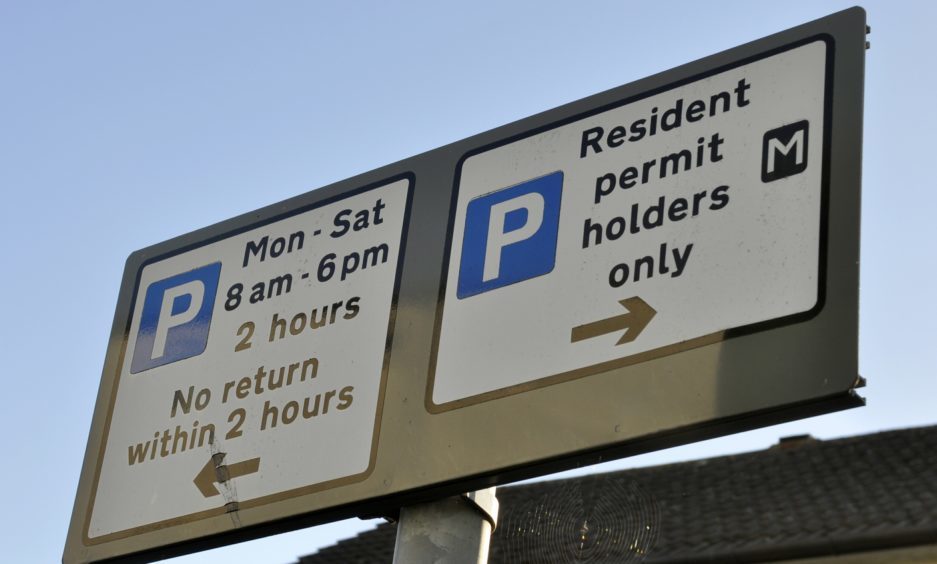 Dundee City Council could introduce three new residents' parking schemes around the city centre.
The scheme would see residents in council wards Coldside, Maryfield and the West End pay around £60 a year for permits to park on the street.
Permits will be limited to one per household, although an appeals panel would be set up to consider requests for additional vehicles.
Commuters who park in areas reserved for residents could be ticketed.
City development convener Lynne Short said feedback from the Engage Dundee consultation had highlighted concerns about people parking all day to avoid charges.
"Elected members in these areas are also regularly contacted by residents who find it increasingly hard to park outside their home," the Maryfield SNP councillor added.
The scheme would cost £723,000 to set up and around £103,000 a year to run, although council bosses say this would be met from the sale of permits.
---
Local reaction
"It is a good way to make sure the space is there for people who live there. For someone who drives, they might not be able to afford the annual amount in one go as driving is expensive, but as long as they can pay it monthly then it's a fair amount — Ben Thomson, 18, student, Menzieshill.

Ben Thomson
"I am a driver and come into town but the parking is especially expensive, but I do feel for the people who live on those streets. Dundee is one of the most expensive cities to park in the centre but the people shouldn't struggle to get spaces in their own street — Evelyn Curtis, 68, retired, West End.

Evelyn Curtis.
---
If the proposal is agreed, it will be introduced area by area starting in the next financial year (2018-2019) in Coldside, with a review planned for 2020-2021.
Depute committee convener Mark Flynn said: "We are confident that the vehicles displaced from residential streets can be safely accommodated in our off-street car parking provision at Bell Street, Gellatly Street, Olympia and Greenmarket."
The proposed scheme in Coldside covers residential streets in the Dudhope and Hilltown areas, while the Maryfield element's eastern limit would end at Market Street, with the northern limit terminating at Lyon Street and aligning with the Coldside ward at Alexander Street.
A residents' parking zone could also be created west of West Victoria Dock Road, south of Victoria Dock and as far east as Camperdown Dock and the Queen Elizabeth Wharf.
In the West End, the scheme would have a western limit of Windsor Street extending to South Marketgait in the east.
The northern limit would be Blackness Avenue, Blackness Road, Forest Park Road, Milnbank Road, Polepark Road and Lochee Road to Dudhope Terrace.
The council operates three residents' parking schemes – in Menzieshill, Broughty Ferry and the city centre.
A previous attempt to introduce a scheme in the West End in 2012 was dropped after the suggested £80 annual fee was deemed too high.
West End Liberal Democrat councillor Fraser Macpherson, who has twice tried to reintroduce residents' parking permits in his ward since 2012, welcomed the proposals but said more consultation on the details was needed.
"It says the costs would be around £62 a year but that doesn't address the concerns about the cost differential – the Menzieshill scheme is only something like £7 a year," he said.
"My second issue is the limit on permits, which is unfair and impractical."
Labour West End councillor Richard McCready said he was in favour of permits but did not feel the proposed charge could be justified when it was so much more expensive than the one on offer in Menzieshill.