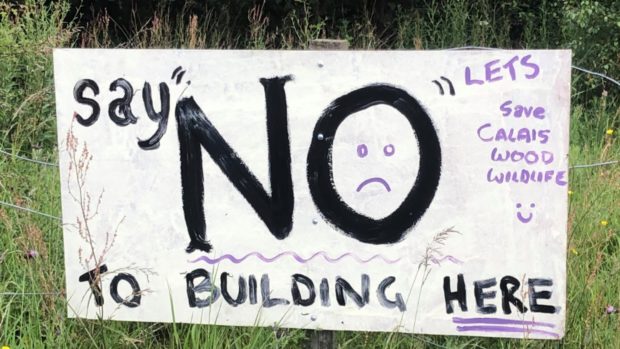 Ambitious plans for a major mixed-use development to the east of Dunfermline have been met with a wave of opposition from local residents.
The Stirling-based Almond Real Estate Company is seeking planning permission in principle to turn the Axis Point site in Sandpiper Drive, near the Amazon warehouse, into 190,000 square feet of industrial units, car parking and access roads.
However, a group of local campaigners have mobilised against the plans for the corner of Calais Muir Woods, which they say will have a huge impact on wildlife and the environment and would deprive the community of an important walking spot.
Well over 300 objections have been submitted to the blueprint, and the Calais Woods Conservation Group plans to hold a day of campaigning at Duloch Park on Saturday between noon and 1.30pm to raise awareness of the development.
A spokesperson for the group said the plans for around the Calais Muir Woods, which have been there for more than 100 years and are known locally as 'Kellis Woods', risked "suffocating" the important woodland.
"Being stuck indoors during the coronavirus outbreak has reminded all of us just how important it is to have access to the outdoors," the spokesperson added.
"I've had the good fortune to grow up just a short walk from Calais Woods to enjoy walking it my entire life.
"But our woods and the natural beauty that we are so, so lucky to have on our doorstep is under threat.
"If this development was to be approved, it would be devastating to the local area."
The proposals comprise a mix of class four (business), class five (general industrial) and class six (storage and distribution) units, and associated infrastructure.
Agents for the firm involved have held three pre-application consultation events and say they are awaiting a decision from Fife councillors on whether a more detailed planning application will be welcomed.
They say the land has been allocated for industrial use in the Local Plan.
"A common theme across all three public events was the perception that because this site was not enclosed with permanent security fencing or even temporary 'Heras' fencing, it was somehow public land, and seen as an extension of the 34- hectare Calais Muir Wood to the west of the site," the agents said.
"The site is apparently well used by dog walkers and for various leisure activities including mountain biking.
"The loss of this green space, together with possible ecological and environmental impacts was of concern to many, irrespective of the private ownership, allocation for employment use in the adopted Local Plan, and the site's immediate proximity to Duloch Park and Calais Muir Wood, which together constitute the major greenspace amenity for this part of Fife."