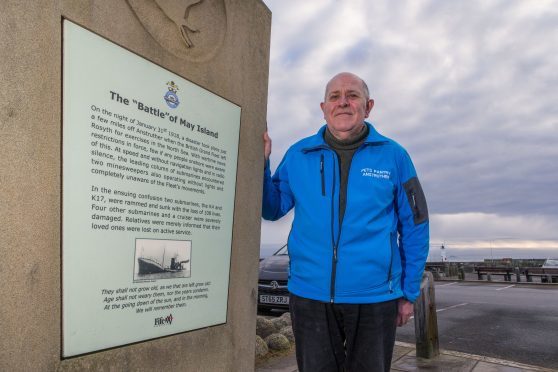 Fifers are being urged to unite later this month to mark one of the worst maritime tragedies to occur in the Firth of Forth.
More than 100 sailors lost their lives in the so-called "Battle of May Island", a naval catastrophe that occurred off the Anstruther coast on January 31 1918.
As preparations are made to mark the centenary of the disaster, Martin Dibley, secretary of Anstruther Community Council, said he hopes residents will come together to pay respects to those who lost their lives.
"It was something that was hushed up at the time," he said.
"It is of great significance to the area because the only other memorial to it outside of Anstruther is in London.
"A lot of people lost their lives and so it is important that this is something that is commemorated.
"We hope this is something that people will come out and support."
Though referred to as a "battle", the incident was in fact a catastrophic naval accident that involved no enemy forces.
A series of collisions occurred between submarines and ships sailing out on exercise from Rosyth, resulting in the tragic loss of 104 men.
The wrecks of two of the sunken submarines, which lost the vast majorities of their crews, were only found in 2011 by surveyors scouting wind farm locations.
A memorial service will take place at St Ayle Church at 11am on the centenary of the disaster, with a wreath laying ceremony expected to take place afterwards at a memorial plaque at Anstruther Harbour.
Among those expected to attend are  officials from the Royal Navy, the Royal Naval Association,  Royal British Legion Scotland, and Fife Provost Jim Leishman.
Sandy Stuart, 70, of the Royal Naval Association (Submariners) said that it was important the men who perished are remembered.
Mr Stuart, who lives in Kirkcaldy and who spent 22 years as a Royal Navy submariner, said: "I think it is important that people from Fife remember what happened.
"It's particularly important that the young ones learn about it, like Armistice Day.
"It would have been incredibly frightening for those involved."
A catastrophic chain of events
It was under the cover of darkness on the night of January 31 1918 that around 40 Royal Navy vessels left Rosyth bound for Scapa Flow, Orkney.
The mixture of battleships, destroyers, cruisers and submarines were to take part in Operation E.C.1, a top secret military exercise that was to involve the entire Grand Fleet of what was then the world's greatest naval power.
However, what was planned to be a flexing of British military muscle was to become a catastrophe as thick fog descended on the flotilla as it sailed along the Firth of Forth.
Amid reports of the presence of a German submarine, the vessels sailed in a single line some 30- miles long, displaying only minimal lighting and maintaining radio silence in what were challenging conditions.
As the vessels approached May Island, one of the subs was forced to take evasive action to avoid ramming a minesweeping trawler which appeared out of the darkness.
The manoeuvre confused her trailing submarines and as attempts were made to restore the queue of shipping, a chain reaction of collisions began.
After less than 90 minutes, two submarines – K4 and K17 –  had sunk to the bottom of the Forth while four others had sustained severe damage.
The cruiser HMS Fearless, which had been leading a subsequent flotilla of shipping was also damaged after colliding with K17, causing the sub to sink.
Unaware of the tragedy taking place in the mist before them, several of the following destroyers cut through those submariners fighting for their lives in the freezing water.
In all, 104 men died in what became known as the "Battle of May Island", a term adopted in black humour to describe the tragic events, while to avoid embarrassment any news of the investigation and subsequent court martial was kept out of the public eye.