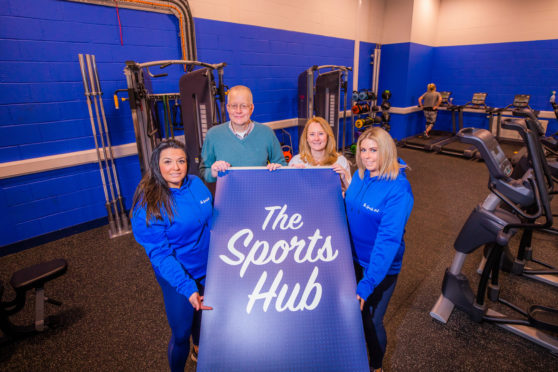 A group of Perthshire residents are delighted the sports facility they took over has proved popular with local users.
Live Active withdrew its services from Auchterarder last year, apparently due to funding cuts.
A group of six people from the town formed in September to create the Sports Hub Working Group, a sub-committee of the Auchterarder Community Sports and Recreation (ACSR) charity.
The sub-committee's members say they "feel strongly" that the sports facility at The Community School of Auchterarder should be available to the community as widely as possible outside of school hours.
Group member Gemma Myles said: "[Live Active's] withdrawal was a result of funding cuts by Perth and Kinross Council.
"This all happened very quickly, without any community consultation and was effective from the end of the school year in June 2019."
The Sports Hub is open to local sports groups such as Auchterarder Community Football Club and Auchterarder Angels Netball Club.
Gemma said: "The average number of users each month since opening is over 600.
"There's clearly a demand for this sort of facility in the town.
"As long as people carry on using and supporting it, the Sports Hub will thrive as a well-used and vibrant centre for the whole community."
She added: "Although the group was formed out of frustration at what we saw as previous mismanagement and under-promotion, we feel that's very much in the past and we're focused on all the positive aspects that have come out of that difficult situation."
Stacy Bookless is involved in the day-to-day running of the sports hub.
She said: "We are really proud of the work the community have done to open this for the locals.
"We're really happy with its growth."
The group is working to take over all operational aspects of the town's sports facility at evenings and weekends on a not for profit basis.
They hope it will benefit the entire community of Auchterarder and its cluster villages of Blackford, Aberuthven and Dunning.
A Perth and Kinross Council spokesperson said: "Live Active Leisure (LAL) faced significant financial pressures in 2019/20 even after a Council decision to reinstate £200,00 of proposed savings.
"These pressures were due to living wage requirements and the need to repair and maintain several LAL venues, which are owned by LAL not the council.
"To meet these pressures the LAL Board decided to withdraw its management of community sports facilities at CSA.
"A community-led initiative to reinstate community access to the CSA facilities is underway and is being supported by LAL's Community Sports Hub team."