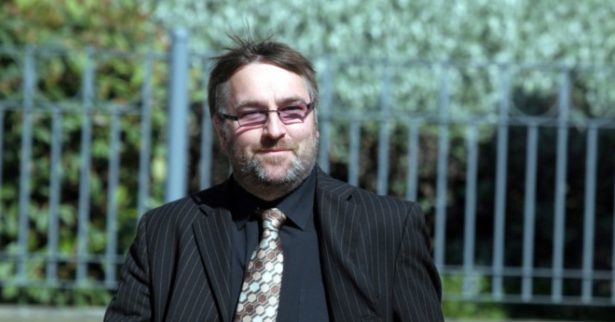 A warrant has been issued by Sheriff Lindsay Foulis for the arrest of a property tycoon after he failed to pay a penny of the fine he was handed for driving dangerously.
Police Scotland have been told to track down businessman Mark Harris after he failed to turn up to court on Tuesday to explain why he had not paid his fine.
Harris, from Dundee, was banned for 30 months and fined £2,000 after being found guilty at Perth Sheriff Court of dangerous driving.
He crashed into a garden after trying to outrun the police during a 120mph chase on his way home from the pub.
Harris lost control of his vehicle and ploughed through a wall and into a garden.
He was found guilty of dangerous driving and failing to stop for the police.
Harris had claimed during a week-long trial that he lost control because he swerved to avoid hitting a deer on the road.
He said he was driving a different car because he had caused £23,000 damage to his Rolls-Royce hitting a deer in a previous incident.
Depute fiscal Bill Kermode told the court: "The pursuit continued for some miles on the A90.
"The manner of driving here indicated a pursuit and avoiding the police. He did not slow down or pull in.
"It would have been absolutely clear to him the police were solely interested in his vehicle.
"It was only brought to a halt by a collision which disabled his vehicle.
"It is my submission Mr Harris knew he had been drinking.
"Admissions were made at the scene and he smelled of alcohol at the hospital and his speech was slurred."
Harris said: "I was doing in excess of 90mph. "I was fairly comfortable with my speed and capability for driving.
"I didn't see a problem."
He told the trial he had pulled off the A90 into the village of Longforgan but denied driving at double the 30mph limit when he lost control and smashed into a wall.
"There was an animal – I think it was a deer – on my left hand side.
"I had a split second and I deliberately went in the opposite direction to avoid any collision. I hit a dyke."
Police had been looking for Harris on the evening in question as they had received two anonymous reports that he was driving home from the pub while drunk.
He said that he was unable to provide enough breath to satisfy the breathalyser and had a lifelong "phobia of needles" that left him unable to give blood to the police.
Inspector Neil McLeod, Police Scotland's head of road police training, told the trial he would have expected police to catch up quickly with Harris if he had been driving at a "normal" speed.
Harris, 46, of Mylnefield House, Invergowrie, was found guilty of driving dangerously at more than 100mph in wet road conditions on the A90 between Invergowrie and Longforgan, and of driving at 60mph in Longforgan and showing total disregard for the safety of other road users.
He was found guilty of losing control of the car and colliding with a fence and wall at 89 Main Street, Longforgan.
He was also found guilty of failing to stop for a uniformed police officer during the incident on December 23 2013.