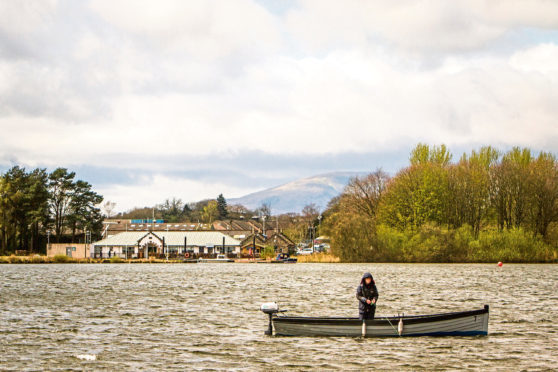 Warning signs have been installed at Loch Leven, alerting visitors to hazardous blue-green algae scum at the water's edge.
Walkers are warned to keep their dogs away from the substance which is known to appear at the Kinross-shire beauty spot during hot weather.
Although most blue-green blooms are not toxic, some algae produce nerve or liver toxins which could be dangerous.
Signs erected by Perth and Kinross Council warn visitors: "High concentrations of blue-green algae have been found in this water.
"Swallowing the water or algal scum can cause stomach upsets or more serious health effects."
The notice states: "Contact with the water or with algal scum can cause skin problems.
"It is a sensible precaution for you, your children or your animals to avoid contact with the scum and the water close by."
In the early 1990s, the algae was a major problem at Loch Leven and was said to have cost the local community about £1 million in lost revenue.
Scottish Natural Heritage (SNH) – which manages the site – the Scottish Environment Protection Agency (Sepa), Scottish Water, and Perth and Kinross Council embarked upon a radical clean-up programme.
Last year, research carried out by NERC Centre for Ecology and Hydrology (CEH), SNH and partners, has revealed the freshwater loch's water quality has "improved hugely" over the past 25 years.
Where once light could only penetrate one metre below the water's surface, now it is able to reach depths of 5m.
Such is the success of the project, it is now being held up as an example to similar schemes around the world.