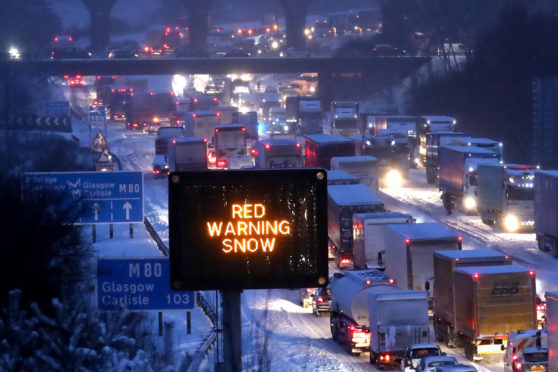 Hundreds of schools are closed and rail and bus services cancelled as Scotland continues to be battered by the "Beast from the East".
In one of the most serious incidents, motorists have been stranded overnight on the M80 near Glasgow. Traffic ground to a halt near Cumbernauld on Wednesday afternoon when heavy snow hit.
Nicola Lee has been stuck in her car for almost 12 hours.
She told the BBC this morning: "It's not too bad. We're in the car and we're warm.
"There's not really much to look at. It's just like a car park. Nobody's got their lights on any more. I think everyone's trying to sleep."
She said people living in the area had come to their aid, delivering food and drinks.
Nearly 7 hours in the car and some locals have been going round the cars on the motorway offering hot chocolate and tea ??? #M80 pic.twitter.com/Oz0BTnCqwi

— SageCirca (@Walker_2603) February 28, 2018
Nicola said they had seen police passing on the opposite carriageway but they still didn't know when the motorway would be cleared and traffic start moving again.
Graeme Murray left Aberdeen at 2.45pm with his daughter Ella, 16, who was hoping to catch a flight to Dublin from Glasgow for an under-17s netball competition.
Speaking at around 10pm, the 49-year-old legal commercial director said: "Everything was going well until just after Gleneagles, then we hit the traffic jam at 5.05pm and have been here ever since.
"We have no idea what's happening, we're just getting messages from home.
"I think we're going to get ready to spend the night here."
Been stuck on this bus on the motorway for 3.5 hours in the snow chaos. A guy who lives nearby just came on handing out water and snacks donated by his local shop. What a guy! That's the scotland way! ❤️??????? #snow #M80 pic.twitter.com/XTGy4tY57f

— Rachel Muircroft (@rachmuircroft) February 28, 2018
Mr Murray said there had been people from the local area who had been walking up and down the motorway offering chocolate biscuits and hot drinks.
He added: "That was very welcome."
Police Scotland tweeted advice to avoid the route, while also telling people not to abandon their vehicles.
Other major roads also faced disruption, with the M74 being reduced to one lane heading north and south late on Wednesday.
Mountain rescue teams were drafted in to help emergency services deal with the overnight operation.
Met Office forecasters issued alerts across most of Scotland, with the highest level warning continuing until 10am on Thursday in central regions.
It is the first red alert for snow in Scotland since a new warning system came into place in 2011.
Virgin Trains has closed all its routes to and from Scotland throughout the day, while ScotRail halted all operations in the affected red area until late morning.
Bus operators in central regions also reported there would likely be disruptions continuing on Thursday.