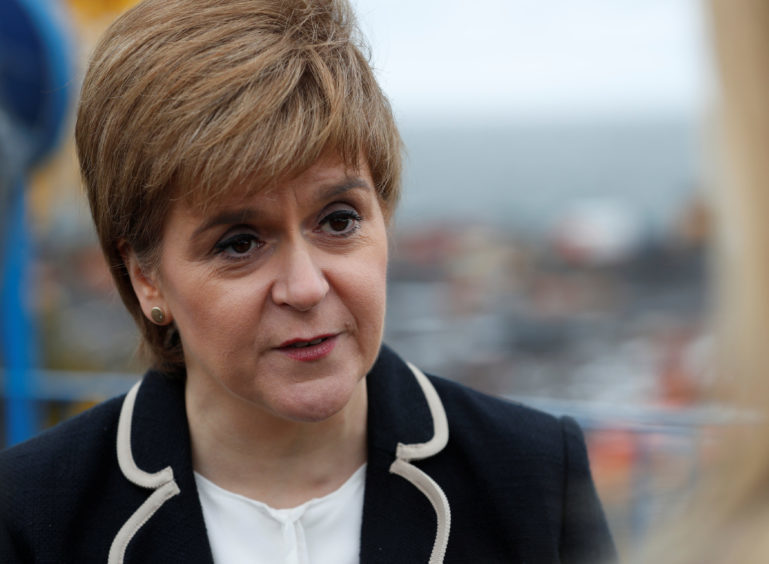 The SNP leader brought the party's two-day spring conference in Aberdeen to a close with her keynote speech.
Here it is in full:
Friends,
It's great to be back here in the Granite City.
Aberdeen has been through some tough times in the last few years.
But it is on the up again.
The Oil and Gas Authority said just last month that the North Sea 'is back'.
Though the Westminster parties are still trying to work out how to claim that as a disaster for Scotland.
The new city bypass will be open later this year.
That's investment of three quarters of a billion pounds – neglected for decades by previous administrations and now being delivered by the SNP.
And not far from here is the fantastic new Aberdeen Offshore Windfarm.
Or as some people like to call it – given his past interest – Trump Towers.
The President might not be a fan, but this cutting edge renewable energy project is an astonishing feat of engineering.
And it confirms Scotland's rightful place as Europe's energy powerhouse.
You know, two years ago, the Scottish Government launched a 12 million pound Transition Training Fund to help people in the energy industry enhance their skills and expertise.
The aim was to help 1000 people a year.
That target has been exceeded.
3300 energy workers are now benefiting.
And therein lies a difference between the SNP and the Westminster parties.
When the oil price fell, Labour and the Tories saw it as an opportunity to talk down Scotland's potential.
We – the SNP – got to work to protect Scottish jobs.
Aberdeen is a great Scottish city.
It is a truly international city too.
Nearly a quarter of all people who live here were born outside the UK.
Those who have made Aberdeen their home have helped create wealth and jobs.
They have enriched this city and our country in so many different ways.
Friends
Westminster might want to create a hostile environment for migrants.
But let me make this clear today – that policy is not in our name.
Our message to everyone who has chosen to build a life here in Aberdeen, or anywhere in Scotland, is this –
You are welcome and we want you to stay.
Westminster's hostile environment is not just a slogan. It has a real impact on our communities, our schools and our hospitals.
Recently, a school on the Isle of Mull struggled to fill a Gaelic teaching vacancy.
Eventually, a teacher from Canada applied for and got the job.
And then she found herself blocked by the Home Office.
When John Swinney took up the case with the UK government he was told they wouldn't even send a reply.
Well, the Tories might not reply to us. But I think we should reply to them.
Drop your anti-migrant obsession. Drop it now and put our school pupils first.
Of course, the hostile environment is not just affecting schools.
It's hitting our health service too.
Since the Brexit vote there's been a huge drop in the number of EU nurses registering in the UK.
And until a couple of days ago, a young student nurse from Paisley, a former member of the Scottish Youth Parliament, Denzel Darku, was being threatened with deportation.
At first sight that beggars belief.
But, in reality, it's just the Tories being true to form.
Hostile to migrants and neglecting the NHS.
Shame on them.
Friends,
The SNP has different aspirations for Scotland.
We need and we want people to come to work in our country.
Our prosperity and our public services depend on it.
So if Westminster cannot or will not act in our best interests, it is time that our own Parliament was able to do so.
It is time for powers over migration to come to Scotland.
Friends
Next year, our Scottish Parliament will mark its twentieth anniversary.
Having a Parliament of our own has changed Scotland.
And it has changed Scotland for the better.
It has allowed us to protect our NHS from privatisation.
Deliver free personal care.
Mitigate the bedroom tax.
Set and meet world leading climate change targets.
And much more besides.
It also meant we could abolish student tuition fees.
And let me reaffirm this today:
For as long as the SNP remains in office, tuition fees are not coming back.
This twenty year milestone should be a time of celebration.
Instead, the powers of our parliament are under threat like never before.
On Tuesday, the EU Withdrawal Bill returns to the House of Commons.
As it stands, that Bill allows UK ministers to remove Scotland's powers for up to seven years.
Agriculture, fishing, trade, environmental standards, consumer protections – areas that really matter to people and to businesses across the country.
And they want to be able to do so against the will of the Scottish Parliament.
That is completely unacceptable.
That's why the Scottish Parliament voted overwhelmingly – and across different parties – to refuse consent to this power grab.
There was only one party happy to sign away Scotland's powers.
You've guessed it – the Tories.
So you can imagine the surprise when Ruth Davidson, asked recently about the possibility of the UK legislating for Northern Ireland, said this –
"I know how angry I would be if the House of Commons legislated on a domestic Scottish issue over the head of Holyrood".
Yes – the very same Ruth Davidson who argued for, demanded, and then voted to allow the House of Commons to do exactly that.
Now, let's be frank – Ruth Davidson's rhetoric very rarely survives contact with reality.
But that took her hypocrisy to a whole new level.
Next week, the prevaricating comes to an end. It is decision time for the Tories.
They can choose to respect devolution or they can prove what many in Scotland have long believed.
The Tories cannot be trusted with the Scottish Parliament – not now, not ever.
The government at Westminster is paralysed on Brexit.
In fact, stripping Scotland of its powers might be the only Brexit related issue they can agree on.
Everything else is on hold as they fight among themselves.
Jacob Rees-Mogg – the member of Parliament for the 19th century – is waiting in the wings to drag us back two hundred years…where he will no doubt find the DUP waiting for him.
The Prime Minister rules out membership of the single market and the customs union, even though she has absolutely no idea what to replace it with.
All of her efforts are spent trying to stop her totally dysfunctional Cabinet falling apart.
And isn't that going well?
Remember, during the independence referendum, Scotland was told that a No vote would mean strength and stability.
Now we have a Foreign Secretary who says the country is heading for meltdown – but don't panic, it'll all be worth it.
Conference
Even among the Tories, there can rarely have been an individual so unfit for high office as Boris Johnson.
Theresa May says Boris is just Boris.
We say he is an embarrassing liability.
And enough is enough.
Not one of these Tories seems to care a jot for jobs, prosperity and living standards.
This UK government is a shambles.
It is reckless.
It is selfish.
And the sooner it holds no sway over Scotland, the better for all of us.
Westminster wants to drag Scotland back.
The Scottish Government is moving Scotland forward.
Every day, we strive to make this country a better place to live.
We are governing in tough times.
The legacy of the recession and Westminster austerity challenges us every single day.
In countries across the world, social democracy appears to be in retreat.
And many long established political norms are now in a state of flux.
For progressive parties like ours, that makes it more important than ever to focus on what makes a difference.
And to stand up for what we believe in.
Sometimes that means taking on powerful interests and making tough decisions.
And that's what we do.
We are the party with the courage in government to ask people who can afford it, to pay a bit more in income tax to protect our precious public services.
And we should be proud of that.
Last month, we became the first country in the world to introduce minimum pricing for alcohol.
That policy is not universally popular, but it will save lives.
We overcame many hurdles along the way and we should be proud that we persevered.
We are also getting Scotland's economy ready for the future.
We're setting up a new Scottish National Investment Bank.
It will put Scotland at the forefront of technological and environmental innovation and help to create jobs.
Of course, it will take a couple of years to get the bank up and running.
So to bridge the gap, we have announced 150 million pounds over the next two years for a new Building Scotland Fund.
Friends
I can announce today that this Fund is now open for business.
70 million pounds will be invested in this financial year.
20 million pounds of it will support industry led R&D projects and digital innovation.
25 million pounds will support new low carbon industrial facilities.
And another 25 million pounds will support the delivery of 3,000 new homes.
And just to be clear – that's 3000 over and above our existing target of 50,000 affordable homes over this Parliament.
Boosting the economy now.
Preparing it for the future.
And building the homes that people need.
We're taking Scotland forward while Westminster tries to drag us back.
We're creating a fairer Scotland too.
In April, the Scottish Parliament passed the Social Security Bill.
Westminster is punishing the poor and the sick.
The Scottish Government will always treat people with dignity and respect.
We can't undo all the damage Westminster is doing,
But where we can make a difference, we will.
One of the biggest debts we owe as a country is to unpaid carers.
Let's thank them today for all that they do.
We can never fully repay that debt.
But now that Carer's Allowance is devolved, we can make a down-payment.
I can confirm today that, from this summer, backdated to April, we will increase Carer's Allowance by more than 500 pounds a year.
From next summer, we'll also deliver the new Best Start Grant to help tackle child poverty –
It will give 600 pounds to low income families on the birth of their first child, 300 pounds for each additional child and further payments at key milestones in children's lives.
And let me put this beyond any doubt – there will no two child cap and no rape
clause under the SNP.
Friends
Day in, day out we're working to move Scotland forward.
For many people the cost of living is a big worry
So we're doing what we can to give a helping hand.
Here in Aberdeen we piloted a scheme to provide free sanitary products to those in low-income households.
We are now investing half a million pounds to extend it across Scotland.
Practical help to those who need it – and leading the world in tackling gender injustice.
We've also announced a new 100 pound minimum school clothing grant.
That grant will benefit 120,000 families across Scotland.
Helping people who need it most.
And – perhaps most importantly of all – we've just struck a deal with councils to invest almost 1 billion pounds a year to double free childcare.
I've spoken before about the transformational potential of this policy for children.
About the 11,000 new childcare jobs it will create.
And the thousands of pounds it will save families every year.
Let me tell you now today about the economic boost it will deliver over the next few years.
I can announce today that by the end of this Parliament, around 750 nurseries across the length and breadth of our country will be built, expanded or refurbished.
A huge national construction programme to give our children the very best start in life.
Friends
Most of the progress I've just talked about hasn't happened over the course of the past 11 years of SNP government.
Or even in the last two years.
Most of it has happened in the last two months.
That's what you call a government moving Scotland forward.
And we are determined to keep Scotland moving forward.
I spoke earlier about our commitment to protect free university education.
Free tuition is necessary to support working class kids into higher education.
It is necessary, but we know that it is not enough on its own.
That's why we set up a review of the living support we provide to students.
That review recommended that we increase our investment in student support, in the first instance, by 16 million pounds a year.
I can announce today that we will go further.
By the end of this parliament, we will increase funding for student support by more than 20 million pounds a year.
The details will be announced by the Higher Education Minister before the summer recess – but let me share the highlights with you today.
As a first step in meeting the ambitions of the review, we'll spend 16 million pounds next year to increase college bursaries and university grants for students from the lowest income families and we will expand access to them.
We will also increase the amount graduates can earn before they start paying back student loans.
Right now, they start paying at a little more than 18,000 pounds.
In our manifesto, we said we would increase that to 22,000 pounds.
I can confirm today we will go further.
By 2021, we will increase it to 25,000 pounds instead.
And, lastly, an issue very close to my heart.
Two years ago I spoke about the obligations we owe to young people who grow up in care.
I set out plans for a fundamental review of the care system, with love at its heart.
And let me take a moment to congratulate Who Cares?Scotland. Their campaigning work inspired this review and they have just been named UK Charity of the Year in recognition of that success.
Our government has already made sure that young care leavers are exempt from paying council tax.
And we've guaranteed places and full grants for all care experienced young people who get the grades to go to university.
But we want to do more to level the playing field.
I can announce today that with investment of more than 5 million pounds this year, we will increase the grant for every care experienced young person at university or at college to 8,100 pounds.
For college students, that will almost double support.
And, for everyone, it is equivalent to the real living wage.
I've made clear my determination to close the education gap between our richest and poorest young people.
Today we take another step along that road.
Friends
We are moving Scotland forward – step by step.
We are not just talking about creating a more prosperous, fairer country.
We're taking action now to build the kind of country we know is possible.
And we are using every power at our disposal.
As with social security, the majority of tax powers are still held by Westminster.
But in our budget, we announced an extra 400 million pounds for health.
We could only do that because we reformed the income tax system to make it fairer and raise more money.
Labour, for all their talk, voted against these progressive tax changes.
We shouldn't be surprised.
When it comes to action rather than empty words, Labour is found wanting time and again.
We can see that here in Aberdeen.
Unbelievably, they still refuse to expel their nine suspended councillors who are working with the Tories to force through 125 million pounds of cuts to local services.
What a disgrace.
The bonds of Better Together must be very hard to break.
When the Tories joined with Labour to oppose our budget, they wanted tax cuts for the richest instead of investment in our NHS.
They would have cut spending on public services by more than 500 million pounds – that's equivalent to 12,000 nurses.
Friends
Let me make this clear – when it comes to a choice between tax cuts for the richest or spending more in our health service, we will choose the NHS. Every single time.
We know how important the NHS is to the people of Scotland.
Health services everywhere are facing challenges.
And ours is no exception.
So we will continue to focus on the areas where improvement is needed.
But we should also pay tribute to the collective effort of staff when progress is made.
Let's take this opportunity to thank our NHS staff for delivering the best performing A&E departments in the UK for more than three years running.
None of the progress we need to see in our NHS will be possible without the dedication of those who work in it.
We know that for NHS staff and all those who work in our public services, the last few years of pay restraint have been tough.
That's why I'm proud that our government was the first in the UK to lift the 1% pay cap.
Right now, we're in negotiations to agree a 3 year pay deal for NHS staff which will not just match but exceed the deal agreed in England.
I hope these talks reach a positive conclusion soon.
But I don't want those working so hard in the NHS to have to wait for that agreement to get a pay rise this year.
So I can announce today that we will make a payment on account.
All staff working under NHS Agenda for Change and earning up to 80,000 pounds, will get an immediate 3% pay rise and it will be in their pay packets next month.
That means the vast majority of our frontline NHS staff will be paid, not just the same as in NHS England this year, but more.
Let me give just a few examples.
A nurse with 5 years' experience in Band 5 – 430 pounds better off.
A healthcare assistant at the top of Band 3 – 630 pounds better off.
And an auxiliary nurse with a year's experience – more than 830 pounds better off in NHS Scotland than in NHS England.
And before the Tories ask – yes, that is after tax.
This is a 160 million pound investment in those who care for us.
And as our precious NHS reaches its 70th birthday, it comes with our grateful thanks for all that they do.
Friends
One of the biggest challenges facing our NHS today arises from a positive development.
People are living longer.
That is unambiguously a good thing.
But it means we must do more to grow our working age population.
So that we have more people to create wealth and pay taxes.
And more people to work in our NHS.
That means creating more opportunities for people born here.
And attracting more talent from the rest of the UK and across the world
Of course, how we do all of that was one of the big issues addressed by the Sustainable Growth Commission.
Andrew Wilson and his team have given generously of their time and energies.
The Commission has done an excellent job and we thank them for it.
Over the summer, our fantastic new Depute Leader, Keith Brown, will lead a debate about its recommendations.
It will be a debate open to views and ideas from within and beyond our party.
And it will focus on how to make the most of our potential as a country, not simply limit the damage Brexit will do.
What a refreshing change that will be.
My sense as I travel this country is that people have had enough of the despair and the despondency of Brexit.
They want to be inspired by the hope of a better future instead.
Friends
Our task is to persuade them that this better future is an independent one.
The Growth Commission provides the platform on which we will renew the case for independence.
It doesn't shy away from challenges – and nor should it.
It doesn't pretend there are always easy answers – no one believes that.
But it does lay strong foundations for independence.
And it busts some Westminster myths along the way.
On the deficit – created on Westminster's watch, remember – it shows that the scare stories of Labour and the Tories are completely bogus.
Even with no extra growth from independence, the deficit can be turned around within five to ten years.
And it can be done with public spending rising, not falling.
Friends
That offers a much brighter future than Brexit decline and yet more Westminster austerity.
And let me clear about this.
The SNP has fought Tory austerity since the days when it was Labour's Gordon Brown and Alastair Darling implementing it.
Ending the self defeating damage of austerity is and always will be our priority.
The purpose of independence is to build a better country, a stronger economy and a fairer society.
The Growth Commission offers a blueprint of how we can do that.
Independence is about the freedom to make our own choices.
It's about equipping ourselves with the full powers to lift people out of poverty.
To tackle the inequality that limits our potential.
It's about the ability to use our finite oil wealth to build the industries of the future.
It is about having the powers to encourage more talented people to live, work and contribute here.
And making sure that our young people can travel, study and work in other countries too.
It is about letting our businesses trade freely across the UK, Europe and beyond.
And it's about investing in the NHS, instead of wasting billions of pounds on Trident weapons of mass destruction.
The case for independence is strong.
And it is getting stronger by the day.
Research published yesterday had at its heart a quite remarkable finding.
It showed that the number of people in Scotland who believe that independence will make our economy better has risen dramatically.
And, for the first time, we now outnumber those who believe the opposite.
Friends,
Confidence in the independence case is growing.
So as we wait for the fog of Brexit to clear, our opportunity – indeed, our responsibility – is this.
Not just to focus on the "when" of independence.
But to use our energy and passion to persuade those who still ask "why?"
Right now, that is the more important task.
And, if we do that, let me tell you this –
I am more certain than ever before that persuading a majority of our fellow citizens that Scotland should be an independent country is well within our grasp.
Friends
Like countries everywhere, Scotland faces challenges in this uncertain world.
But we have potential aplenty.
And we have so much to look forward to.
I've been very struck recently by some surveys that have reported on Scottish attitudes to life.
It seems we are getting happier.
(Frankly, I blame the Scottish Government)
People in Scotland are also more likely to be optimistic about the future than people elsewhere in the UK.
More of us say that our country's best days are ahead of us.
And that's despite us not being in the World Cup – again.
But the serious point is this.
Our message of hope and ambition is in tune with a country that feels optimistic about the future.
So let us grasp that opportunity.
Friends
The lanyards that you are all wearing round your necks, bear the words 'We Can".
A simple phrase that speaks to this growing sense of optimism.
From the magnificent Kelpies to the Queensferry Crossing, it reflects our artistic and engineering genius.
It speaks to how, as a country, we can care for our children, champion equality and human rights and strive to be at the forefront of innovation.
But most positively of all it seeks to give a voice to all those who call Scotland home.
The "We" is everyone who chooses to live here.
The refugees who have fled war and found in Scotland a place of love and safety.
The scientists working in our world-class universities.
Our sportsmen and women who perform on the world stage.
The medical researchers from all over the world improving and saving lives.
And all those who dedicate themselves to caring for others.
This – all of this and more – is modern Scotland.
Open, welcoming, caring, progressive and pioneering.
This is who we are.
Our country is bursting with talent. I see it each and every day.
Our task, working together, is to unlock all of that potential.
To make sure that no-one is left behind.
That we don't allow our horizons to be narrowed.
To make sure that we keep moving forward.
Building a stronger society here at home and playing our part in the better, cleaner, safer world we want to live in.
It's time to aim high, look resolutely outwards and never accept second best.
Above all, it's time to believe that we can.
We can build that better country we know is possible.
And, friends…
We will.