Embattled Secretary of State for Scotland David Mundell has refused to rule out serving under incoming Prime Minister Boris Johnson, despite previously suggesting he could not.
Mr Mundell faced a torrent of questions over his cabinet position during oral questions on Wednesday morning, ahead of Theresa May's final prime minister's question time.
The longest serving continous cabinet member under Theresa May, Mr Mundell had said he and Mr Johnson did not agree "on a whole range of issues" and he could not see himself being able to "serve in that way" when asked if he would work under the new PM.
The MP for for Dumfriesshire, Clydesdale and Tweeddale refused during Wednesday's Scottish questions to rule out serving in a Johnson cabinet and congratulated him on his election to party leader.
Shadow secretary of state and MP for Kirkcaldy and Cowdenbeath, Lesley Laird, asked Mr Mundell to confirm he would not "sell-out" the people of Scotland to the "dog whistle" English nationalism of Boris Johnson.
Mr Mundell responded by accusing Ms Laird of selling out to the SNP.
He said: "The right honourable lady's position has been to sell out to the SNP.
"She told her colleagues she would gladly give up her own seat to the SNP so there could be a Labour SNP alliance which would inevitably lead to another referendum.
"She is doing a good job at trashing Scottish labour in the polls, losing two MEPs and finishing fifth in the EU elections.
"Only the Scottish Conservatives will stand up for the union and I will continue to do so."
Following Wednesday's debate, Ms Laird said: "Politics is about principles. A few months ago the Secretary of State told us that the 'threat to the integrity of the United Kingdom' was 'the principal issue' for him.
"But the truth is, Boris Johnson's ignorance towards Scotland, his determination to force through a no-deal Brexit, as well as his insulting views on women, Muslims and the LGBT community make him a real threat to Scotland's place in the UK.
"David Mundell used to pretend he'd stand up to Boris Johnson and refuse to serve in his cabinet, now it looks like he so intent in protecting his own job he's willing to selling out the people of Scotland for a place in a no-deal cabinet."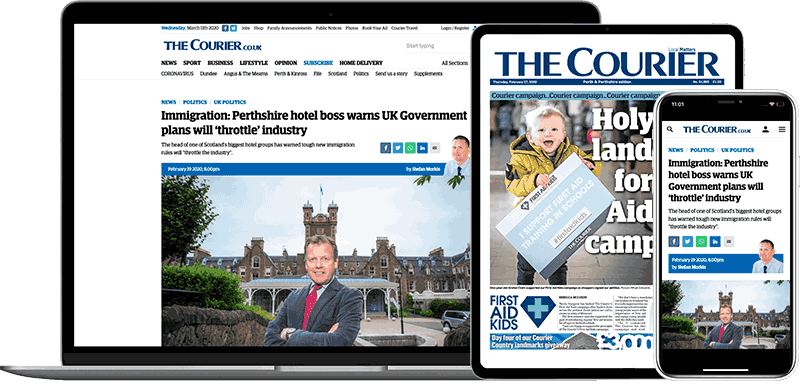 Help support quality local journalism … become a digital subscriber to The Courier
For as little as £5.99 a month you can access all of our content, including Premium articles.
Subscribe