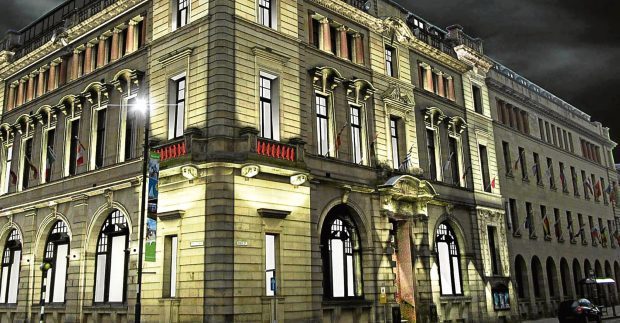 Sir, – As a resident of Perth for some 50 years, I have witnessed the various changes that have taken place in the city and the surrounding area.
The council housing stock has certainly improved over the years as well as the national retail chains.
Apart from that, very little has changed apart from official city status.
I have to say that my thoughts on some of Perth and Kinross Council's schemes such as the refurbishment of the council chambers, have led me to write this letter.
I am quite amazed that such a major job should be undertaken at this time but then one should not be surprised as politicians both national and local are prone to look after themselves.
I do not understand how such expenditure on the council chambers could have been put forward and passed at a time when councils have complained about cuts to their revenue.
These cuts are reflected elsewhere in the city which, in parts, looks like a bomb site.
The ghastly edifice of the city hall is taking up a prime site in the heart of Perth which could be used to wonderful effect and benefit to citizens and businesses.
It would also open up the front of St John's Kirk which is one of the more important buildings in the city.
Perth, like many other cities and towns, is suffering from diminishing retail trade and this has been exacerbated by the shock closure of McEwens, one of our most attractive frontages.
The very idea of floodlighting buildings in Perth is quite ridiculous.
What buildings? Maybe the ruin at the foot of the Old High Street or the old church in Atholl Street?
Or perhaps some of the buildings at Bridgend and, of course, the Waverley Hotel?
A facelift is urgently required for Perth if we want to attract tourists and business.
Garrod M. Gibb.
22 Unity Terrace,
Perth.
Time to split up United Kingdom
Sir, – It is clear from the result of the EU referendum and recent demonstrations in London that London, Scotland and Northern Ireland should declare independence from the UK and jointly rejoin the EU and leave the rest of England and Wales to do whatever they like.
Alastair Fraser.
1 Forester's Cottage,
Cardean,
Meigle.
Right wing will impose agenda
Sir, – Those saying there's no post-Brexit plan don't understand the pathology of the one per cent.
In the past, they have used economic crises in order to administer neoliberal medicine to gut public services, Labour rights, and hold a fire-sale of assets. They now plan to do the same in post-Brexit Britain.
This scenario was set out by senior Tories and UKIP donors before the EU referendum.
UKIP is a Tory trojan horse political party designed to hoover up the votes of the dissatisfied and under-informed in order to deliver even more Thatcherite economic madness.
People were persuaded to vote against their own interests by the Leave campaign.
One falsehood was that £350 million a week extra would go on the NHS. Another was that immigration from the EU would end. Both of these claims were wrong.
Scotland now has a chance to get out of this Thatcherite nightmare. Independence is the only way that we can escape.
Alan Hinnrichs.
2 Gillespie Terrace,
Dundee.
Why did people not use vote?
Sir, – The number of people who did not vote in the referendum was approximately 13 million. This is not far short of the population of Australia, where voting is compulsory.
Are we to conclude that these people could not decide how to vote, or was it simply that they could not be bothered?
AA Bullions.
6 Glencairn Crescent,
Leven.
Ashamed to be Scottish
Sir, – I watched a lot of the opening of the Scottish Parliament's new session, attended by the Queen and I have never been so embarrassed to be Scottish.
A 90-year-old world-renowned leader was subjected to a programme of meaningless velvet diatribe, a Gaelic speech and a lecture by the First Minister on how well Scotland would do in the EU.
At least at the opening of the Westminster Parliament, the Queen outlines the UK Government's intentions for the next year.
I did not hear a single word concerning the Scottish Government's intentions for the next year.
We get what we voted for. Let us hope that political maturity is not too far away.
A T Geddie.
68 Carleton Avenue,
Glenrothes.
Councillor wrong again
Sir, – I'm sure I'm not alone in my concern at Councillor Mac Roberts' letter this week.
In it he attempts to lump two shambolic Labour projects with a successful SNP one, stating: "It is alarming to think that the same people responsible for the foregoing could have been running an independent Scotland."
I would like to ask Councillor Roberts in what world he thinks the Labour administrations of the late 1990s in both the Scottish Parliament and Edinburgh City Council would be running an independent Scotland?
Thankfully, Labour is nowhere near the Forth crossing project as it is actually ahead of its originally schedule and under budget, which reminds me, has the councillor apologised for his blatant falsehood regarding Scottish steel and the Forth crossing, or was that another mistake?
John-Paul Bell.
87 Glenclova Terrace,
Forfar.
Voters' quandary over UK split
Sir, – Gordon Murray (July 4) is not alone in being left in limbo at the prospect of having to choose between supporting independence for Scotland while staying in the EU.
I voted for independence and lost – that is democracy. I voted to get out of Europe and won –that is also democracy.
Now the SNP is contemplating still splitting from the rest of the UK and yet staying attached to Europe. They cannot simply cherry-pick the UK referendum result, keeping the bit they like and ignoring the overall result.
If they had applied that skewed logic to the result of the independence referendum they would have been required to declare Dundee, Glasgow, North Lanarkshire and West Dunbartonshire as independent enclave states because those four areas were the only ones which voted for independence.
They did not do that, which leaves me, and I suspect hundreds of thousands of others at a loss as regards which way to vote in future.
Michael Mulford.
Hogarth Drive,
Cupar.
Another global warming myth
Sir, – The New Scientist contains research by the University of Mainz showing the world was warmer in Roman and medieval times than today and has been on a cooling trend for the past 2,000 years.
The team found estimates based on tree rings and relied upon by the UN's climate committee of historical temperatures during the Roman era and the Middle Ages were consistently too low.
The new results found Roman-era temperatures to be high enough for the grape vines of north England which the proponents of man-made global warming disputed but to which the legions attested.
These findings support other studies such as those into the chemical make-up of air trapped in glaciers and the organic remains in ancient lake sediments which have also suggested a cooling trend.
Such cooling is denied by the global-warming lobby but other climate scientists believe it is inevitable due to reduced solar heating caused by changes to the Earth's orbit known as Milankovitch wobbles.
Dr John Cameron.
10 Howard Place,
St Andrews.
A way out for Carnoustie
Sir, – Those who do not want The Open to return to Carnoustie have the solution in their own hands.
Vote to ban woman members from the clubs, then the R&A will remove Carnoustie from the rota.
Gordon Cook.
Gowanlea,
Friockheim.