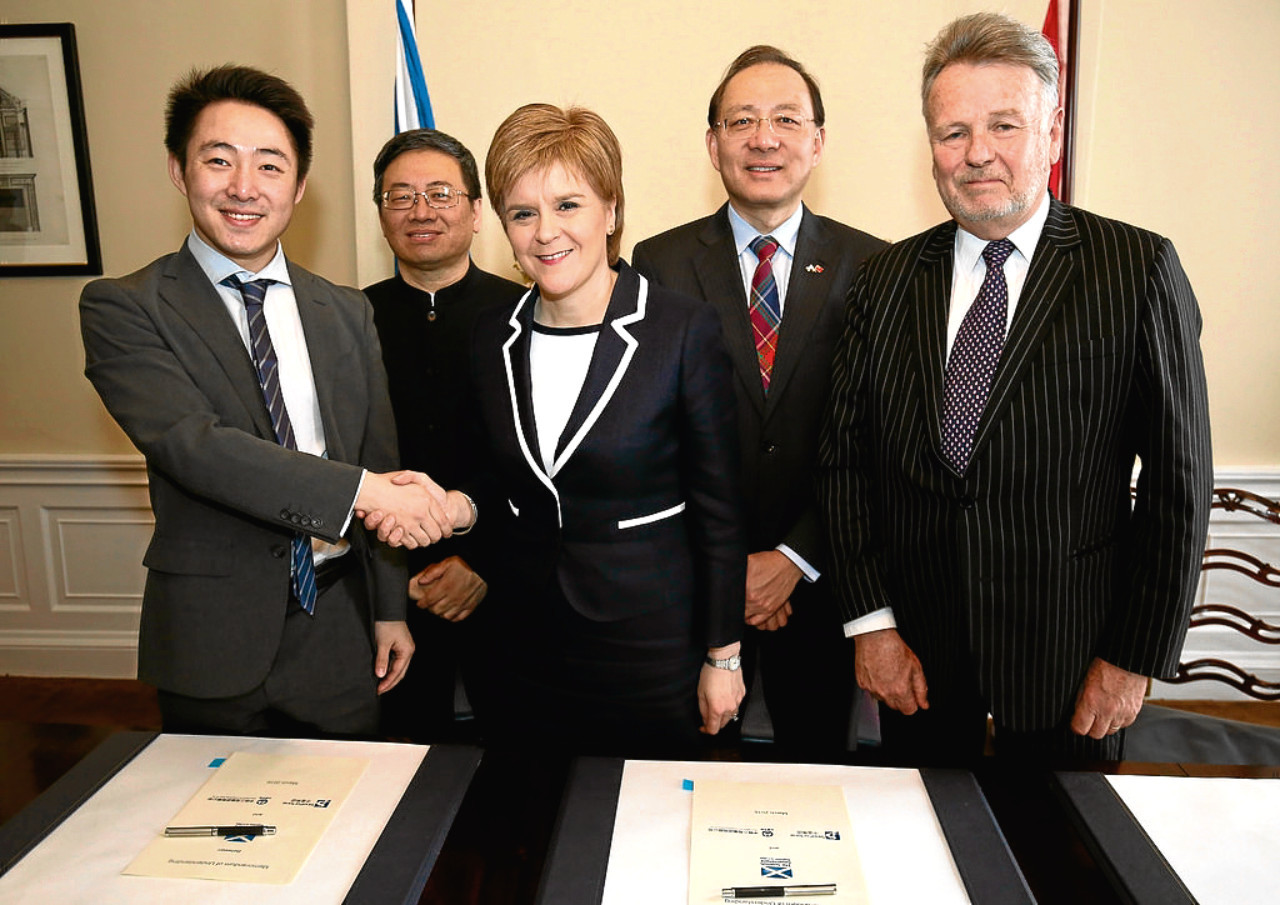 Sir, – The news that the SNP's £10 billion financing deal with China has collapsed is bad news for the 150,000 people on Scotland's housing waiting lists – 30% more than in 2004.
One of the proposed investments was to build thousands of prefabricated houses and accelerate the provision of good, low-cost, housing, employment and skills, but it was dogged by revelations about the probity of the two main Chinese backers and concerns were expressed by councils, including Falkirk.
When they were elected in 2007 many, me included, hoped the SNP would bring a vigorous, innovative approach to solving Scotland's problems, including the housing shortage, caused by a lack of public investment and builders hoarding land to keep prices up to levels that hardly any young families can afford.
The UK Government recently announced collaborations with financiers and manufacturers to build 100,000 prefabs.
Yet again, they are showing the SNP a clean pair of heels, as they are with fracking, education and a determination to make the best of Brexit.
A White Paper on prefabricated houses is to be published this month and it is strange that, since Nicola Sturgeon is so enraged with the lack of clarity of and access to the Brexit deliberations, she is not demanding that Scotland is included in this initiative, which seems to be above board and well-conceived.
This is an issue that would win her many more votes than her current obsession with referendums
Allan Sutherland.
1 Willow Row,
Stonehaven.
More facts, less entertainment
Sir, – I was surprised and disappointed to read the letter from RHL Mulheron (November 5).
It appears that Mr Mulheron finds Ken Loach boring, I assume, after his appearance on a recent Question Time.
Ken Loach is an award-winning filmmaker whose subjects portray a reality of British life.
His latest film, I Daniel Blake, tells the story of a man worn down by the punitive benefits system in Britain.
The film is harrowing, disturbing and made me angry that such events could occur in Theresa May's Britain. But boring it was not.
Perhaps Mr Mulheron prefers to be entertained rather than face up to the reality for some in this country.
Perhaps he prefers the fantasy-land, post-factual politics of politicians like Nigel Farage and Boris Johnson.
Entertaining they may be but frank and factual they are not.
Believing and supporting the entertainers in politics resulted in the recent Brexit vote. I prefer my politics, politicians and, indeed, film makers to be serious and honest.
Brian Batson.
7 Lour Road,
Forfar.
Union good for Scotland
Sir, – I was very heartened to read Alex Neil voicing his concerns over his party's UK-bad, EU-great policy.
Firstly, it was nice to hear an SNP politician voicing a personal opinion.
Secondly, Mr Neil's misgivings are what has always puzzled me.
We are told that being in a union where we have 9% of the elected members and where 65% of our exports go is bad for Scotland, however, to join a union where we will have 0.8% of elected members and 19% of our exports go to is good for Scotland.
Like you, Mr Neil, this leaves me a bit confused.
Steven Lyall.
17 Rossie Avenue,
Broughty Ferry.
Care should be open to all
Sir, – How simplistic are the views of your correspondent Gordon Kennedy?
He believes heroin addiction is self inflicted.
So let's save the NHS some money. Let's go further. What about the smokers, drinkers and the obese?
Then there are all the criminals getting treatment or the sportsmen who damage their bodies then expect the NHS to fix them again.
I think we have just about sorted the deficit.
This is a caring society and whatever ill health comes your way you will be cared for.
Be thankful and glad there is no discrimination otherwise there could be no end to the factors that could be taken into consideration determining our right to treatment.
Rhoda Davidson.
46 Tarvit Drive,
Cupar.
Democracy being eroded
Sir, – I am appalled at the news that the SNP government has got the go ahead, thanks to the Greens, to use the council tax to raise money to fund its policy on education.
I consider this to be a very unhealthy precedent.
Council tax is a local tax which councils use at their discretion to fund local priorities.
As a councillor I know that when we raise council tax that it will have a direct financial cost on my neighbours and those in my community.
This means councillors should, and do, raise this local tax only as and when it is absolutely necessary.
Now big brother, in the shape of the all-controlling SNP government, has decided to use our local tax to take money from us to most likely spend in other parts of Scotland.
If extra spending on education is a government priority why don't they use the tax raising powers at their disposal?
The LibDem group on Perth and Kinross Council successfully moved a motion at our last council meeting saying that Perth and Kinross Council should not hand over any of our tax-payers' money to the government.
To counter this we all know that our big brother SNP government will merely withhold part of our block grant in retaliation and that ultimately we will be forced to do what they command.
I consider that this decision by the SNP government, and their Green stooges, to take over local taxation to be a very unhealthy one.
It is a bad day for local democracy and local accountability.
Councillor Willie Robertson.
85 South Street,
Milnathort.
Folly of cuts to music tuition
Sir, – I read your article (November 4) regarding the proposed cuts to our instrumental music service in Perth and Kinross.
I am both disappointed and angry to read that one of the areas of real success in our district is being targeted.
This is a retrograde step, as musical tuition in schools is the right of every pupil.
The proposed cuts to bus transport and music camps will have a detrimental effect on all the groups which rehearse in the North Inch campus each week.
The replacement of guitar and voice tuition with "music technology" is simply stupid.
As a former principal teacher of music (Blairgowrie High School) I am appalled at these proposals.
I close with two slogans of the Musicians' Union: keep music live and stop the cuts.
Alister Allan.
18 Castle View,
Letham,
Perth.