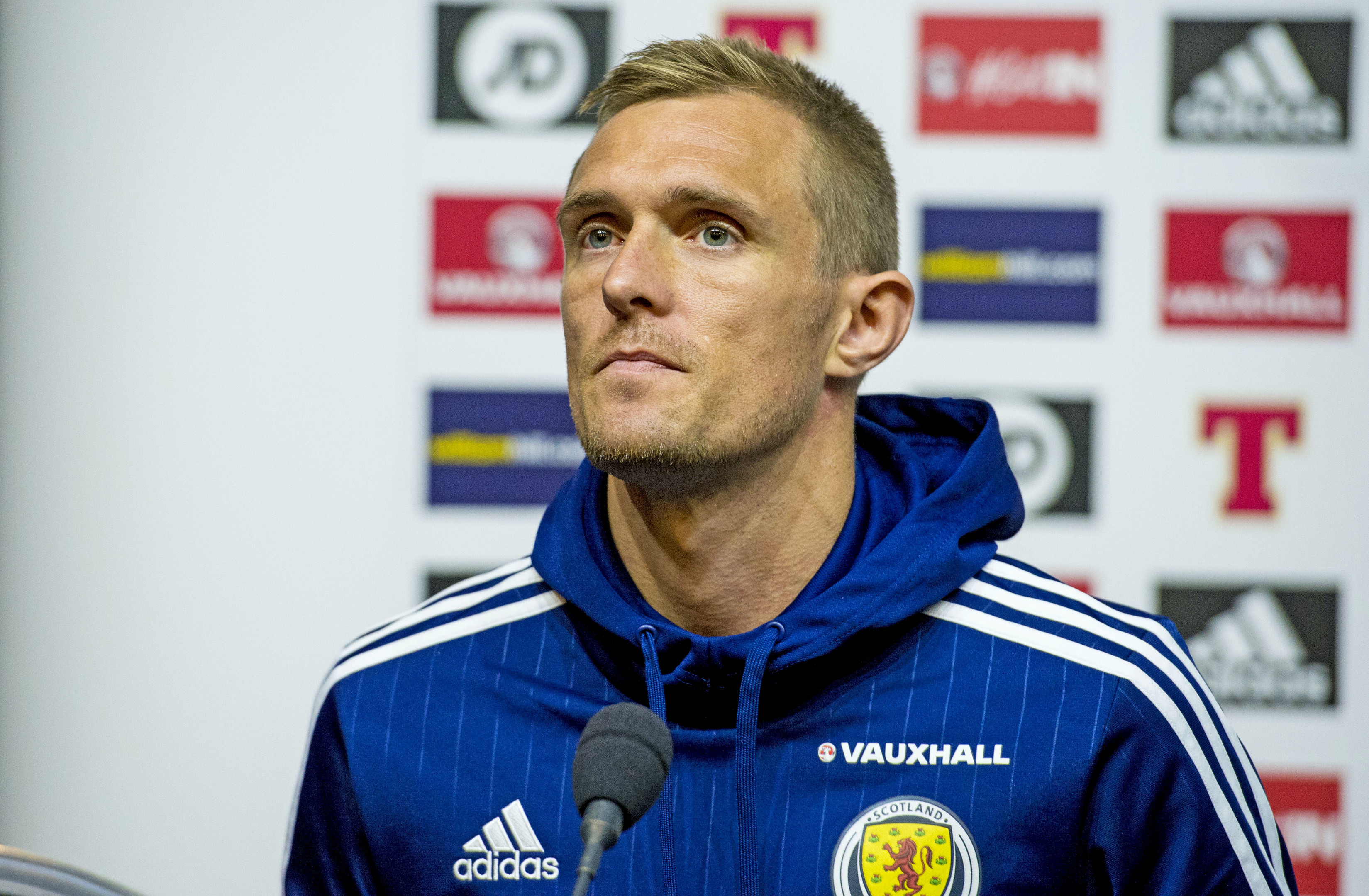 Trying to stay awake in his hospital bed was as much as Darren Fletcher could strive for the last time Scotland played England at Wembley.
And even that proved beyond him, such was the seriousness of the illness he was being treated for three years ago.
But the bigger battle of getting himself healthy enough to be considered for selection now the fixture has come round again has been courageously won.
And the ordeal the West Brom midfielder went through will make him savour his opportunity in tonight's crucial World Cup qualifier.
In August 2013 Fletcher was receiving treatment for ulcerative colitis, which kept him sidelined for over a year during his time with Manchester United.
Despite being told the bowel condition had put his career in jeopardy, Fletcher, who has 76 caps to his name and several medals from his time at Old Trafford, insisted he always believed he would be back at the top level.
And the prospect of playing for Scotland in big matches like this were driving him on.
He recalled: "I was still in hospital that night, coming round from anaesthetic.
"I was fighting to try and stay awake and watch it, but I had no chance really. I just remember the flashes of Kenny Miller scoring and James Morrison scoring.
"It's strong stuff that. Even Scotland-England couldn't keep me awake when I was on that stuff.
"That was the final op, the make or break to see if everything would be OK.  That was that day. I went in that morning and woke up that night and tried to watch the game. I have vague memories of it.
"I was fighting bigger things than football at that point. It's amazing that I got another chance. I'm very fortunate to be in that position.
"I believed it would happen. Probably out of blind stubbornness I put my faith totally in a surgeon. I knew I was playing when ill and I was doing all right, but not quite the same.
"So I knew if I got relatively well and the operation was a success – as it proved to be – I would be able to get back.
"I always believed I would get back to playing regular football and I always dreamed also of getting back for Scotland. I needed that mindset."
Win or bust is the assessment of a lot of people for this World Cup qualifier but Fletcher doesn't think it is as black and white.
The 32-year-old explained: "It's a massive game and we don't need much motivation coming to Wembley to play England. It's a qualifying game on top, so who needs more than that?
"The lads are a little bit hurt after the last couple of games and that adds even more anger to our bellies. We're really desperate to show we're better than what happened in Slovakia.
"I think we bought into too much to the hype about it being a must-win when a draw might not have been a bad result.
"It's tough to come away to the top seeds and while we won't play for a draw, we wouldn't be unhappy with one. We've had a couple of disappointing results but we're still right in it if we can get a result here."
Fletcher has been playing for long enough to know that Wembley is far from mission impossible.
So how do Scotland emerge victorious?
"The same way that Celtic played Barcelona and the way we at West Brom have beaten Manchester United and Arsenal," he said. "The game's not played on paper.
"It's 11 players going out there and going against another 11 and anything can happen. Talent alone can only take you so far. Desire takes you further.
"Tactical things are important too. There are a number of combinations that win football matches. If you break it down even to individual battles and six or seven of you can come out on top then that goes a long way towards winning a football match.
"If you get it tactically right and defend your set pieces properly then you'll have a chance. It's not just about having the best 11 all playing in the Premier League.
"It's up to us to step up. Everyone expects England to win but at the same time we believe in ourselves. We believe we can come here and put in a performance that will get us a result."
Fletcher will equal Alex McLeish's 77 caps, the third highest for a Scot, should he play.
"I'm aware of that milestone," he said. "I'm quite close with Alex's son, who also has ulcerative colitis, so it's another little memento and we do the charity stuff together.
"That's another nice thing but I'll probably look back more on it at the end of my career. The biggest focus is on the game. Caps are great and it's a nice milestone but getting a result is the thing that matters the most."
Andy and Jamie Murray are expected at the match, and there is even a possibility they could speak to the players before it.
"I'm not sure if they're coming to the dressing room," said Fletcher, who is a friend of Jamie's. "I know they're trying to come to the game. It would be great if they could.
"They're passionate Scotland fans and  would want to be part of the occasion, like the 14,000 Scotland fans. Well, so-called 14,000! I'm sure there will be plenty more.
"They'll be just like every one of them – desperate to support the team and see us do well."