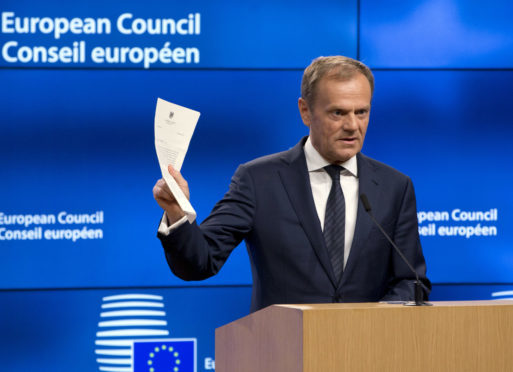 Sir, – At the SNP conference we continued to hear the prophesies of doom concerning Brexit negotiations and the negative impacts on Scotland that will arise from a "No Deal" Brexit.
But then the Doomsters spreading the fake news seem to forget that, only a few months ago, Donald Tusk was offering the UK an "ambitious and advanced" Canada-style free-trade agreement that would also cover the services sector of our economy.
That deal remains on the table.
More recently, we hear from Arlene Foster of the DUP, who is informing Michel Barnier and others that an EU insistence on creating a hard border in Northern Ireland, that would effectively separate it from the rest of the UK, is simply not acceptable.
Would that we had some Arlene Fosters here in Scotland, to take a pragmatic view of the UK union.
Instead we have the moanings and totally groundless predictions from Angus Robertson and his colleagues.
They should be ashamed of their brainwashing tactics, deliberately used to achieve their ambitions to break up the UK.
Derek Farmer.
Knightsward Farm,
Anstruther.
Remaining is the best deal
Sir, – The Brexit debate rages on but one thing never mentioned is the closeness of the original vote to leave, certainly too close for comfort.
David Cameron is to blame for that; such an important referendum should have required a two-thirds majority.
It's since the referendum that we are learning the implications of Brexit, so we were anything but informed at the time of voting.
The prime minister, Theresa May, and several ministers, voted to remain, so how can she be so enthusiastic about Brexit now?
Ordinary people can change their minds, but a prime minister?
Top politicians like Liam Fox and David Davies said two years ago that leaving with a good deal would be a "cake-walk" – so how can we trust them now?
The European Movement in Scotland tells us that remaining in the EU is by far the best possible future for us economically and socially.
Any other deal comes with real costs.
A Norway solution brings the burden of customs duties and a hard border in Ireland.
A Canada-style solution does not give full free trade, particularly in services.
Leaving with no deal, and resorting to World Trade Organisation arrangements, is economic suicide.
I'm inclined to believe the European Movement in Scotland.
Dermot O'Sullivan.
Law Street,
Dundee.
Money for some, but not others
Sir, – In relation to recent articles in The Courier regarding Fife Council's plan to turn Kirkcaldy's Esplanade into a single carriageway thoroughfare.
Some years ago this stretch of road was turned into a dual carriageway at great expense.
Now we learn that it is to be returned to its original status, again at great cost.
Meanwhile, social services are cut, their staff numbers are shed, remaining staff are suffering physically and mentally due to the increased workload, potholes get bigger and bin collections get cut.
The list goes on.
Neil Kinmont.
Jamieson Court,
Cupar.
Fresh air and a win for all
Sir, – Craig Smith (The Courier, October 1) writes with lukewarm support for pedestrianisation in St Andrews but his column lacks in ambition.
The world's top international scientists have reported that urgent action is required to halt the inexorable rise in global temperatures below a further 1.5C
Transport provides the easiest means of reducing our emissions by replacing motor vehicle journeys with sustainable transport.
Craig Smith compares St Andrews to Kirkcaldy and whilst I love that city, where my mother grew up, it has neither the university nor the tourist attractions which ensure that St Andrews will always be busy. Car-free streets are a delight for people to walk and cycle on and there are already shops and cafés in Market Street open in the evening.
He suggests there be something for people to do in the street at quiet times. Not everyone might appreciate the resulting noise and litter.
However he makes a useful point in relation to an occasional street market – returning the street to its original purpose.
There are many questions to be answered, in relation to parking, bus services and disabled access and a feasibility study is under way.
In the long run, pedestrianisation – and a shift of transport mode from car to walking and cycling – is a solution which will benefit everyone.
Tony Waterston.
Chairman,
St Andrews Space for Cycling,
Tom Morris Drive,
St Andrews.
Electric cars no health panacea
Sir, – Before we accept the switch to electric-powered cars as a potential life-saving public health measure, as suggested by Gordon Pay (Letters, October 8), we must recognise at least two vital flaws frustrating that notion.
First, from the published research, the postulated excess number of deaths do not represent actual mortality as in, say, cyanide poisoning. They are based on speculative statistical projections from very complex, multiple causes of an individual's mortality.
Secondly, even if toxins from car exhausts could be eliminated, "poisons" from electricity generation and from buses, lorries, railways, ships and aircraft would remain as potential, partial contributors to public ill-health.
Therefore, epidemiologically, any benefit from eliminating internal combustion (IC) from cars would be minimal but unmeasurable.
In the research, the estimated extra lifespan statistically predicted from a total switch away from IC engines amounted only to weeks.
Dr Charles Wardrop.
Viewlands Road West,
Perth.
Mobile phones and children
Sir, – I was impressed by your investigative piece in The Courier of October 5, concerning the effect of mobile phones on the development of children.
I cannot see how a child could develop into a social being without the essential experience of regular, face-to-face human contact.
I saw a clear example of this effect in a GP's waiting-room recently.
A small boy about three years old came in with his mother, who got him interested in various games which he soon shared with people sitting around him.
They responded well to his playfulness, creating a pleasant atmosphere.
Then one person got out their phone and sat head down, engrossed. Gradually, one by one, the others followed suit, including the mother.
The wee boy found he could no longer get anyone to respond to him, no eye contact.
I watched his face change from puzzlement to disappointment to boredom, and the beginning of mischief to try to be noticed.
To me this showed, in a nutshell, how a potentially fine citizen could become something much less desirable to society, given the wrong responses.
Dr Norma H. Smith.
Adelaide Terrace,
Dundee.
Nurses' primary care potential
Sir, – Scotland increasingly resembles the Third World with more and more towns and villages having no resident GP.
The time has come to increase the number of nurse practitioners taking over primary care as they have successfully done in Africa.
They could certainly manage long-term chronic conditions, diagnose, treat, prescribe and refer patients to hospital.
We need to accept the reality that Scotland's crisis in primary care can only be solved by positioning nurses with advanced training as the gatekeepers of the NHS.
Rev Dr John Cameron.
Howard Place,
St Andrews.