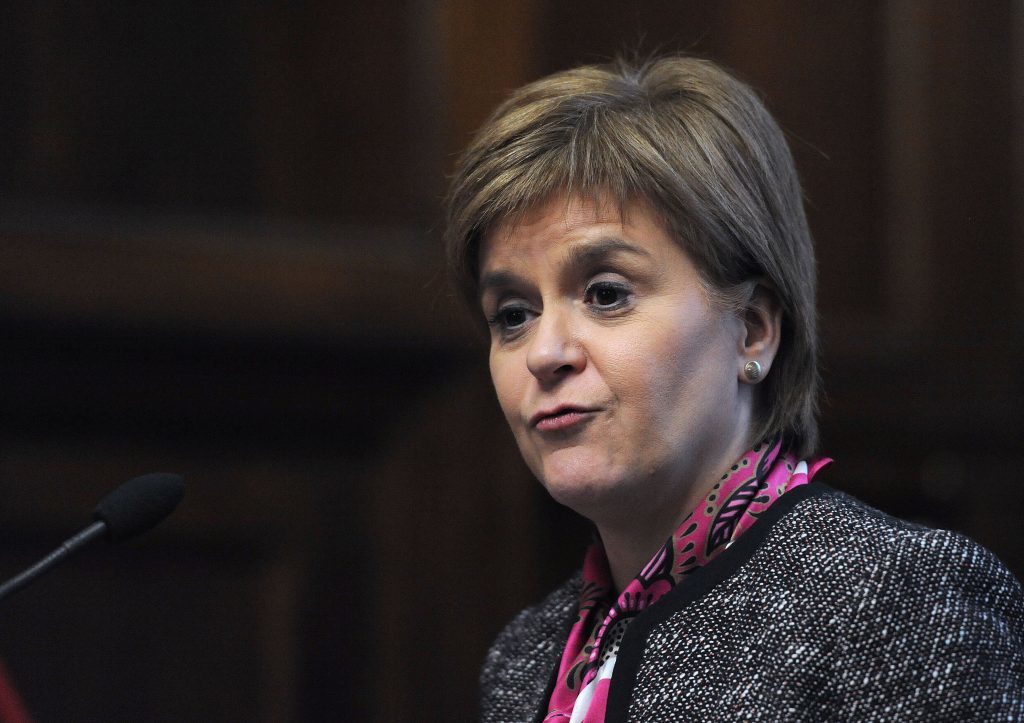 Who is advising Nicola Sturgeon on when (there is no longer an if) to call a second independence referendum? She apparently relies on a very tight inner circle that includes her husband, Peter Murrell, who is also the SNP's chief executive.
But with her spring conference just over a week away, and an announcement on a second vote expected by the party faithful, she should listen to what others, inside and outside the SNP, are saying.
The speculation is that having backed herself into a corner with her Brexit outrage, and threatened a ballot if Westminster didn't promise Scotland access to a single market and the free movement of people (it hasn't), she now has to follow through.
However, she has a few days left to retire to a darkened room and take the temperature of the nation before it is too late.
First, and most important, she should pay attention to the voters themselves. In the latest opinion poll, only a quarter of the electorate said they were in favour of an independence referendum in the next two years.
The poll also found that 69% of No voters who voted Remain do not want another referendum before knowing how Brexit will conclude, that is before 2019.
Second, and least likely, Sturgeon should take heed of the main opposition party in Scotland. The Conservatives' conference over the weekend was dominated by the independence issue but both Theresa May and Ruth Davidson think they would win a new fight.
May, in her best speech to date on the Union, accused the SNP of "twisting the truth and distorting reality in its obsession of independence".
Davidson, meanwhile, warned the First Minister that her public support would take a "massive hit" if she insisted on holding a vote that the majority of Scots oppose.
"If she moves against the popular opinion in Scotland and stops acting as a First Minister and acts solely as a leader of the SNP then I think she will pay a heavy price for it," Davidson told BBC Scotland's Sunday Politics programme.
There are some (including Daily Telegraph columnist Simon Heffer) who believe Sturgeon should call a snap poll now, arguing that the secessionists will lose, and the constitutional issue will be dead and buried, along with the current SNP leadership, for generations. And this time it really would.
But it's easy for people living in England to wish an immediate referendum on Scotland. Those of us who will have to endure the process again are less enthusiastic.
If the campaign of 2014 brought out the worst kind of partisanship in Nationalist fanatics, this one, more conclusive and therefore more desperate, will be even more divisive.
We have seen an early indication of the way things will go. One of the most notorious of the cybernats who poisoned the 2014 debate, a resident of Bath called Stuart Campbell, tweeted homophobic comments this week in response to a speech by the Tory MSP Oliver Mundell.
This was not a political reaction but a reference to the fact that Mundell is the son of the openly gay Scottish Secretary David Mundell.
There has been no condemnation from the SNP, which claims to back fairness and tolerance, and nor has any action been taken over the racist remarks of a senior party figure in Perthshire. Perth and Kinross councillor Dave Doogan, who until recently worked for John Swinney, gave a speech in Gaelic in which he suggested Scotland had been run by 'quislings' (meaning Nazi collaborators) in England.
Doogan and Campbell are just two good reasons why most Scots do not want a return to the ugly scenes of 2014.
The latest voice to enter the Indyref 2 debate is one of Sturgeon's predecessors (no not that one).Gordon Wilson, who led the SNP from 1979 to 1990, said on Monday that the party was caught in a "political vortex" and Sturgeon could not avoid calling a referendum "at the worst possible time".
Wilson questioned her logic, describing EU membership for a separate Scotland as "non-deliverable" after the European Union confirmed it would have to apply from scratch, which could take years.
He is right that the timing is bad for the Nationalists – a vote before a Brexit deal looks doomed to fail. But it doesn't have to be inevitable. Sturgeon still has a choice. She could go before her rank and file next week and admit she has misjudged the country's mood, acknowledge the risk of an early referendum and call the whole thing off.
Then Scotland could try to get back to normal. And the Scottish Government could have a stab at governing.
But I don't suppose she will take this bit of advice on board either.