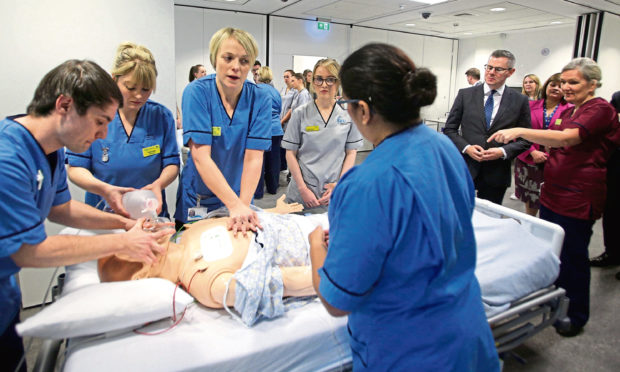 There has not been much good news on the education front in Scotland recently, as even John Swinney, the beleaguered minister responsible, might agree.
A staffing crisis, with 3,500 fewer teachers than a decade ago, and the biggest teaching union threatening a strike, are just the latest in a line of grim headlines.
Then there is the long-term decline in standards, with Scotland's falling attainment levels at A to C grades in the new Nationals, as well as in Highers, this summer giving more cause for concern.
So, any glimmer of light is to be welcomed. This came with reports that an increasing number of children from disadvantaged backgrounds had been accepted to study medicine in Scotland.
Although university applications overall from 18-year-olds who live in the poorest parts of Scotland fell this year, according to data from the admissions body, Ucas, Glasgow University revealed that nearly 20% of the Scottish students in the latest entry to its medical school were from the most deprived neighbourhoods.
Medicine courses are notoriously competitive and applicants must jump through hoops – in terms of academic qualifications and work experience – to gain admission.
Glasgow, along with all Scotland's medical faculties, has a widening access programme that makes allowances for less-privileged school leavers and actively encourages the brightest to apply for medical degrees in the first place.
These sort of initiatives provide mentoring in secondary schools, and Glasgow offers a pre-entry option that coaches students in the main science subjects needed to study medicine (something their schools cannot do).
And the straight As usually demanded for medicine are tailored to children's circumstances, which means some can be admitted with a couple of Bs, on top of their As.
If such schemes broaden the social make-up of medics, who are disproportionately the sons and daughters of middle-class professionals, that can only be a good thing.
A recent study found that pupils from the worst-performing schools, admitted to medical school on lower grades, ended up doing just as well or out-performed their better-educated peers. The research, conducted by the University of York, concluded that entry requirements should be lowered for applicants from under-achieving schools.
No one would argue with these opportunities and their positive impact, not just on the children involved but on society in general.
However, in Scotland, where First Minister Nicola Sturgeon has pledged to make education her priority, the success of a handful of exceptional teenagers does not excuse the failures across the board.
What universities such as Glasgow are doing, although admirable, is picking up the pieces from a schools system that has allowed generations of gifted children to waste their lives.
In the more than 10 years that the SNP has been in power, the chasm between the disadvantaged and advantaged has grown so that it is almost inconceivable for young people from less affluent areas to access the top courses at the top institutions without special help.
This never used to be true of Scotland. Bright kids were plucked from their low-achieving backgrounds through selective schooling, and set on an upwardly mobile social and career trajectory.
In an online comment following a weekend newspaper report on Glasgow's medical school, one correspondent wrote: "When I went to uni in the 1970s, I was paid to go, for which I am eternally grateful. If we had had to pay, my parents could not have afforded my tuition.
"Most medical students at that time were from a very mixed social background. My brother studied medicine at Edinburgh at this time. What has happened since?"
Another said: "There are many doctors who qualified in Scotland and came from poor families, albeit with a bit of help from different directions."
While a third said her son, who had wanted to be a doctor since he was 13 and scored five As at Higher, did not win a place. Neither privileged nor poor enough to qualify for the access schemes, he lost out, she believed, to those one street away who '"had 30 points added" to their Ucas scores because their community was considered more deprived.
Perhaps such social engineering is a necessary evil when the odds are so stacked against the worst off.
Two years ago, when Sturgeon promised to spend more than £20 million to improve the number of underprivileged students doing medicine, just 4.3% of undergraduates at Scotland's top medical schools came from the poorest 20% of postcodes.
How could a government that claims to want a fairer society tolerate such inequality in the medical profession?
But the Glasgow University remedy, great as it is for a lucky few, is a sticking plaster solution to a deeper malaise: the entire education system in this country requires emergency, not cosmetic, surgery.