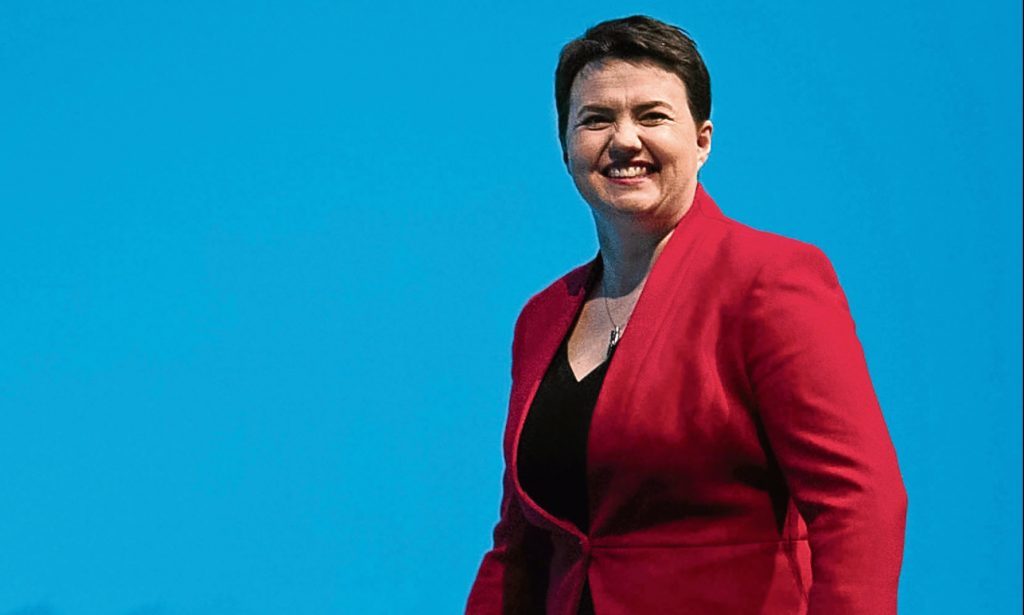 Ruth Davidson has ruled out running for Theresa May's job, which is good news for Scotland, if not the rest of the UK.
The leader of the Scottish Tories had been considered a credible contender to head her party nationwide, after transforming their fortunes north of the border and helping save May's government in the 2017 general election.
In a poll of Tory members that year, Davidson was the second favourite to succeed May as party leader, behind Boris Johnson.
A moderate with all the soft skills May lacks, she has been hailed as a future saviour of the Conservatives, from some quarters at least.
However, much has happened in the six months she has been away from the fray, particularly within her own party, and there does not seem to be a vacancy for a left-of-centre Remainer to replace May when she goes.
The fight for control of the Tories has descended into a tussle between the right and the far right, with Johnson the clear favourite as future leader.
Brexit has seen the rise again of Nigel Farage as a refuge for arch Brexiteers who feel betrayed by May.
Several senior Tories have hinted they could vote for Farage's Brexit Party in the European Parliament elections next month and some 40% of Conservative councillors have reportedly threatened to jump ship too.
The party's membership has long favoured Johnson as the figurehead most likely to reunite the right, if it's not too late.
---
>> Keep up to date with the latest news with The Courier newsletter
---
Moderate Tories, even ones with Westminster seats, which Davidson does not have, are not much mentioned at the moment in leadership terms.
All of this makes Westminster look like the foreign land Scottish nationalists like to portray it as, something that will not have escaped Davidson's attention as she watched while on maternity leave.
The SNP doesn't need an easily mockable Tory buffoon to draw divisions between Scotland and the rest of the UK, but it will help.
Nicola Sturgeon has derided May for not listening to Scottish demands over Brexit and continues to dredge up the usual grievances to blame London for any problems here.
However, in May she does not have a hate figure in the way that previous generations of disaffected Scots had Margaret Thatcher.
This will change if Johnson is installed in Number 10 – an outcome the SNP awaits more eagerly than even the English shires.
At their conference in Edinburgh last weekend, the nationalists found their new bete noir in Boris; Sturgeon only had to drop his name and the crowds went wild.
"We will never allow our nation's place in the world to be sacrificed by the likes of Nigel Farage, Jacob Rees-Mogg or Boris Johnson," she said.
Among those Scots who may be tempted by a "stop Boris" movement is Ruth Davidson. While she doesn't share with May the same warmth she appeared to have with David Cameron, the two women are more or less on the same side.
However, the Scottish leader has made little secret of her feelings for Johnson. She famously clashed with the former foreign secretary during a Brexit debate in 2016, over his anti-Europe "project hate".
Later, in an interview in the Times, she called for "serious people" to take charge of Brexit in another apparent attack on Johnson.
Last year, she reminded Johnson that the UK was the more important union, at risk of being undermined by the tactics of hard Brexiteers like him.
Davidson has hit the ground running since her return to work – officially this weekend at her party conference in Aberdeen.
She has burst back on the scene when her no-nonsense approach and common touch are most needed and she has quickly vowed to take on the challenge of a new separatist campaign.
Her efforts to unite moderate Scots against an independence referendum they don't want and a left-leaning SNP that has neglected its domestic duties could see her rise to the pinnacles of power in Scotland.
Except for one thing: Boris Johnson. Even a politician of Davidson's obvious skills may find it impossible to avoid being tarnished by association with the Tory elitism Johnson represents.
The time then may have come for the Conservatives in Scotland to break free of their London base.
Davidson has in the past rejected such a split, but the reasons were less pressing.
Help support quality local journalism … become a digital subscriber to The Courier
For as little as £5.99 a month you can access all of our content, including Premium articles.
Subscribe