 Sir, – While war raged from 1991 to 1999 at the very heart of Europe, in Slovenia, Croatia, Bosnia, Serbia and Kosovo, the EU made no attempt to intervene.
The only effective peace negotiators were two British statesmen, David Owen and Paddy Ashdown.
Likewise, the fall of the Berlin Wall in 1989, and with it the collapse of the communist empire, resulted from a vast chain-reaction of popular uprisings, heavily supported by Nato (principally the USA and UK), with no participation by the EU.
Yet the EU has continued to boast that it is our sole guarantor of continental peace.
Those in the Remain campaign like Bob Taylor (May 18) still do.
Then what is the EU policy on Syria, or on Palestine, or on Turkey?
It has none, of course, and it will not lift a finger anywhere, no matter the ultimate bloody cost.
The only way that Britain can once again perform its international role in peace-keeping is as a globally trading independent nation.
Vivian Linacre.
21 Marshall Place,
Perth.
Flawed boast from Brussels
Sir, – Bob Taylor (May 18) gives a one-dimensional view of the reasons for peace in Europe over the last 70 years, if we can ignore the thousands of people so recently killed in the conflict in former Yugoslavia, which doesn't seem to count in the minds of statisticians.
In actual fact, the real reason for relative peace in Europe has been the deterrence of Nato, nothing at all to do with the European Union.
It was also Nato that ended the Serbian atrocities, not the European Union.
Derek Farmer.
Knightsward Farm,
Anstruther.
Retail study a waste of money
Sir, – I find it hard to believe that Perth and Kinross Council is appointing consultants to carry out a fresh retail study of Perth's city centre.
What a disgusting waste of public money this is.
Does the council not have its own department to carry out this task?
After all, we all know the real reason is people are travelling to Dundee and Stirling to carry out their shopping.
Inevitably, the consultants will blame online shopping just as the McEwens hierarchy did
It would be good to hear the opinion of the council's chief executive who appears to sit in her ivory tower and not say anything about anything.
D S Stewart.
8L Tulloch Road,
Perth.
Electricity needs back up
Sir, – In his letter challenging Clark Cross's exposure of the environmental concerns associated with electric cars, Gordon Pay (18 May) waxes lyrical about the advantages of these vehicles.
Perhaps Mr Pay could tell us where the electricity will come from should there be any significant utilisation of electrical vehicles in the future when we all know that the supply of electricity in the UK is on a knife edge with the accelerated closure of fossil-fuel plants and no replacements being built other than some useless wind turbines?
The electricity grid is currently operating with the lowest-ever safety margin of supply over demand, requiring desperate measures to be taken by the National Grid – including the provision of back-up using diesel generators.
GM Lindsay.
Whinfield Gardens.
Kinross.
Drawbacks of green power
Sir, – Gordon Pay, with his blind love affair with electric cars, deliberately attacks me for my revelations that electric cars do have numerous problems despite being sold as a saving-the-planet device (May 18).
By attacking me he hopes to divert attention from the fact that, as I made crystal clear, it was Peter Achten, who published these findings in the journal Atmospheric Environment.
He and co-author Victor Timmers of Edinburgh University are well respected figures.
I suggest their research carries more weight than the electric car green dreams espoused by Mr Pay.
Clark Cross.
138 Springfield Road,
Linlithgow.
RBS pays price for taking sides
Sir, – The recent news that Carnoustie's Royal Bank of Scotland branch is shutting down comes as no surprise.
With a big drop in transactions in recent years, it looks like its threats during the independence referendum may have had a detrimental effect.
It was one of the big corporations that pandered to Prime Minister David Cameron's requests to speak out against a yes vote by pretending they would have to leave Scotland.
I, for one, departed the institution after the scaremongering in 2014 in favour of a more neutral organisation.
How long are we going to stand by and watch the asset stripping of our country continue?
Maybe people will listen more carefully to the new campaign for independence when it starts this summer.
Richard Clark.
Craigton,
Monikie.
Where did all our cash go?
Sir, – Depending on who you believe, Britain's net contribution to the European Union is about £12 billion, which is the same as our Government spends on providing shopping trips for dictators' wives – also known as foreign aid – let's say £24bn in total, which is £387 for every single person in the UK if we stopped both.
Then the recent £365bn of UK quantitative easing – also known as printing money – was about £6,000 for every single person in the United Kingdom.
That's £24,000 for a family of four. Where did your money go?
In Europe, the European Central Bank's own quantitative easing of €1.3 trillion is now complete, equal to €3,000 per head. I wonder where that money went?
So the real question is who benefits from this saving and largesse, all of it allegedly issued for the benefit of the people.
Maybe we are all the wrong type of person?
Malcolm Parkin.
15 Gamekeepers Road,
Kinnesswood,
Kinross.
Do not ignore racist abuse
Sir, – It seems inevitable that the SNP will continue to ignore the democratic result of the Scottish independence referendum and forge ahead with a new drive for independence this summer.
June would certainly be a good month for such a purpose given that opposition from many other quarters of the UK, namely Wales, Northern Ireland and the SNP's main enemy, England, is likely to be much diminished while their citizens are in France enjoying the Euro 2016 football championships.
How alike the Scottish Government and football team (and their respective supporters) are nowadays.
Plenty of rhetoric, statements of intent, others to blame, "we wuz robbed" and so on, but, in the final analysis, well off the pace, lacking in basic ability and failing to deliver.
With regard to the football, the pubs and clubs can ready themselves for the usual foul-mouthed anti- English racist abuse being hurled at televisions during England matches, while the Scottish Government, its Lord Advocate and Police Scotland will manage, as ever, to gloss over such behaviour when it centres on the English as banter but continue to extol the virtues of the deeply-flawed Offensive Behaviour at Football Act.
Jim Shaw.
Hill Street,
Dundee.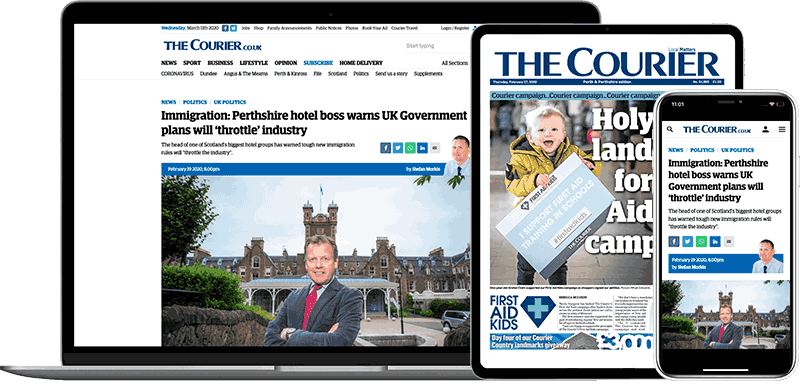 Help support quality local journalism … become a digital subscriber to The Courier
For as little as £5.99 a month you can access all of our content, including Premium articles.
Subscribe