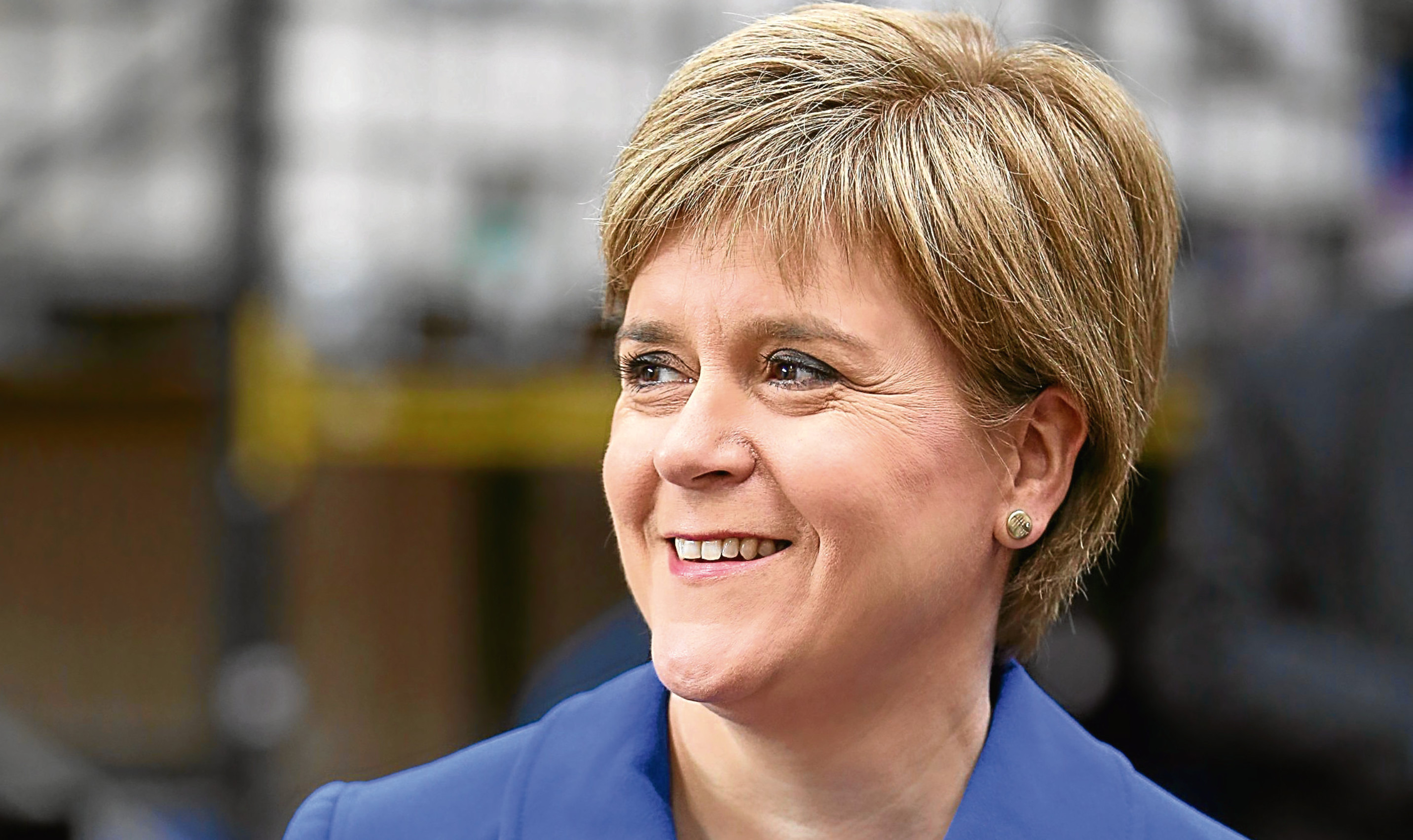 Sir – Even the most ardent of Nicola Sturgeon's followers must be disappointed with her performance over the last few weeks.
The rest of us are just plain confused and those who thought her politically astute must be bewildered at the clumsiness and naivety of her obsession with EU membership while she relegates the governance of our nation to that of an mere afterthought.
By trying to pit the predictions of economic "experts" against the undisputed accuracy of the GERS data is surely stretching the gullibility factor of the Scottish people to the limit.
She's in complete denial of the pitiless state we'd be in if the majority of Scots had believed what the SNP assured us independence would bring.
If Ms Sturgeon feels there is no safe economic haven in the British union, she may be well advised to examine the Greek experience with the EU.
Her political grandstanding fools no one living in the real world and treating Scots as though they're cerebrally challenged is certain to produce a voter backlash at some point.
Scottish manufacturing is showing a devastating fall and we have seen a total collapse of oil revenue.
Audit Scotland is reported to have described 12,000 miles of shoddy road as significantly worse than in England. We have a crisis in GP numbers, a police force that appears to be in disarray, an unsustainable deficit and a reliance on the rest of the UK economically to sustain our infrastructure and services.
All this makes the obsessive pursuit of independence irrelevant to the wellbeing of our nation at this point and for the foreseeable future.
Brexit will happen, of that here can be no doubt, and once it has happened, Scots will have the chance to evaluate the situation in a post-Brexit UK as opposed to being in the European Union.
Only then will they be free to decide whether it is best to stay within our ancient union or submit to the sovereignty, economy, laws and defence of our nation to a Brussels-based bureaucracy.
Iain G Richmond.
Guildy House,
Monikie.
Evidence of UK failure
Sir, – The release of this year's GERS figures, allegedly showing Scotland's fiscal position, are once more a damning verdict of the United Kingdom Government.
The figures illustrate why independence is no longer desirable but essential if this country is going to thrive and prosper.
That way we can have a full set of accounts showing the whole story, including all the missing Scottish revenues from goods exported through southern ports and oil revenues collected by Westminster with only pocket change given in return.
With 71% of our wealth still being controlled by London, the GERS report fails to explain the opportunities independence would create, but instead simply confirms the mess we are in because colonialism has failed us.
Richard Clark.
Craigton,
Monikie.
Economy lags behind
Sir, – If timing is everything then you should spare a thought for the unfortunate SNP.
In the early 2000s, the SNP made progress with a strong Scottish economy on the back of a growing UK economy.
Oil prices were high and the financial centre in Edinburgh was performing well, especially with the prospect of RBS becoming the largest bank in the world, championed by Alex Salmond.
Then the world financial crisis hit. Rather than RBS becoming a cash cow, it became a massive liability requiring a £46 billion bailout from the UK Government.
Meanwhile, debt soared as the UK borrowed heavily to prevent the financial crash turning into a depression.
However, there was no turning back for the SNP and they pressed ahead with their referendum, deflecting attention from high debt and borrowing by telling us we were on the cusp of a second oil boom, we would be powered 100% by green energy by 2020 and we could keep sterling.
In a desperate attempt to keep the SNP relevant, Ms Sturgeon has kept threatening another referendum but her timing could not be worse, especially with the latest figures from GERS which have shown a fiscal deficit of £15bn and our economy falling behind the rest of the UK.
Ian Lakin.
Pinelands,
Murtle Den Road,
Milltimber.
Scotland can shape its future
Sir, – So the claim is that the GERS deficit proves that Scotland is better staying in the United Kingdom?
Surely, this deficit is this large because Scotland is constrained within the UK fiscal framework.
An independent Scotland would be able to design its own fiscal framework to suit Scottish tax and liabilities using the best models available from elsewhere in the world.
We must not allow the unionist camp to limit our imaginations or abilities.
Brian Rattray.
124/2 Gylemuir Road,
Corstorphine,
Edinburgh.
Celebrate UK's success
Sir, – The fantastic success of Team GB at the Olympics, from funding right through to athlete participation was, like London 2012, down to excellent team work throughout the length and breadth of Great Britain, no matter how much the nationalists try to spin it.
Given that excellence in sport is an accurate barometer of a nation's ability and potential, the example of Team GB should be a model for our politicians to follow, no matter how much the nationalists hate the idea.
Great Britain has done, and will continue to do, fantastically well when it unites and works together, no matter how much the nationalists deny it.
The choice of Manchester, centrally situated in the UK, for the Olympians' homecoming ceremony is a very good one and quite sufficient for the purpose.
Despite that, there will be a separate ceremony in Edinburgh for the Scottish contingent of Team GB where the First Minister, if she attends, will hopefully tell the whole truth and recognise that Scotland itself did not compete at Rio.
It is, however, interesting to note that there will be no open-top bus tour at Edinburgh, most likely because the route would be lined with plenty of union flags as well as Saltires. That would never do in Ms Sturgeon's carefully choreographed, but false, world.
Jim Shaw.
Hill Street,
Dundee.
Powering the future
Sir, – Clark Cross of Linlithgow was eager to learn about renewable power-storage schemes.
Several correspondents provided answers. I would also direct Mr Cross to a company called BioSolar which is pushing the boundaries of this technology, which has the potential to revolutionise our electricity systems.
In short, BioSolar of California has managed to double the storage capacity, lower the cost and extend the life of lithium-ion batteries.
In the immediate future, this will enable electric cars to travel twice as far and mobile telephones to run for two days without a charge
The longer term applications may well change the world.
Bob Stark.
Mill Street,
Tillicoultry.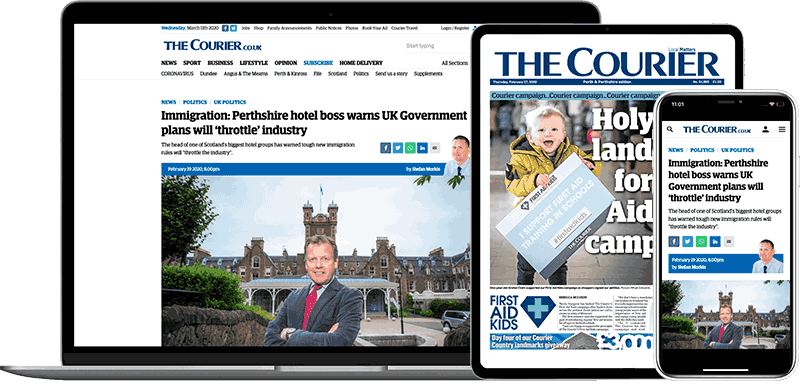 Help support quality local journalism … become a digital subscriber to The Courier
For as little as £5.99 a month you can access all of our content, including Premium articles.
Subscribe