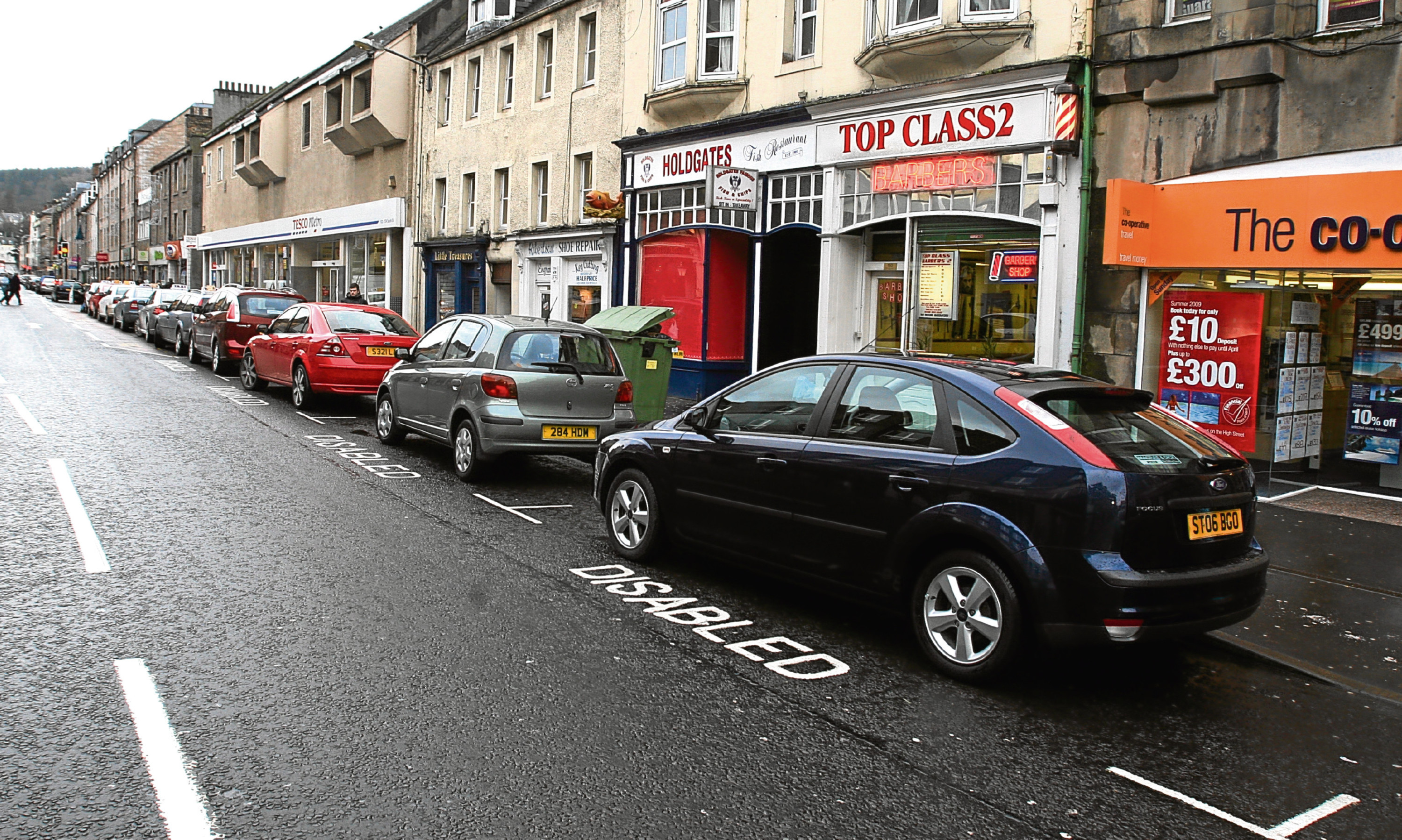 Sir, – The letter from Laurie Richards (April 17) had me incensed.
How fortunate that he is able to park in the city centre and take a taxi when attending Ninewells Hospital to avoid the charge for disabled parking there and instead park in a blue badge space for free in the centre of Dundee.
How fortunate that he is able-bodied enough to leave his car there and seek out a taxi to complete his journey.
A blue badge is supposedly restricted to those who have "permanent and substantial disability which causes inability to walk or very considerable difficulty in walking".
I do have one. A blue badge is, in my understanding, to allow access to accessible parking so the disabled driver or passenger can then access where they want to go. However, many disabled people and their relatives view the blue badge as free parking.
If I am travelling alone by car I have to carefully research where I want to go and look at access and provision of any disabled parking in order to work out if I can manage alone.
When I arrive at my destination, be it Dundee, Glasgow, Stirling or elsewhere, I have been reduced to tears of frustration on more than one occasion due to the lack of any available accessible spaces.
I have sometimes had to travel all the way back without having been able to get out of my car.
I would gladly pay the same as an able-bodied person who uses a car in order to park in an accessible space that is not taken up all day by someone who uses it while at work, or, dare I say, abuses the system because it is free parking.
So, I do agree with Laurie Richards, let us have the regulations standardised across Scotland and let us all pay the regulation standard parking charges, be it council or private parking provision.
If this is too unpalatable for someone who can afford taxi fares, at the very least let us have the same three-hour time limit as in England to increase the turnover of cars in the accessible disabled parking spaces.
Dr Phyllis Windsor.
Cach-a-Cheile,
The Holdings,
Kinfauns.
EU beyond our grasp
Sir, – A great many column inches are being devoted to the issue of a post-independent Scotland joining the EU. Despite this, there appears to be a few obvious truths which have not come to the fore.
For example, only when an independent Scotland has a stable currency will it be able to be considered for EU membership.
This would surely take years, depending on trade and border agreements with the rest of the UK, to say nothing of the introduction of the new currency itself.
It is also likely that this new currency would be less strong than the pound, with any loss of value magnifying the size of our share of the national debt.
The currency issue also ties in with our much-publicised deficit.
The government of a newly independent Scotland would surely shirk away from an immediate package of austerity measures, instead borrowing heavily to create the effect of an independent land of milk and honey. Our deficit would consequently soar.
As we are all aware, Scotland's electorate leans more to the left than the rest of the UK and would have little appetite for tackling an independent Scotland's deficit.
It seems obvious that our eventual meeting of the fiscal criteria for EU membership would be perpetually beyond the horizon.
Brian Anderson.
54 Cloanden Place,
Kirkcaldy.
Focus on local concerns
Sir, – As the local council elections approach, there seems to be a clear pattern emerging across Scotland.
Having visited my daughter in Aberdeen and having spent a week's holiday in the Borders, there are remarkable similarities in the campaigns of the SNP and Conservative candidates there as well as in the Stirling area.
They seem to be indulging themselves in yet another referendum campaign to garner support for their council candidates.
As inflation increases and jobs become harder to come by, what our local communities need right now are elected councillors who are dedicated to the task in hand.
This means ensuring we get best value for local public sector spending that can help protect local services and local economies across Scotland.
Galen Milne.
Ochiltree,
Dunblane.
Playing for popularity
Sir, – As much as various politicians might like to tell us what the coming local elections should be about, people have a tendency to decide themselves how they will vote and why.
Local issues will matter of course, but First Minister Nicola Sturgeon and the rest of the SNP leadership should hardly be surprised if their relentless rhetoric on a referendum re-run since last June's Brexit result means this issue ranks pretty high in people's thinking too.
Meanwhile, our councils tell us their funding has been squeezed for the last 10 years, as the SNP has favoured their central government priorities, not least the many universal benefits intended to protect the SNP's popularity.
Keith Howell.
White Moss,
West Linton.
Cast your vote carefully
Sir, – With local council elections fast approaching, I wonder how many voters give true consideration to the meaning of their vote?
For too long these elections have been turned into a re-run of general elections .
Surely all local councils should be devoid of political influence?
They are there to look after the interests of the communities they serve and not to gain political points.
If a councillor does a good job for his or her community then surely that is what counts.
Hazel McKinnon.
28 Hillend Road,
Arbroath.
Punishing the self-employed
Sir, – Last year Fife Council proposed changes to waste collection and access to recycling centres for small businesses in the East Neuk.
This, along with substantial price rises, was resisted and hopefully will never be revived.
Many of us have now received letters this week stating that commercial paper collection from small businesses will be on a Sunday.
Does Fife Council think that the self employed do not have enough to do without having to put cardboard out for 7am on a Sunday morning?
Martin Dibley.
Pets Pantry,
Anstruther.
Opportunities after Brexit
Sir, – There seems to be a lot of silence from politicians about the huge opportunities for Scottish fishing communities after Brexit.
Taking back control of our waters will help put more boats to sea and create processing and servicing jobs on land. This must be good news, surely?
Bob Stark.
Mill Street,
Tillicoultry.