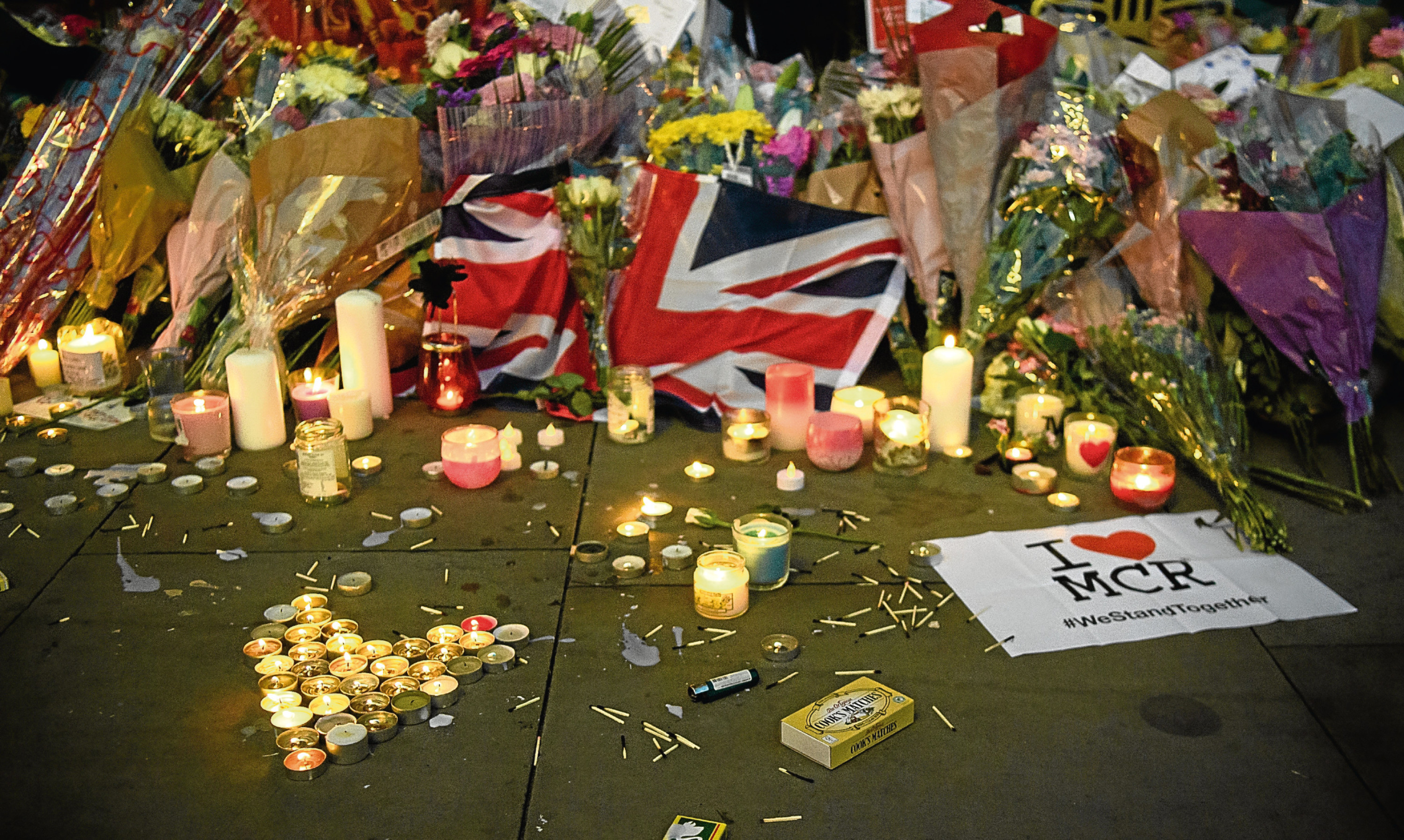 Sir, – I, like many people worldwide were deeply shocked and saddened by the atrocity on Monday night at the Manchester Evening News Arena.
Having lived in Manchester and Salford for five years while at university many years ago, I am very aware of the spirit of Manchester which is unique to this wonderful city.
It is a spirit of survival, unity, compassion and creativity. It is a spirit with a capacity for humour; a spirit that looks out for people in good times and in bad.
This was shown by people's actions and generosity offering help to stranded people and emergency services.
At terrible times we often see the best of humanity.
I know that as a city, this terrible act will not define Manchester nor will it dampen or crush the spirits of those living there.
The IRA bomb in 1996, while a horrendous act, led to the rebirth of Manchester. Out of something awful, there was a regeneration of the city centre, a city centre of innovation and creativity that like a phoenix rose from the ashes.
My thoughts and prayers are with the relatives and friends of the victims and those who are traumatised by witnessing this horrendous cowardly evil.
Gordon Kennedy.
117 Simpson Square,
Perth.
UK policy cause of terrorism
Sir, – The world will unite in sympathy for the victims of the barbaric Manchester bombing, just as it did in shows of empathy after the atrocities in Brussels, Paris, Nice, Berlin and St Petersburg.
That said, we must not forget the sad but brutal fact that if our political leaders in London had not involved us in acts of savagery to replace governments in the likes of Iraq, Afghanistan, Libya and Syria, such retaliations would never have materialised.
As Byron penned in Childe Harold in 1818: "The thorns which I have reap'd are of the seeds I planted. They have torn me – and I bleed! I should have known what fruit would spring from such a seed."
The London mantra concentrates on the rhetoric of human rights, but does not concern itself with the quality of human rights – for all human beings.
William Burns.
41/8 Pennywell Road,
Edinburgh.
Unity of purpose across Britain
Sir, – In the worst of times we see more clearly the best of what it means to be British.
It does not matter where we are in England, Wales, Northern Ireland or Scotland, there is something essential that binds us together and it becomes all the more obvious in the face of attempts to break us apart.
It is not that we are all the same, far from it, for across these isles we have the greatest of diversity, with wide-ranging cultures and proud histories.
Yet we know we are so much more because of that core Britishness imprinted within and between us, meaning we will not be cowered by those who would use fear and division to try to intimidate us.
As a result, we feel all the more sure of who we really are.
Keith Howell.
White Moss,
West Linton.
Public safety comes first
Sir, – Prime Minister Theresa May rightly praises the police during the appalling recent terrorist attacks, both at the Manchester Arena and elsewhere, but we must remember that while she was home secretary, she cut police funding by £2.3 billion, so that there are 18,000 fewer police officers and 5,000 fewer community- support officers.
How did that make us safer?
It certainly freed up £3 billion a year to cut the income tax paid by millionaires.
But it should never be forgotten, by the Tories or anyone else, that nothing is more important than public safety.
Phil Tate.
Craiglockhart Road,
Edinburgh.
Strong and stable it is not
Sir, – For years there have been complaints about Tory policies towards poor people, to no effect.
For a few days there have been complaints about their policies towards well-off old people, and immediately there is a u-turn.
Strong? Stable? Fair? It doesn't look like it.
Les Mackay.
5 Carmichael Gardens,
Dundee.
Whisky power for Scotland
Sir, – Yet again Derek Farmer (May 22) attempts to mislead the Scottish people over the country's ability to stand on its own feet.
He is right to say that trading profits from oil and whisky belong to the operating companies but the tax and duties from the disposal of these commodities, which currently goes to the London Treasury, would revert to Scotland in the event of independence.
Scotland would have its own treasury in either Edinburgh or Glasgow and multi-national companies would be subjected to duty charges levied by customs officers at the point of exit from Scotland.
Mr Farmer is also right about the uniqueness of Scotland's whisky and the unique production conditions found only in Scotland.
The UK Foreign Office valued Scotch whisky at 25% of the total UK exports of food and drink which by any standards would provide a massive chunk of Scotland's future income. Add to that the returns from normal trading and the availability of fiscal autonomy in the world of finance and the notion of better together would be a thing of the past.
Allan. A. MacDougall.
37 Forth Park,
Bridge of Allan.
Tory help for UK's richest
Sir, – So now we know. The Tory manifesto is out. They now promise huge attacks on the elderly.
Having suffered the poll tax and the bedroom tax, we are now promised a new dementia tax; and, of course, Theresa May has not promised to withdraw her attack on rape victims through her odious rape clause.
The promised Tory attacks on the poor will (naturally) go towards funding another Tory promise; a major financial bonanza for the big corporations like Google and Amazon via a big corporation tax handout.
The continued immoral lining of pockets and greasing of palms by the Westminster Tories is sickening.
That it continues to be done at the expense of the poorest United Kingdom citizens is nauseating, if typically Tory.
We soon have a big choice. Do we as a country really support the evil redistribution of money from the impoverished people affected by ill health, sickness and disabilities to the mega-rich hedge fund managers who sponsor the Conservative Party?
Hopefully enough of us in Scotland will have the decency to oppose the toxic Tories and a return to Thatcherism.
Karen Heath.
Cortachy,
Kirriemuir.