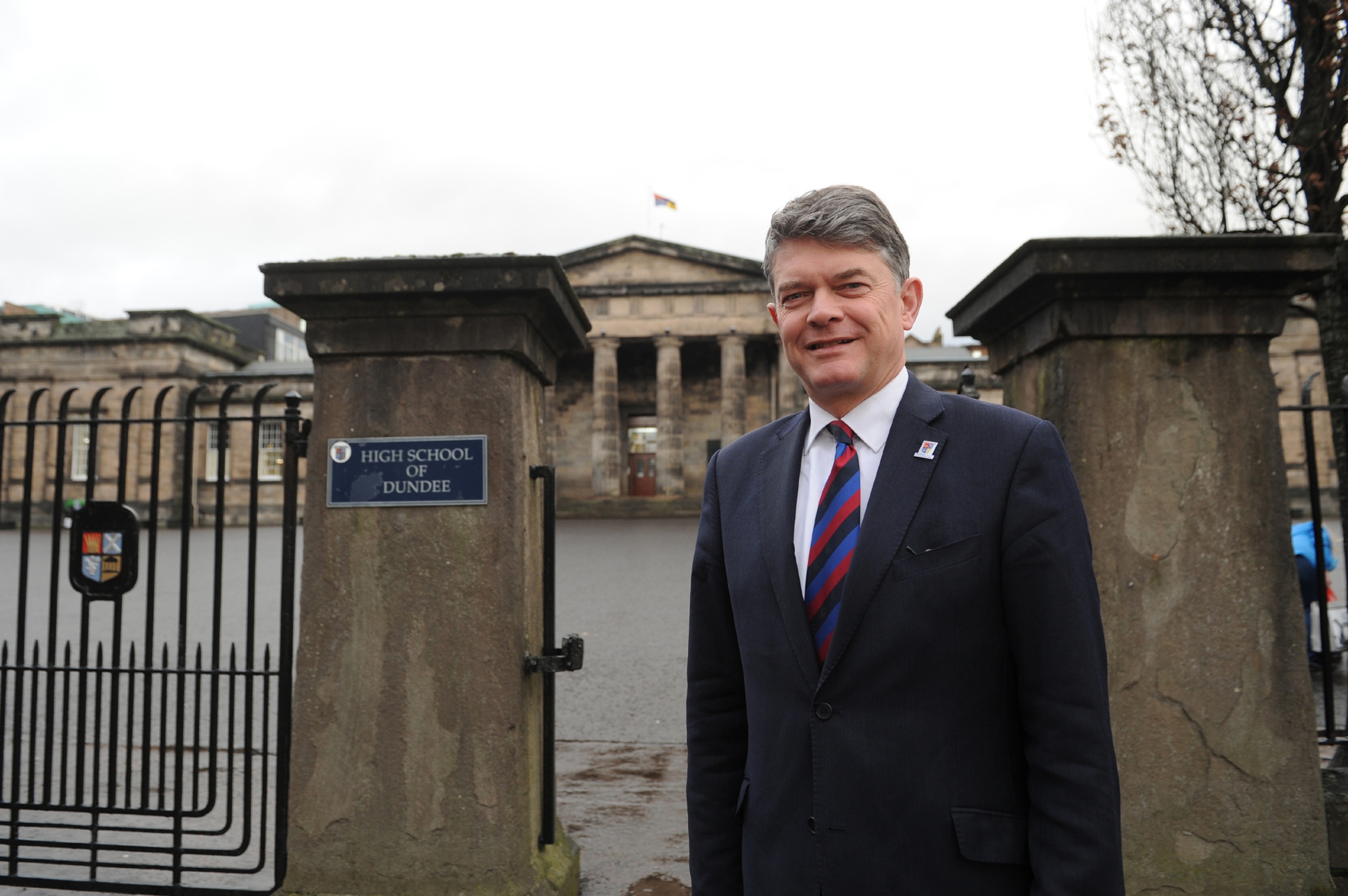 Madam, – I am writing regarding to the reform of business rates in independent schools ('Vindictive' attack on independent schools, Courier, March 27).
I am in agreement with this policy from the Scottish Government which I hope will go towards the state teachers pay increase and help with retention and recruitment of these teachers.
I believe the £37 million will help this.
With regard to Dr John Halliday's comments regarding this policy, I found them to be embarrassing given the resources in teachers, buildings and facilities at his disposal.
Independent schools are not charities.
Charities are organisations such as Shelter, Oxfam, Childline and Trussel Trust food banks.
I may have even been sympathetic to Dundee High School as a charity if it had helped out Braeview Academy which had burnt down by offering its facilities to them in their hour of need.
No one is saying that people that go to Dundee High are from super rich families or indeed that their families do not work hard and make sacrifices for them to go there.
But there has to be more of a level playing field in the educational system in Scotland which there is not between the state sector and the private sector, where the gap is widening.
Dr Halliday and his colleagues are appealing for support for action against the policy of business rates reform.
However I believe there is little public support for this as the independent sector of Scottish education only serves itself and I have seen little evidence of its benefits to the wider community.
Steve Kerr.
Maryfield,
Dundee.
Hard Times over Indyref2
Madam, – Nicola Sturgeon and her 'Chancellor', Derek Mackay, have certainly raised some hackles amongst Scotland's taxpayers.
They have encouraged councils to introduce a workplace parking levy which, in some cases, may cost commuters £500 per annum for a parking space at work.
Furthermore there is their decision in the Scottish budget to make taxpayers fork out higher rates of income tax than those paid in the rest of the UK.
Of course this is only a starter for what could happen if the electorate of Scotland were ever to vote for independence.
Methinks it could be shades of Dickens': 'Hard Times'?
With just slightly more than two million income taxpayers, and a limited amount of corporation tax receipts, Scotland, as an independent country would be hard-pressed to cope economically.
The SERPS (State Earnings Related Pension Scheme) figures published already indicate the problems faced.
So why should any clear-thinking Scot even think about voting for independence?
I am fairly certain any second referendum, if the holding of such an event is ever legally agreed with the UK Government, would result in another defeat for the nationalists, and on an even greater scale than in 2014. Why bother?
Robert I G Scott.
Northfield,
Ceres, Fife.
SNP must speak out on Brexit
Madam, – Anyone who reads the letters page in any Scottish newspaper will know that Keith Howell is no fan of the Scottish Government or the SNP.
If they are for it, you can bet your boots Mr Howell will be agin it and vice-versa.
In his latest diatribe (No indication of way forward, Courier, March 27)he takes the SNP to task for opposing Brexit and refusing to support Theresa May in her on-going Westminster farce.
Now, Mr Howell may be in favour of the Brexit views of Boris Johnson, Nigel Farage, Jacob Rees -Mogg and others being foisted upon Scotland against our wishes and that is his right. It is a free country after all.
He may be in favour of the dissolution of the Holyrood parliament so that we can return to the pre-devolution days when Scotland was seen but not heard.
That is his right also.
He has no right, however, to condemn the SNP and Nicola Sturgeon for speaking out against a potentially disastrous Brexit which they were mandated by the Scottish electorate to oppose.
This type of criticism is plainly ludicrous even by Mr Howell's standards.
Alan Woodcock,
23 Osborne Place,
Dundee.
No mandate for Indyref2
Madam, – I am wondering what Mr Mike Russell of the Scottish Government is thinking when he continues to declare that Indyref 2 is something wanted by the Scottish people (Scotland has 'cast iron mandate'to hold Indyref2: Russell, Courier, March 26).
The governance of Scotland under our present parliament is so obviously poor that even our most unobservant citizens must have realised how fast this country is going downhill.
We in Fife have had 14 trains on the Fife Circle alone cancelled in two days lately.
Going to the bank? Great if you can find one in your area.
I see that roads in Fife are the worst kept in Scotland.
Regarding necessary public services: our police numbers appear to have shrunk – they are close to the point of invisibility in central Fife – and we're told fire stations can't recruit sufficient officers.
I dare not begin to mention NHS waiting list times!
Perhaps it's time to remember, "You can fool some of the people some of the time but you can't fool all of the people all of the time!"
Archibald A. Lawrie.
5 Church Wynd,
Kingskettle, Fife.
Good deeds restored faith
Madam, – I am writing on behalf of my father, Raymond Carcary, who was travelling on a Stagecoach Strathtay bus between Montrose and Ferryden on March 22.
His wallet fell out of his jacket pocket on the bus and he did not realise until he had returned home.
The wallet was recovered the following day following a phone call to the Arbroath bus depot.
He is not sure if the wallet was found by a member of the public and handed in, or if it was found by Stagecoach Strathtay staff after the bus returned to the depot.
That said, the member of staff who he spoke to on the telephone was very helpful, and, as they were from Montrose, they offered to bring the wallet back to my father's home when they finished their shift on the Saturday afternoon.
The wallet was returned intact with money and all cards present.
These good deeds were very much appreciated and reassuring to a worried 77-year-old.
Thus he would like to say a big thank you to all involved.
These deeds have re-affirmed his faith in the public's honesty and integrity.
Andy Carcary.
Hillview Crescent,
Ferryden,
Montrose.
Robot fish the answer at dam
Madam, – Perhaps the main reason for closing-down Pitlochry dam's observation chamber window is a lack of visitor interest due to the drastic decline in fish numbers.
With regard to boosting tourist angling in Scotland, the time has come for an entirely new approach.
It should be perfectly feasible to manufacture life-like robotic-fish complete with software to mimic the real thing.
Robotic-fish could be hooked by magnet with catch and release systems. Come and try your luck with our new Tay monsters.
Kenneth Miln.
6 Swallow Apts,
Union St,
Monifieth.