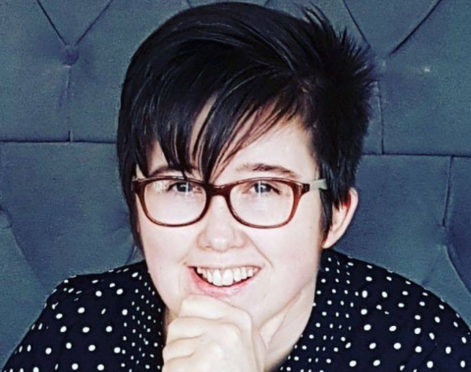 Madam, – I am greatly saddened to learn of the death of the young journalist Lyra McKee in Derry in the early hours of Good Friday; it appears that she is yet another victim of a cowardly terrorist attack in Northern Ireland.
It seems to me that The Troubles in Northern Ireland are not really in the past, as politicians want us to believe, and I fear the level of violence in the province is about to escalate.
Politicians stating that they have achieved long lasting peace in Northern Ireland aren't fooling anyone.
It would be very easy at the present time for any outsider trying to analyse what's going on in the island of Ireland to arrive at the conclusion that Brexit is linked with the recent increased level of violence in Northern Ireland.
The Northern Ireland "backstop" has so far been the biggest obstacle to Brexit becoming a reality and the DUP have done nothing but hinder the UK from leaving the EU by insisting on maintaining the status quo of no border between Northern Ireland and the Republic.
I believe that some, if not many, Republicans may well be seeing the Brexit dispute over the aforementioned backstop as an opportunity for them to use extreme violence and terror to try to persuade people in mainland Britain to vote for a government that would liaise with the Republic of Ireland's government to reunify the entire island of Ireland.
As for my own opinion, for what it is worth, I would like to see a united Ireland achieved somehow without any violence whatsoever – and the sooner the better.
I believe that would be the least damaging long term outcome.
However, I doubt if there will ever be a permanent solution to the "Irish problem" that will satisfy everyone.
Kenneth Brannan.
42 Greenlee Drive,
Dundee.
Trap for three Brexiteers
Madam, – German MEP Hans-Olaf Henkel of the European Parliament's Conservatives and Reformers, has rightly observed that David Cameron's referendum played into the hands of the French establishment which never wanted a semi-detached UK in the EU.
When the European Commission appointed veteran French trouble-shooter Michel Barnier as chief negotiator the die was cast.
His demand that the UK come up with a solution to the Irish border before a trade agreement was discussed was pure Catch 22.
Instead of relying on Britain's superb team of professional diplomats to nip this intractable strategy in the bud, Theresa May appointed the three arrogant Brexiteers David Davies, Boris Johnson and Liam Fox, who walked straight into the trap.
Rev Dr John Cameron.
10 Howard Place,
St Andrews.
Independence is no joke
Madam, – I see Nicola Sturgeon is to appear at the Edinburgh Fringe this summer.
Presumably she'll be cracking that old favourite joke, "Have you heard the one about the SNP leader who was willing to take Scotland out of the EU as a price worth paying for independence – and now wants independence so Scotland can join the EU?"
Martin Redfern.
Woodcroft Road,
Edinburgh.
Rail is vital to regeneration
Madam, – The arguments presented against investment in rail by John Munro (More railways are not the answer, Courier, April 20), especially reconnecting Levenmouth, were factually inaccurate.
Both Sustainable Transport Studies for Levenmouth conducted over the past decade have shown a net public benefit – in other words, a return of £1.50 for every £1 of investment.
Yes rail requires subsidy but so do other forms of transport.
Car ownership in the sizeable Buckhaven-Methil core is remarkably low, with 38% of households having no access to cars.
This area is poorly connected to either Markinch or Thornton stations, requiring two buses. He is incorrect in stating rail or rail use is in decline.
While bus services and passengers are in steady decline, rail passenger numbers have seen phenomenal growth, the highest in their history and Network Rail projects they will grow by 6% each year.
He is correct in stating rail travellers do tend to be more affluent than average, partly because of heavy patronage by commuters.
That and the high levels of child poverty and deprivation in Levenmouth are precisely why this region needs a rail connection to create opportunities for work and study in higher wage locations such as Edinburgh.
While agreeing rail is not a panacea for the regeneration of poor and left-behind communities, it is a vital ingredient.
Economic inclusion and opportunity demand Levenmouth be offered the same remedy every other urban area of its size across Scotland enjoys.
James Robertson.
Casan,
Leven.
Poor rail service hurting Fife
Madam, – The continuing unreliability of Fife's trains isn't just an almighty pain for current users; it's also a major disincentive for potential users – people and businesses who might be thinking of setting up in Fife.
The truth is that poor infrastructure cripples economic development, and Fife's infrastructure and economy seem to be very low on the Scottish Government's agenda.
There have been plenty of words but precious few deeds to resolve Fife's rail crisis.
The biggest economic stimulus in decades – the city deals – sees Fife squeezed between Edinburgh, Dundee and Perth, with no major infrastructure investment. Instead we're supposed to benefit from a ripple effect as Edinburgh booms, but this surely requires decent transport connections.
The administration at Fife Council is also guilty of not putting economic development and infrastructure at the top of its agenda.
Why isn't it making the loudest possible noise about Fife's poor transport infrastructure to its paymasters in the SNP Government?
Linda Holt.
Conservative councillor for East Neuk and Landward.
Banks don't care about people
Madam, – I put down The Courier because a letter came through my letterbox after I'd just read with disbelief that senior executives at RBS are taking home 46 times the money of the counter-staff whose daily grind keeps the bank going in the first place.
The timing could not have been more coincidental because the letter was from TSB, telling me my local Cupar branch would soon be open for a mere three days a week.
They had the further gall to tell me that "Nothing else will be changing", adding that "St Andrews is your best alternative branch".
St Andrews is 10 miles from Cupar and 18 miles from my house!
We can see, once again, just how rotten and money-grubbing our banking system has become.
Is it not time the Scottish Government and the major users of banks, like city and regional councils, showed a bit of a lead by refusing to keep their vast funds with any banking system that seemed to be uncaring about the needs of the man in the street?
Archibald A. Lawrie.
5 Church Wynd,
Kingskettle.