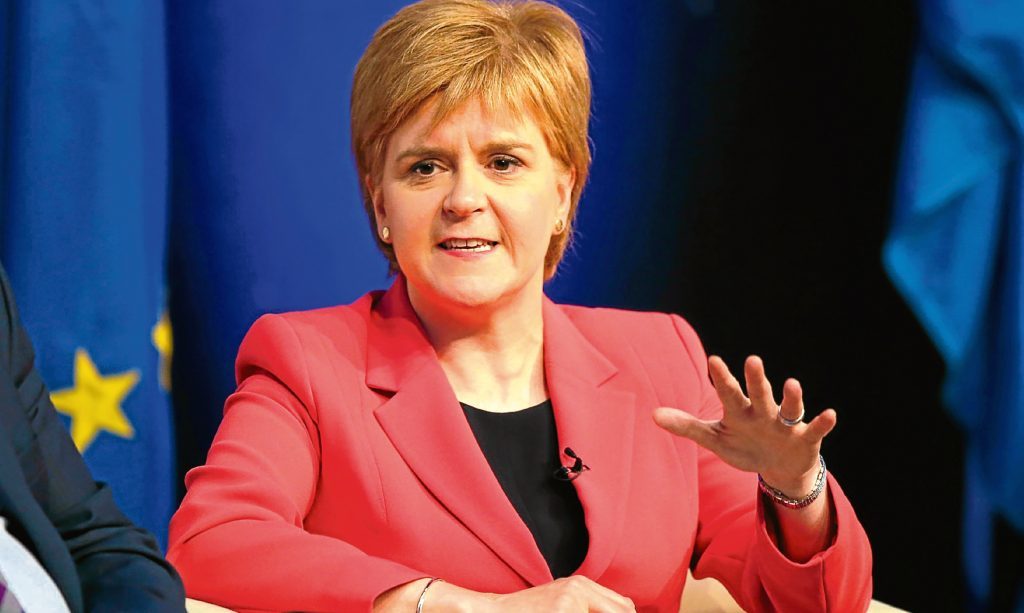 Nicola Sturgeon has commanded her MPs to derail Theresa May's Great Repeal Bill as she puts into action her threat to block the UK's EU exit.
The First Minister will open the SNP conference with a diatribe against a "Tory Brexit", which she says Conservatives are using as a "licence for the xenophobia that has long lain under the surface".
She has instructed her 54 MPs to block the UK Government bill by voting against it and convincing pro-Remain Tories to rebel against the UK Government in a "coalition against hard Brexit".
If passed, the legislation will facilitate Britain's quitting of Brussels by converting all EU laws into domestic ones.
Ms Sturgeon is expected to tell thousands of supporters at the conference in Glasgow: "That bill will repeal the legislation that enacted our EU membership.
"Scotland didn't vote for that and so neither will our MPs. But we will also work to persuade others – Labour, Liberals and moderate Tories – to join us in a coalition against a hard Brexit: not just for Scotland, but for the whole UK."
Referring to controversial immigration proposals put forward by Tory ministers this month, she will add: "Brexit has become Tory Brexit.
"They are using it as licence for the xenophobia that has long lain under the surface – but which is now in full view."
Meanwhile, Mrs May cast further doubts over the UK's future membership of the European single market under pressure in the House of Commons.
The Prime Minister said she wants the "right deal in terms of operating within and trading with" the EU post-Brexit, while also telling MPs the negotiations will seek the "maximum possible access".
Labour leader Jeremy Corbyn reminded the Conservative boss she previously warned leaving the single market posed risks to the UK, as he criticised her for pursuing a "shambolic Tory Brexit" to appease her backbenchers.
More than 3,000 MSPs, party members and activists will flock to Scotland's biggest city for SNP conference, which will reveal the party's new depute leader on Thursday.
Ahead of the event, experts warned that Ms Sturgeon has a tough task in broaching independence.
Respected pollster Prof John Curtice said the SNP now resembled an independence movement and their leader faces a "delicate" act in keeping new supporters on board when polls indicate little movement in backing for secession across the country.
Brussels academic Dr Kirsty Hughes said Ms Sturgeon has already run out of time to leave the UK before Brexit.
Jackson Carlaw, the Scottish Conservatives deputy leader, said Ms Sturgeon must use this conference to return to the day job of governing the country rather than "return to the arguments of the past".