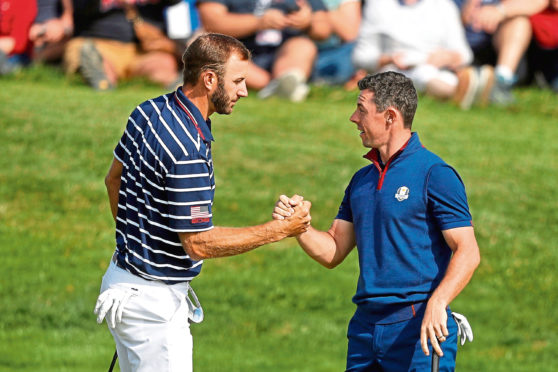 The TaylorMade Driving Relief skins game on Sunday, featuring Rory McIlroy, Dustin Johnson, Rickie Fowler and Matthew Wolff, raised bucketloads of cash for COVID-19 charities.
In that respect, it was a resounding success. In getting golf back on TV after the lockdown, it worked as well, with only the Taiwan Baseball League (which never shut down at all) UFC and the Bundesliga ahead of us.
I liked that the players were in shorts and carrying their own bags – a reduction in golf stuffiness is to be welcomed. On camera at least, they followed the proper social distancing rules, showing golfers exactly what they have to adhere to if they're back on the course now or sometime in the near future (hi Nicola, this week maybe?)
But it seems as if many were left underwhelmed by the whole thing. Maybe it was the poor banter between the four – not a surprise, this appears de rigeur for all these for-TV challenge matches
Tiger vs Phil in 2019 similarly banter-free and one expects The Match between the old diehards and the NFL quarterbacks Peyton Manning and Tom Brady next weekend will be much the same, although having played their careers in a team sport rather than a driven individual one, one suspects the two QBs probably have a bit more mischievous needle to impart.
Maybe it was that the acclaimed and ultra-exclusive Seminole Club didn't shine as I'd been promised it would by several people who have actually been there. That's not surprising either, as TV cameras tend to bland out courses at the best of times.
This kind of golf on TV is better than none – and far better than the relentless torrent of re-runs that are starting to do my head in – but that's hardly a compelling endorsement. Only, this is maybe what we're going to see for the next few months, minus the banter and the historic course.
Before long, we'll be back on bland US parkland courses, every player will have their gameface on, barely acknowledging their playing partners, taking an age over pre-shot routines and with nobody in the galleries.
That to me was the biggest take from Driving Relief. Elite competitive golf without fans is a drag.
Even this little fund-raising exhibition illustrated that the idea we should play golf's most intensely atmospheric event, the Ryder Cup, with no fans should be a complete non-starter and even, in my opinion, risks damaging one of the game's most successful and lucrative brands.
Even Rory, as he said in his wide ranging and superbly entertaining podcast with McKellar magazine last week, believes a Ryder Cup without fans is unthinkable.
But it seems they will play a Whistling Straits in September, because the various stakeholders, primarily the European Tour, literally can't afford for them not to.
Business remains business
With that in mind, the millions raised by Driving Relief were the primary purpose of the whole thing other than being golf's emergence from shutdown, and TaylorMade are to be applauded for setting it up.
However the equipment company are also in the business of selling and promoting their product, which explains why Matthew Wolff, a promising and certainly interesting young player, was the fourth member alongside Rory, one of the three most recognisable golfers in play at the moment, Fowler, whose popularity still wildly exceeds his actual achievements, and Johnson, recognised as the game's premier athlete at least until Brooks Koepka showed up.
All four are TaylorMade clients, of course, but so is Jon Rahm. Even if TaylorMade want to push Wolff, was the current World No 2 not available?
In addition, would it have hurt to have a female member of the quartet? Mel Reid, the Solheim Cup vice-captain, made that point on Twitter while it was being played.
Sadly, it seems there are just four female pros on TaylorMade's roster of pro players – Sung Hyun Park, Maria Fassi, Sierra Brooks and Charley Hull. At least Park has won a couple of majors, which puts her ahead of Fowler and Wolff.
A fair playing field to restart
Unlike the PGA Tour, which has already said that the qualification process has been suspended for 2020, there has been no word from the European Tour in relation to where current players stand.
The Euro re-start is not as imminent as in the US, with the British Masters in July still the first non-suspended event on the schedule. Word has that it will move, probably as far as September, but will still re-start the tour at that time.
It'll be heavily over-subscribed, obviously. There's even an intention to play a concurrent event at another venue, but obviously the pecking order will mean many players will be in the secondary event and at an obvious disadvantage.
The tour should make it clear now that all current card-holders will retain playing rights for 2021. It's only fair.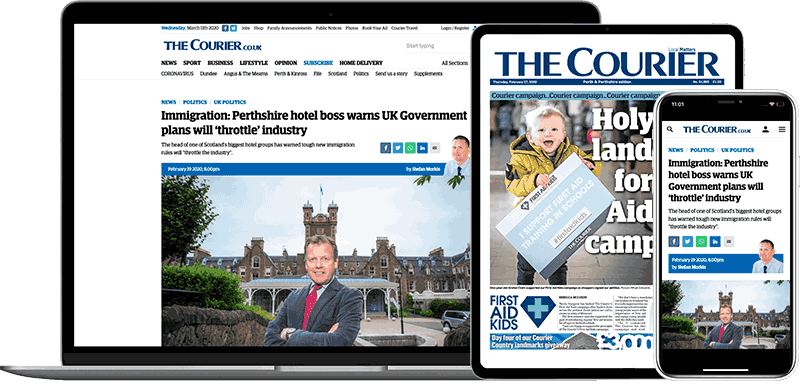 Help support quality local journalism … become a digital subscriber to The Courier
For as little as £5.99 a month you can access all of our content, including Premium articles.
Subscribe