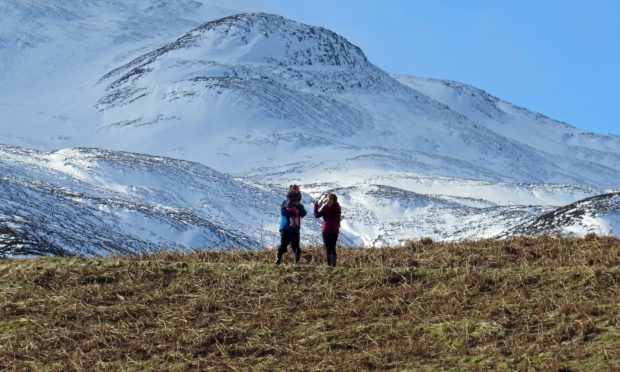 Mountaineering groups are working on a plan to re-open the country's hills and crags once lockdown restrictions are relaxed.
Organisations are urging walkers and climbers to "hold the line", follow Scottish Government advice and stay away from popular hiking spots like Schiehallion in Perthshire.
Talks are now under way on a lockdown exit strategy, exploring a phased return to hills and mountains when it is safe to do so.
The discussions are being led by Mountaineering Scotland, which represents the country's hill walkers, climbers and ski tourers, and partners Mountain Safety Group.
This week, groups including Scottish Mountain Rescue and Police Scotland have developed proposals to be submitted to the Scottish Government, outlining how outdoor activities can be safely re-introduced.
George McEwan, chief officer at Mountain Training Scotland said: "Prior to lockdown, our leaders, instructors, coaches and guides supported active public participation – both voluntarily and professionally – in walking, climbing and mountaineering, which does so much to support improved health and wellbeing.
"As we look forward to reactivation, we are supporting the work of Mountaineering Scotland and the rest of the Mountain Safety Group, to facilitate a phased return to the outdoors which is both safe and socially responsible."
Mountaineering Scotland has also taken on board feedback from its members and discussions with organisations across the Scottish outdoor sector, including Sportscotland, outdoor sport governing bodies and the national parks, so that everyone can enjoy Scotland's outdoors in a way that considers the safety of individuals as well as rural communities.
Further work is ongoing to produce a position statement and more detailed supporting guidance.
Stuart Younie, CEO of Mountaineering Scotland, said: "These are unprecedented times. I'd like to thank Mountaineering Scotland members for keeping to the current guidelines.
"We know it's been a challenge but it's great to see the mountaineering community pulling together in this way.
"We want to see an immediate return to hill walking, climbing and other outdoor activities as lockdown starts to ease, and have been encouraged by the way the outdoor sector in Scotland is working together to make this happen in a safe and responsible way."