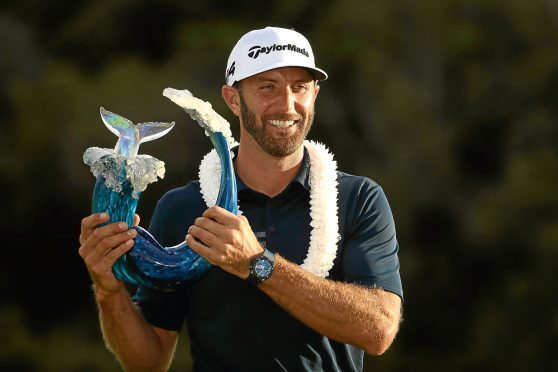 No-one would ever mistake the World No 1, Dustin Johnson, as a man given to long passages of self-doubt.
While Jordan Spieth and Rory McIlroy – and, it seems, Justin Thomas – can hold court in the press rooms of the big tours and majors answering questions with real insight and thoughtful analysis, DJ is a bit of a wasteland in terms of the precious nannies (nanny goats=quotes).
But then again, one wonders whether the catalogue of calamities that befell DJ in crucial situations before he ascended to the top of the world game had happened to Jordan and Rory and Justin whether they would have handled it in quite such a sanguine fashion as he has.
Johnson, we are told, is all he seems – or perhaps as little as he seems is a better description. He's an actions rather than words man, no question,
But ss the PGA Tour season began – I don't recognise this "wraparound" nonsense – this weekend with the Tournament of Champions in Hawaii, DJ perhaps felt he needed to make a statement.
People have been talking about Jordan, and Rory, and Justin. Lots of people have been talking about Tiger Woods again. It was time for a reminder who is the current top dog in the world game.
Yes, Kapalua is a resort course and not remotely as punishing as almost anything the players will face as a gruelling year moves on. Yes, the course is set up for birdies because who wants to watch the top players toiling in the pretty Hawaiian backdrop?
But still. You can only make a statement if you're out there, and DJ bookmarked his performance by nearly aceing a 434-yard par four.
(A digression: the trophy DJ won could be the earliest-ever victor in T2G's annual worst trophy of the year award.)
Johnson has been World No 1 for almost a year now. He ascended there winning the Genesis Open (the LA Open at Riviera in old money), last February, followed with two WGC wins, then slipped at his Augusta rental house and won only once more in 2018,
So ended the widespread anointing of DJ as the completely cominant force in world golf. Can he get back to that? Staying No 1 for a year is pretty outstanding work in today's game, with the OGWR tweaked to make it much more musical chairs than it used to be.
And I don't believe that there will be one dominant force in the game over the next two or three years. There's simply too many good players – I wouldn't be at all surprised to see Rory McIlroy come roaring out of the blocks in similar fashion to DJ later this month.
In addition, Justin Rose was maybe the best form player in the world when 2017 finished. It'll be fascinating to see whether the turkey and the bells have interrupted his progression.
And Jon Rahm has moved to world No 3 in little over a year. He's in the conversation for every tournament he enters now.
Time to change everything, Tiger
Tiger Woods has announced his return to PGA Tour action, at the Farmers Insurance Open at Torrey Pines at the end of this month, and the Genesis Open at Riviera in mid-February.
Torrey is a place he's won eight times. Riviera is the closest thing to a home event for him – alrhough he didn't play there for nearly a decade – and he took over the running of the event last year.
So two home fixtures is a lot better than the four in five weeks plan from last year. This is the best sign for Tiger Hordes; the schedule last year was insane even though he barely last two weeks of it. Two events in six weeks shows he's maybe not as flush with self-confidence and is more realistic.
This would be in keeping with his recent attitudes. Tiger is thankfully no longer quite as keen to give us the Superman schtik he delighted in most of his career, even when it was clear the cape was full of holes.
Torrey is actually going to be a very good gauge of where he is. It plays very long and tight in the early months of the year and examines a great deal of what had gone missing in his game.
Just seeing him out there and not in pain, rather than actually contending, will suffice for now. But it won't satisfy some, who are determined to fanfare him back before he's done anything worthy of a trumpet voluntary.
He'll be a different player. I think he should do different things. And one of them hould be to ending the now rather silly "red shirt on Sunday" tradition.
Despite what I read in one publication this week, Tiger has been no-one's idea of the most stylish man in golf. But the red shirt was certainly a telling symbol of his power at his peak.
He's kept the tradition long past the sell-by date. Even the likes of Patrick Reed wears red on Sundays, Lee Westwood did it for a time. Tiger's own travails have meant that it's lost its lustre and any sense of intimidation.
So next time he's in contention, I think he should show up in black. Or the 40 shades of grey favoured by most of the young bucks at the moment.
It'll be huge news for one week only. No doubt someone will liken it to Samson's haircut. But it'll be a statement of starting a new and just as fascinating career in his 40s.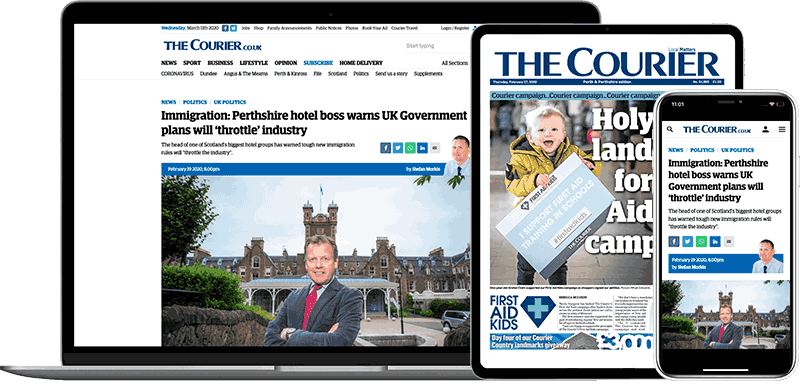 Help support quality local journalism … become a digital subscriber to The Courier
For as little as £5.99 a month you can access all of our content, including Premium articles.
Subscribe