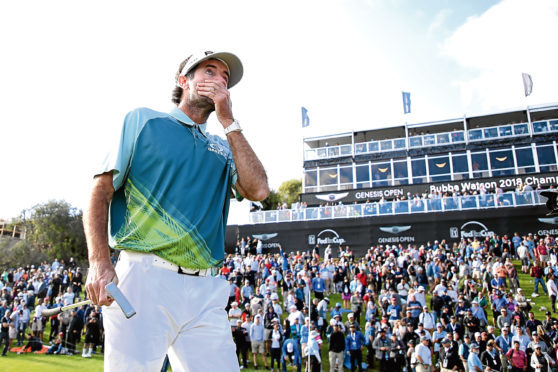 Am I missing something? Barely two weeks on from one of the most egregious examples of slow play in professional golf history, they're actually getting worse.
We have still barely recovered from JB Holmes' four minutes plus address of a shot at Torrey Pines before he decided to not even attempt to win the tournament.
Even worse was Justin Thomas coming out immediately to say he "had JB's back" about the incident instead of getting on it, like every player, administrator, fan and media should have.
Yet Sunday at the Genesis (LA) Open at Riviera, at the conclusion of what was a roundly splendid golf tournament, we were left spitting fury at Patrick Cantlay and (surprise!) Kevin Na taking extraordinary lengths of time over the most routine shots. Na took a minute and a half to finish a tap-in at one point.
It's almost as if it's now open defiance of golf's etiquette and the stated rules of the PGA Tour, with the compliance of the Tour hierarchy and referees. Holmes still has had no apparent sanction for Torrey Pines, even with the Tour's more open policy on discipline.
And once again we have the excuse of "we're playing for millions" trotted out. First of all, it shows the money obsession of today's pros – it should be noted that Na (I hate to pick on him continually, but it's unavoidable) has now accumulated $25 million in his career with one solitary win.
Secondly, who do they think is actually paying for all this? Sponsors, fans, TV stations who get no entertainment value out of 15 successive waggles and looks before a player can commit to actually striking the ball. Continue to alienate them, guys, and you'll soon see the money drop.
And thirdly, they're already playing like glaciers advancing over eons by the time they get to the pros, because they learn it in college (when playing for nothing) from coaches who have got players basically "thinking about thinking" as one swing coach memorably said.
The USGA are asleep at the wheel here, concentrating on the club game like it's the cause and not a symptom of this disease. The NCAA is the seeding ground for these slowies.
And there's also the apparent belief in golf that you must do anything but offend the leading elite players.
I notice that the furore on Twitter has been led mostly by European commentators, journalists, players and fans. There's barely a peep from the US.
The R&A are at least trying to get to the grassroots of the problem, advocating wherever possible "Ready to Play"- the rather obvious requirement of being ready to hit after your opponent does, instead of staring at the cloud formations and then going through your entire preparation, caddie discussion and interminable pre-shot routine.
But while it's great that Ready To Play is in all R&A amateur tournaments now, they won't impose it in the Open.
They don't think pace of play is an issue there (outside of St Andrews, for logistical reasons) and at Birkdale it wasn't. But that's besides the point.
What is stopping them imposing it there? Why can't we have a consistent campaign across the game here and on the European Tour to speed up players? The Open's the shop window of the international game and the perfect place to make a firm example.
Of course, docking shots under the present rules would be the best way possible to gain these selfish, effectively cheating players' attention. But nobody has the will to do that it seems.
Credit to Sunday's winner Bubba Watson, by the way, who is not everyone's cup to tea but I'll take his occasional attitude if, as a pretty rapid player, he wins ahead of the likes of Cantlay and Na.
A fitting tribute to Barrie
I've mentioned before how much we in Scottish golf miss Barrie Douglas, the long-time Scottish Boys team captain and administrator who died suddenly last summer.
There is already a Foundation in his name to help junior golfers. And now Scottish Golf has organised the Barrie Douglas Scottish Junior Masters to be held at his beloved Blairgowrie Golf Club at the end of April.
This is a fitting tribute to a man who was such an enthusiastic and widely-admired figure in the game. Based loosely on the Sir Henry Cooper event in England, it's the brainchild of Scottish Junior coach Spencer Henderson, Barrie's closest colleague at so many junior events down the years.
"We went to so many events together down the years so I knew what Barrie liked and we've taken inspiration from the Sir Henry Cooper event," explained Spencer.
"There is a real feel to that event, family friendly as well and we're going to try and do the same at Blairgowrie.
"The event is WAGR-ranked and will hopefully attract players, with the event also being on the Scottish Golf Boys' Order of Merit.
"I'm just delighted we have managed to build a tournament in Barrie's honour."
The hope is to expand the event in future years to encompass girls and more age groups.