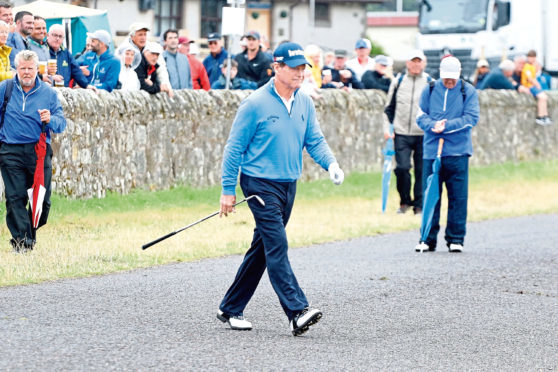 Rudyard Kipling's "If…" is probably the most quoted poem in all of sport, specifically the immortal couplet "If you can meet with Triumph and Disaster, and treat those two imposters just the same…"
But really, when that's quoted in a sporting context, everybody's imagining triumph rather than disaster, aren't they? It's used as a message to the victorious to stay humble, rather than some idea of treating both success and failure with the same attitude.
I thought about this when seeing Bryson DeChambeau, golf's "scientist" at the end of the Porsche European Open at the weekend.
Last month, DeChambeau won the Memorial Tournament, Jack Nicklaus' event. In the midst of his victory celebrations, speaking to his celebrated host, Bryson made a point of saying how much it meant to him to win the tournament associated with one of the – if not THE- most revered people in our sport.
At the weekend, however, Bryson met with disaster and definitely didn't treat it in the same way. From a leading position in Germany, he finished 6-6-3-8, and his cursory, dismissive congratulations to victor Richard McEvoy – a well-liked journeyman pro winning his first event after 17 years of trying and eight visits to Q School – brought widespread condemnation.
DeChambeau was emotional and furious with his finish, we all get that without looking at the extraordinary clip of him getting frustrated and tortured on the Open driving range that went viral last week.
He did apologise for his behaviour and specifically for brushing off McEvoy later, but it was not a good look.
He's a young pro finding his feet. I find his lectures about his scientific approach to the game more than a little superior, but he seems to be intelligent and thoughtful and the Memorial tribute to Jack shows he can get things right.
But he has role models he needs to pay close attention to, and not just the man he celebrated with at the Memorial.
If I can think of any person within golf – in fact within all sport – who has seen trumph and disaster and got as close as possible to treating them the same, it's the man who bowed out of competitive golf in his beloved adopted country this weekend, Tom Watson.
He's had success alright; five Open titles, and three more majors on top of that. For a while, probably from 1980 to 1983, he was unequivocally the best golfer in the world.
He's the last man to captain a US team to a Ryder Cup victory on European soil.
Over time – not immediately – he became as loved in the Home of Golf as he was in his actual homeland.
But he's suffered disaster as well – more than a few "stabs in the guts" as he describes them. Early in his career he was considered a "choker". At the apparent peak of his powers, in 1984, he lost at the death of one of the great Open Championships trying to be bold at golf's most feared and renowned hole.
He lost a record-equalling sixth Open crown three more times; in 1989, when he was in the final group on Sunday, in 1994, when he led at halfway, and most excruciatingly and heartbreakingly in 2009, when a par up the last at Turnberry would have had him win the Claret Jug at 59.
All the time, he fronted up, spoke eloquently and paid fulsome tribute to whoever it was who had triumphed in his place.
And all the while he did without surrendering one iota of the competitive edge that made him such a legend in the first place.
Once again at the weekend Watson, now 68, was tormented by hope at the Senior Open at St Andrews.
Midway through the Saturday round, he led the field, and he and his many fans dared to dream the elusive victory on the Old Course long denied him could be his at last.
The long 14th caught up with him, and perhaps predictably he faded. Yet at the end of that round, and again after he fell away on Sunday, he was almost the same as if he'd won; regretful, yes, but respectful, honest and placing no blame for his failure on anyone but himself.
Tom is no saint, of course. And in his long career perspective has surely come more easily to him than a young buck starting out like DeChambeau.
But here's the thing; I've covered Tom for 30 years, I followed him around Troon on his way to Open victory in 1982 and he's always been like this.
A great golfer and competitor, to be sure, but foremost a man, who did things the right way.
It's unfair to compare Bryson, just starting out, with Tom. So let's make a better comparison.
Phil Mickelson publicly and shamefully humiliated Watson at the end of the 2014 Ryder Cup at Gleneagles. But he's less than half the man Tom is.
You wouldn't see Watson besmirch the spirit of the game like Mickelson did at Shinnecock Hills. You don't see Tom give that breathtakingly insincere habit of "engaging" the galleries the way that Mickelson habitually does.
Sadly, it seems the young pros look up to Mickelson and Tiger rather than Jack and Tom. If only they knew how real competitors carried themselves.