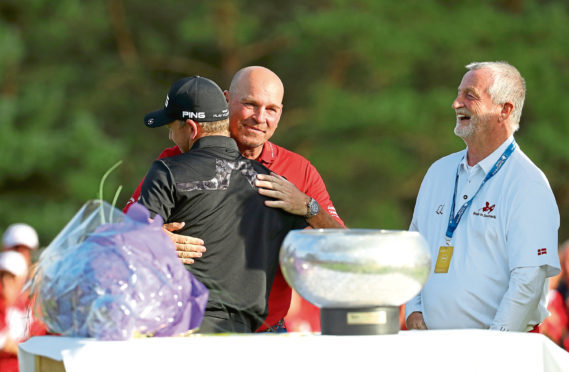 Unlike most recent years, there seems to have been little intrigue and debate about Thomas Bjorn's wildcard selections for the Ryder Cup, which he announces tomorrow.
Well, until now at least.
The points race was a fairly straightforward process. Only Thorbjorn Olesen made a significant move in the late going, and it took adventurous imagination to believe that either Eddie Pepperell or Matt Fitzpatrick was going to leapfrog him on the final weekend in Silkeborg.
Thus the eight confirmed were largely as we'd thought they'd be in June. It was no fun.
Perhaps because Bjorn has kept his own counsel on his options – unlike three of his last four predecessors – there's not been much discussion about wildcards at all until the choice is about to be made.
Ian Poulter, with a return to form over the last 18 months allied to his famously formidable record in the event, is the only certainty agreed by everyone.
Henrik Stenson is questionable because of his long-term elbow injury. Paul Casey's outstanding form has dipped, although after the way he's been courted back to the fold by Bjorn, a failure to select him would be at least a little awkward.
There's the Sergio question, although as you might have gathered from the last couple of T2Gs, I don't believe he is indispensable or actually deserving of a pick.
The high-season, big order events were the place for him to show he couldn't be left out, and his response was to miss the cut in all four majors and fail to qualify for the FedEx Cup. A tied eighth in the French Open on the host course, although enough to raise an eyebrow, isn't going to cut it.
Russell Knox really had to win again after Ireland, and he didn't. Rafa Cabrera Bello and Thomas Pieters, standouts from a well-beaten team at Hazeltine, have kept their hats in the ring but without anything startling.
But matters were truly complicated by Matt Wallace's astonishing finish in the Made In Denmark event at the weekend. He birdied seven of the last eight holes to win his third event of year.
Wallace, undeniably a top lad and very popular with his peers, is for many of them now a racing certainty.
His finish was reminiscent of Stevie Gallacher's in Italy four years ago that convinced Paul McGinley – apparently at the 11th hour – to pick the Scot for Gleneagles. Except, of course, Wallace actually won and Stevie didn't.
As far as we can ascertain, only Johann Edfors in 2006 has won three events and NOT been picked for that year's Ryder Cup team. But maybe that's more significant than it would appear.
The man who didn't pick Edfors was Ian Woosnam. Woosie had two wildcards and spent them on Lee Westwood and Darren Clarke.
The result? The most successful wildcard selection of any captain on either side in either the Ryder or Solheim Cups in the last 20 years. Clarke and Westwood won their two fourballs in partnership, both won their singles, and Westwood had two halves in foursomes. Unbeaten. It's the only time it's ever happened.
Westwood is now used, even by this column recently, as a reason to be wary of experienced campaigners running out of gas after his dreadful performance on a wildcard at Hazeltine.
In the same kind of way, Pieters' amazing four wins from five outings two years ago is now used as incontrovertible evidence that picking a rookie as a wildcard is not a risk.
But a detailed examination – I've got the Ryder Cup wikipedia pages on bookmark, I'm that sad – shows that both Westwood (Martin Kaymer too) and Pieters at Hazeltine bucked the trend. Rookie wildcards – rookies in general actually – struggle in the Ryder Cup, experienced players perform.
Including Pieters, the five rookies picked as wildcards by Europe since 2002 have returned just 8.5 points out of a possible 18. The US don't do much better (they tend to pick rookies as wildcards more often) with 11.5 out of 23.
Even during a hugely successful spell for Europe, debutants have won just 38 points out of a possible 83. You do well to get fifty percent out of your rookies – and only McGinley and – of all people – Nick Faldo have done that.
The "current form" argument for picking rookie wildcards is also misleading. All the rookie wildcards were in great form when picked, they must have been, or they wouldn't have been picked.
It helps if you're not hitting it sideways, of course, but players can easily lose form between selection and actually playing. Even the Americans' TASKFORCE! solution to this problem, picking someone the week before, has not proved particularly fruitful.
It's because the Ryder Cup is very different to normal golf. History prefers tried and tested players in the format.
Non-rookie wildcards, since 2002, have returned 38 points out of a possible 58. Take out 2016's statistical outlier, it's 37 points out of 51. That's a 73% return.
If they can't hit their hat like Sergio, then by all means don't pick. But experience beats a rookie almost every time.