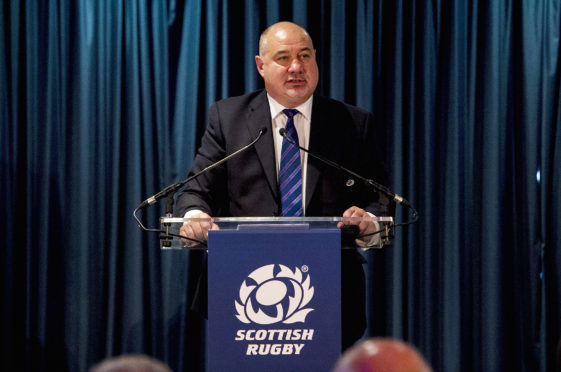 I'll begin this column about Mark Dodson, the SRU's chief executive, the same way as I did the last one – it may be an unpopular view, but I think he's done a pretty good job in his eight years at Murrayfield.
However, the obvious question now is, has it been as good a job to being worth £1 million a year?
Dodson's actual salary is £455,000. It seems the £933,000 he was paid in 2019 for his duties as CEO of Scottish Rugby was inflated by bonuses which accrued over a three-year period.
This was Murrayfield's public explanation for the gob-smacking total that appeared publicly for the first time when the SRU accounts for 2019 were registered at Companies House. But if that was meant to placate the stakeholders of Scottish Rugby, it hasn't done very well.
Dodson's basic is already second only to the RFU's Bill Sweeney (and not by much) who operates an organisation that works on a turnover more than four times that of Scottish Rugby. Dodson's basic is much more than his contemporaries at the WRU and IRFU.
If Dodson were the best administrator at work in world rugby – and his most ardent admirer would struggle to agree with that – Murrayfield would still be absolutely unable to justify the amount he's being paid in a normal year.
That he could double his salary in bonuses over a three-year period in which the performance of the national team – the only performance driver that really counts – has been distinctly average can only be regarded with complete incredulity.
Unless he has powers of persuasion that extend to the Jedi Mind Trick, Dodson isn't forcing the SRU to pay him like this. The salary and bonuses come from the Union's Remuneration Committee.
They obviously want a package that ensures Dodson is convinced to stay within the gates at Roseburn Street. But they've gone stratospherically over what is required, and it is impossible to believe they could not procure a candidate who could do this job as effectively for considerably less.
If Dodson was basically telling them `pay me this or I'm off elsewhere' they should have organised his leaving do.
And it's not as if the chief executive, even for his modest successes, justifies these gross – in both meanings of the word – figures.
Grassroots rugby in Scotland is struggling badly with numbers and investment. If Dodson was being paid the same as his Irish counterpart – a mere £175k a year – that's nearly £300,000 a year that could be going into development.
That's two more Super6 sides, for example. Maybe even one outside Edinburgh,which would be nice.
I don't think re-rerouting the chief executive's inflated salary and bonuses to player contracts would have kept Finn Russell, Stuart Hogg and Jonny Gray at Glasgow, as some have fancifully suggested. There are other issues pertinent to those players that have seen them move on.
But it's not as if the cash could have been better used in a multitude of ways elsewhere.
And there is not a little suspicion now that the haste at which the union is moving toward a internal restructuring (with less accountability to the stakeholders) is not because of any great need for change but because the millions shortly to come in from private equity investors in the PRO14 and Six Nations can be ring-fenced away under the complete control of the already well-rewarded chief executive and his fellow directors.
It had to be Hoggy, really
Scotland last had an outside back as captain in 2007, when Chris Paterson did the job for the Six Nations as Jason White was injured. Mossy also had the job full time in 2004 but didn't last long.
Paterson was actually the last of the full-back captains in any of the four home nations, until Stuart Hogg was appointed skipper of Scotland for the forthcoming Six Nations.
Full-backs as captains are rare these days, even if Scotland have made more of a habit of it than anyone through history. But it was really the only way Gregor Townsend could go.
Hogg is now the senior player in the Scotland squad, the most-capped, and widely acknowledged as the best player we have – possibly ever, as I've argued before in these columns.
He's been vice-captain multiple times, and a member of the leadership group since 2014. He's a double British Lion, and the face the world thinks of when they consider Scottish Rugby.
If he wanted the job – and it seems that he did, very much – there is no real way he could or should have been denied it.
And if captaincy these days is really a cumulative thing , then all the more reason to make him the figurehead. He'll be supported manfully by team leaders both established – Brown, McInally, Gilchrist, Watson, Russell – and those developing fast, like Jamie Ritchie.
Hoggy has the passionate to motivate, and is close to his predecessors who were good at that. He already has the authority of his performances and ability, and is at ease in the public forum so necessary for a national captain.
Of course there's a risk involved. But I think he has the maturity to handle it.
And anyway, who else was there to do the job, really?