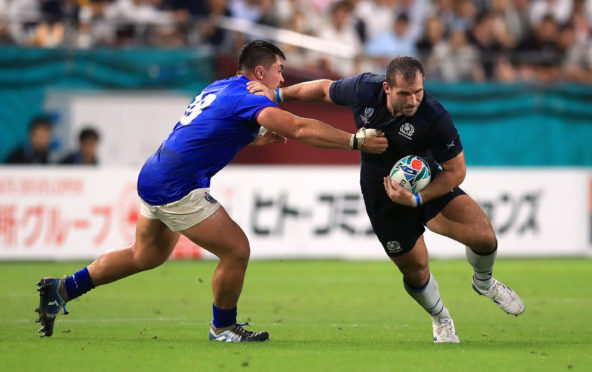 Scotland needs players "pulling in the same direction" if they are to make the improvements from the Rugby World Cup, says senior player Fraser Brown.
The hooker is one of the senior player group in the squad and believes the Finn Russell affair could galvanise those remaining.
Brown said what happened with his former Glasgow Warriors team-mate was "unfortunate" but the team needed to work with one goal.
"It's one of those situations as a group of players where we know we maybe haven't performed that well on the pitch over the last couple of years, so all we wanted to do was all pull in the same direction," he said.
"The idea is that everyone in the squad buys into that so it was unfortunate what happened last
Sunday.
"We were pretty clear on want we wanted to do as a team off the pitch. There is a set of standards and a code we put in place which we want everyone to adhere to. It's down to each individual to make sure they adhere to that and don't let their team-mates down.
"They need to respect the sacrifices that everyone else puts in. You'd have to ask Finn but we just want everyone who is here pulling in the same direction and living up to the same standards between each player."
Fans despairing at Russell's absence were being "disingenuous to the other players we have in this squad," he continued.
"You can't get away from the fact that Finn's a quality rugby player. We have someone like Adam Hastings who's been fantastic for Glasgow over the last month and playing with him week in and week out, I've been lucky enough to see the development in his game.
"He's playing so well and is a much improved communicator on the pitch. He knows how to organise his game and knows how to direct his team in the way he wants and his kicking game has been
brilliant.
"Adam is also such a dangerous attacker so we have plenty of quality operators in our squad."
The squad would be tighter as a result of what had happened last week, he suggested.
"The rhetoric can be a little negative sometimes around issues like this but we have pulled together really tightly as a group of players, because we have new individuals come in but also because we've underperformed over the last couple of years," he said.
"You've got to be tight as a group off the pitch, you can't expect to perform in pressurised environments on the pitch unless you're all together and you're all pulling in the same direction and you've all got each other's backs.
"The mood has been excellent, there are new faces in the camp and there's a real enthusiasm both with those new players coming in and the new coaches.
"There has been a lot of new information to digest and that's been taken on board really well by everyone. There has been a real enthusiasm in training and a good energy."
And Stuart Hogg's influence as new captain has been pivotal to the atmosphere, he said.
"Stuart's been brilliant, across the park," said Brown. "From the first minute, he's been really clear of the expectations he and the other leaders in the group want to drive.
"He's been brilliant at being able to share that load too, and not let it become a burden so I think he's been excellent at bringing other people with him.
"Stuart's very passionate about Scotland which is one of the most important things about leading your country, is having a genuine desire and a love for playing for your country. Stuart's got that in abundance.
What he's also got is that he's a quality player, he's one of the best players we've ever had and having that ability alongside his passion it's a great thing."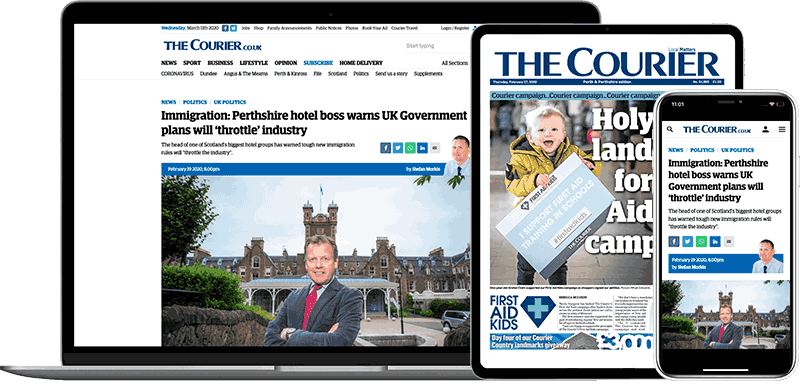 Help support quality local journalism … become a digital subscriber to The Courier
For as little as £5.99 a month you can access all of our content, including Premium articles.
Subscribe