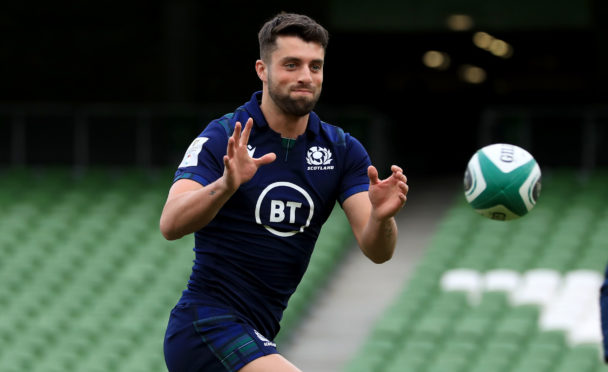 Something needed to change for Scotland after the Rugby World Cup, but although it wasn't expected that would involve Finn Russell not being in Dublin this weekend, change will go ahead nonetheless.
Scotland are rank outsiders in the Aviva Stadium in the Irish capital – a balmy 15 degrees for the last day in January yesterday – and without their star stand-off.
But according to assistant coach Mike Blair, the issue of the missing playmaker has "already been parked" and the team have moved on to changes that were necessary after the disappointing campaign in Japan.
"It was obvious that after the World Cup something needed to change, that we needed to mix up what we were doing, because what we'd planned didn't work," he admitted.
"Some of those things were selection based, other things were style based or option-taking based. "Ireland away is a pretty tough opener, but we feel we've got the players in a good position to be able to perform and they're looking confident out there."
Even with Russell at the helm, Scotland scored one try in 160 minutes of rugby against Ireland in 2019, and that score was due to one of the stand-off's opportunistic interceptions.
And things hardly seemed better with the roles reversed. Ireland battered at the Scots' defensive underbelly in Yokohama in their World Cup game in September and found it to be soft. Three tries in the first 24 minutes built a comfortable 19-3 lead and after all the optimism and talk of the perfect preparations for Japan, there was no way back.
Scotland have a new defence coach in Steve Tandy and reportedly a new philosophy, but they've had less than a month to implement it and you feel it can't really be that much different to that of four months ago.
For Blair, this transition has taken place and gone more seamlessly than expected, although the acid test is clearly when referee Mathieu Raynal blows his whistle at 4.45 this afternoon.
"You'd think it would be a challenge but there's been a clarity with which guys have come in and explained exactly what they want," he said. "The first couple of defensive sessions the players were really aware of exactly what Steve wanted and how he wanted to go about things.
"Ireland traditionally have been conservative with the way they play, and we anticipate with Andy Farrell taking over the phase attack stuff that there will probably be more League-style shapes in attack – Saracens-type shapes, Leinster-type shapes.
"I think they'll take us on and see how we respond to that, much like they did at the World Cup. It's crucial for us to front us to that, and to show them that's not a way they can beat us. But they'll have a bit more variety about their game, I expect."
Scotland's record in Dublin in recent times is awful – just the win at Croke Park in 2010, and the last win on this specific site in the well-to-do Ballsbridge district was in 1998, when George Graham, whose son has since played for Scotland, scored the crucial try.
Blair played in the 2010 as a replacement, but doesn't recall much about it. To jog his and everyone else's memory, it was a real against the odds performance.
Ireland had their golden generation in full, and they were already massive favourites going for a Triple Crown in their final game at Croke Park on St Patrick's Day weekend against a Scotland team with only a draw against England to their name in the championship.
Brian O'Driscoll scored an early try, but Scotland rallied with an immense defensive performance and Dan Parks' late penalty secured Andy Robinson's only away win in the Six Nations during his tenure.
Parks never lacked for confidence in himself, and according to Blair neither does Adam Hastings.
"100 percent he's loving it," he said. "He's stepped up in training, he's bossing the guys, he's a really confident guy anyway, and he's really competitive.
"He's got this opportunity to nail the position down, and the details he's providing, the way he's speaking to the players, the way he's training, has been really impressive.
"Can he secure the shirt even if Finn comes back? Absolutely, with the talent that he's got."