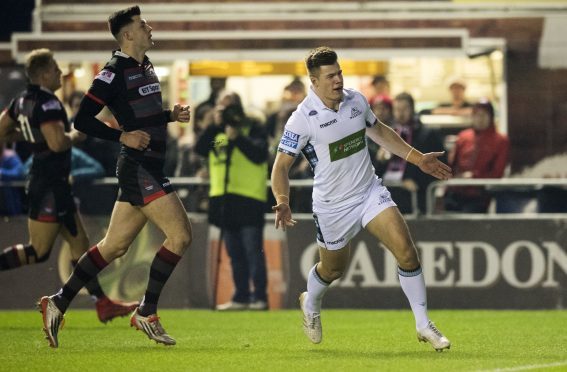 No-one said it would be easy or happen overnight, but Danny Wilson's plan to make Glasgow Warriors a touch more pragmatic has some way to go, if the opening weekend of the PRO14 is anything to go by.
"I was a good learner for understanding we have made some strides and where we still need to make a few," he said of the defeat to Connacht, where the Warriors "certainly handed them a couple of soft scores off the back of not managing the game well".
Scarlets, the visitors in the first post-lockdown game at Scotstoun on Sunday are another team who feast on opposition mistakes, and a similar open game will be right up their street.
"We certainly can't feed the Scarlets as we did Connacht at times," he said. "They are another team that will play as well off unstructured rugby, if you feed Scarlets in the wrong part of the pitch they have lethal counter-attack players that will hurt you.
"At the same time, I think we showed our attacking intent against Connacht.  "We don't want to lose that flair and way of playing because it is an important way to score points. We scored three outstanding tries, each very different.
""We got ourselves in a position to win a tight away game by scoring 24 points away from home – you've got to win those. We have to improve our discipline and our game management to win those tight games."
On the positive side, it looks like Huw Jones is the man for the 15 shirt for the rest of the season, as the international centre scored a try, looked dangerous with ball in hand and solid enough in defence.
"Right now, he's our number one 15, that's clear," said Wilson. "We can only go by that game-by-game, how he's performing and how he's feeling – he's certainly enjoying it and he's certainly playing well – I think he has got better with every game.
"Huw perhaps didn't get as much rugby with Warriors last season as he would have wanted in that 13 slot. You saw how well Nick Grigg went in that position at the weekend as well. So, it is great to get them on the field together.
"I only just sat and had a good chat with him, and I asked how he was enjoying it at 15, and his exact words were 'I'm loving it'.
"He enjoys being on a rugby field full-stop. He's an international 13 but at the moment he is really enjoying playing 15. I think it gives him that little bit more freedom, and we all know about the running threat that he is.
"He's got a spring in his step at the moment. He's enjoying his rugby, he's enjoying playing 15, and with a lot of boys that motivation is the key to them performing well."
Another area of improvement is contact, where the team now appear in synch with the changed priorities at the breakdown.
"That is an area that is definitely improved since the first game against Edinburgh," said Wilson. "The last two games have been good. We only conceded two jackal turnovers at the weekend, while it was more like five or six against Edinburgh."
Wilson hopes to have Zander Fagerson and Tom Gordon back from Covid contact protocols for this weekend, but Sam Johnson may be missing again unless he can complete a full week of training.