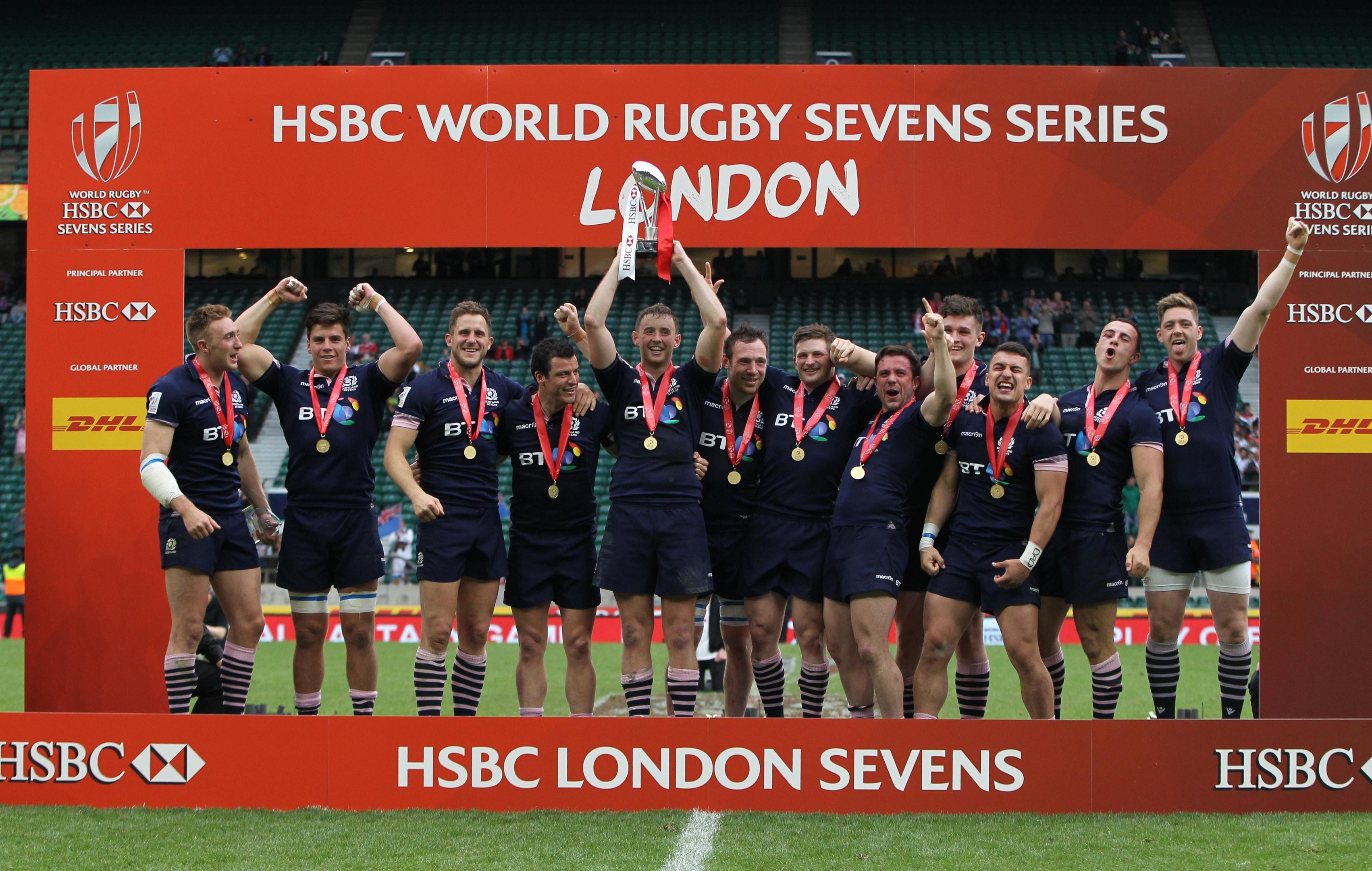 Arriving back with the World Rugby HSBC Sevens Series trophy won in thrilling fashion at Twickenham on Sunday, some of the Scotland 7s squad could be forgiven for wearing wry smiles as they were greeted at Murrayfield.
Long-time 7s stalwarts like captain Scott Wight, 50-times capped Scott Riddell and the former Perthshire and Dundee HSFP flier James Fleming, for example. Only a year ago they were facing the axe from Murrayfield's beancounters, possibly facing the end of their professional rugby careers.
Instead, they are now feted after their first ever victory in the World 7s Series, at the showpiece finale in London. They're an unexpected source of pride and admiration, particularly after they rallied an 11-point deficit in the final against South Africa's "Blitzboks" with 25 seconds left on the game clock.
Far from facing a career change, there's now growing pressure on Great Britain head coach Simon Amor to rethink his prospective squad for the return of rugby to the Olympics in Rio in August.
The squad currently features 15 Englishmen and only a handful of Scots, but Scotland have comfortably beaten England in the last two 7s events in Paris and London, beating them 17-0 on their own turf in Sunday morning's quarter-final.
As Fleming noted on Twitter at the weekend, it was the culmination of a long road.
"That win goes to everyone who has been part of the 7s rollercoaster down the years," he wrote. "I've been involved with some serious highs and lows with this group and it's amazing to have topped it all.
"There isn't a harder working group of boys who fill that jersey with so much pride. Believe."
There were actually reasonable grounds for the axe hanging over the 7s squad this time last year. Scotland hadn't got a great record despite being ever-presents on the international circuit from the outset, unlike Wales and France, who have dipped in and out, and Ireland, who hadn't bothered with 7s at all until they recently and hastily raised a team for the Olympics.
The Scots got mighty close to being relegated from being a core nation in the series just a couple of years ago as popularity grew and nations without much of a rugby heritage – like Kenya and the USA – developed competitive and winning teams.
There was also a feeling Scotland didn't really know what their 7s team was for; a full-time unit aiming to win events on the circuit, or a developmental tool to aid the pro teams?
Scotland lost its home leg of the Series, laterally staged in Glasgow, to more glamourous Paris. It was World Cup year, and Scottish Rugby had no revenue-raising autumn internationals, while facing pressure to divert more funds to the pro teams after Glasgow's breakthrough PRO12 title. The 7s were considered expendable.
Even the eleventh hour reprieve for the squad, after an outcry from supporters pointing out that as the originators of the reduced game at Melrose, Scotland simply HAD to be involved, came with caveats. A slashed budget, fewer full-time players, more guys to be drafted in when considered surplus to requirements at the pro teams.
Even at the weekend two of the winning squad, Glasgow's Hugh Blake and the two-try hero of the final, Edinburgh's Dougie Fife, are seeing out the last few weeks of their contracts with no offers on the table.
There's something appealingly Scottish about having success just when we're apparently about to give up. But discarding that flippant assessment, one has to give full credit to all those involved.
Calum MacRae took over as head coach and instilled a different kind of innovative playing style – personified by the mini driving maul that produced a try in the final – while making the most of his selection limitations. Scotland have been noticeably more competitive around the circuit this year.
Wight has always been a great footballer, Mark Robertson, James Johnstone and Riddell his willing lieutenants. The team has real strike power out wide with Jamie Farndale and Fleming, augmented by Fife and Damien Hoyland for the London event.
Hoyland's release to play – he is to tour Japan with Vern Cotter's Scotland squad in June – was maybe a sign of a turn in attitude at Murrayfield.
The reaction of the Scottish rugby public to this win could be another nudge for them. Rio might well be another.