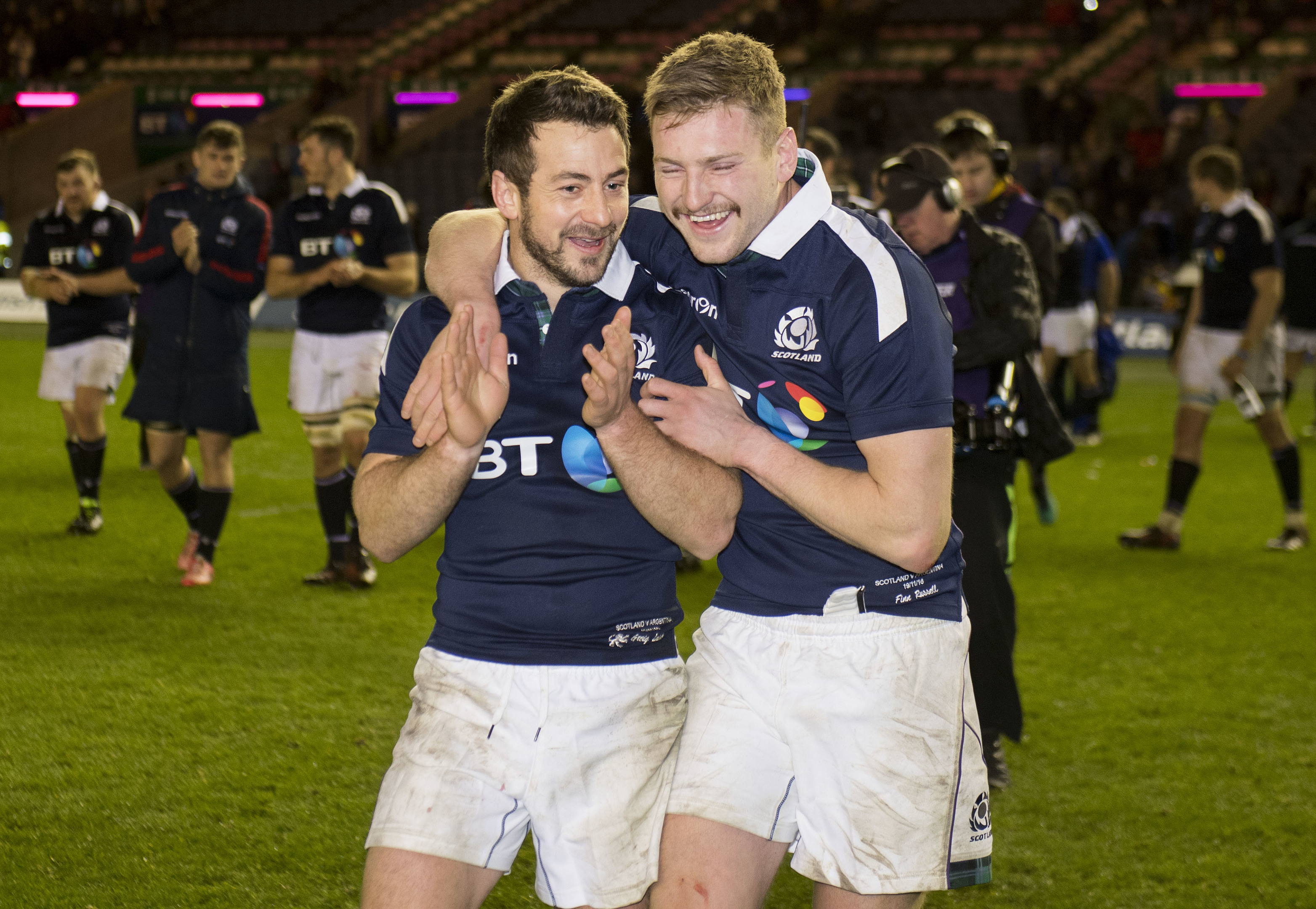 Finn Russell knew that he wouldn't have to drop a goal to win Saturday's tight test with Argentina at Murrayfield because he predicted a penalty would be coming.
The stand-off had missed two drop goal attempts but he knew he wouldn't have to try a third as he spotted the way Argentina were defending the Scots' final push and mentioned it to team-mate John Barclay.
"When Greig had the penalty that hit off the post, I said to Barcs, "They are diving at our knees. If we go into a similar sort of play we can get a penalty"," said the stand-off.
"It was quite funny that is exactly what happened, and I knew we were going to force a penalty."
Russell doesn't lack for confidence but admits that he hasn't hit on any of the four drop goals he's tried in his 21 tests for Scotland.
"It is not something we have worked on that much," he admitted. "Greig and I will look at that together and look to improve."
The stand-off said he always preferred to think of five points rather than three even when a "take the points" scenario arose during games.
"For me I am generally thinking about tries," he continued. "I haven't been in the situation yet to hit a drop goal to win a match.
"If I was looking at a drop it would be mainly due to us having advantage, but even if we have advantage I would rather play it through the hands and try to score a try rather than hit a drop kick.
"I believe Dan Carter had just six drops in 102 tests; that's not massive but he was able to hit them when he had to. He had one in the World Cup Final for example.
"It is something good to have in the locker if I need to use it, and it's a hard thing to replicate in training with guys running at you. I think at the second one on Saturday I just needed a little more depth, but I will look over it with Greig and we will run a few scenarios through the week."
Russell believes that the lessons learned from the first two tests are going to be vital going into this week's clash with Georgia on Kilmarnock's artificial surface at Rugby Park.
"We put into practice what we learned against Australia by the way we closed out the game on Saturday, and we learned more lessons from that game because it was very different," he said.
"It was wet and handling was difficult so we had to play a more direct game, but we showed we could do that. We'll also gain in confidence from pulling out a win from that situation; I think we would have been hugely disappointed to have drawn or lost that game."
Joining the attacking flair of the Australia game to the control in the later stages of the Puma win was the aim for Georgia.
"If we can take away a few of the unforced errors we had, tidy a few things up, and show the attacking quality against Australia it can be a different game at the weekend, he said.
"I am looking forward to Kilmarnock, it is a good pitch, we have played there quite a lot now.
"The Glasgow boys in particular are used to playing on that kind of surface and it suits the style of rugby we want to play."