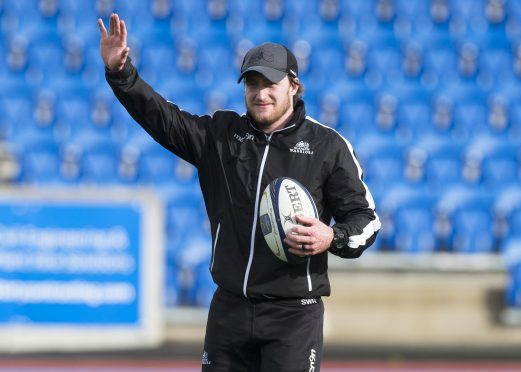 Stuart Hogg's "energy and enthusiasm" will give Glasgow Warriors the lift they need to relaunch their European Rugby Champions' Cup clash with Leinster at Scotstoun on Saturday.
The Scotland and Lions full-back is set to make his long-awaited comeback since he ran into Conor Murray's elbow in Canterbury in June, and then had surgery to solve a shoulder issue that had been managed throughout last season.
"Hoggy is running around and he is available for selection, that is the big one I guess," said Warriors attack coach Jason O'Halloran.
"That is great, Ruaridh has played outstandingly in Hoggy's absence but we felt we needed to get him in there this weekend.
"We would have liked to have brought him off the bench against Exeter but that was not available to us so didn't happen. He has done well in training and we are looking at him to be involved this weekend."
His presence will partly assuage the loss of Fraser Brown, who has not yet been diagnosed long-term after leaving the field against Exeter on Saturday after barely ten minutes, but will certainly not be in the squad for Leinster.
The Warriors felt they were too readily pushed wide on the attack in the 24-15 defeat to the English champions, and were furious about the 12 penalties conceded they felt gave Exeter a crucial foothold in their territory.
"We were guilty of trying to put too much width when going through or around the ruck would be a better option," continued O'Halloran.
"It's been good for us, highlighted an area of the game where we have to develop a bit more. We don't want to be a one-dimensional team going east-west all day.
"We want to go up the middle at times and hopefully we will have a bit of balance to our game against Leinster."
The game has highlighted the difference between the PRO14 and Europe, believes the former Scotland assistant coach.
"The PRO14 has been won by expansive teams in the last three campaigns, Glasgow, Connacht and Scarlets," he pointed out. "Europe is a completely different competition it is win at all costs, it is more about winning the physical battle and trying to bully teams, particularly away from home.
"In this you have to be right from the word go. It means you have to be a bit more conservative.
"Winning by any means possible; if it means winning by multiples of three then that is how teams will go about it."
They're not taking the excuse of the South African trip the previous week for last week's loss, the first of the season.
"The kicking game and discipline were the two main things that really let us down," he said. "I don't think we lacked preparation at all.
"Maybe we lacked a bit of urgency to get a bit of strength in attack at times because of the travel but we can't use that as an excuse as we need to be better on the day."