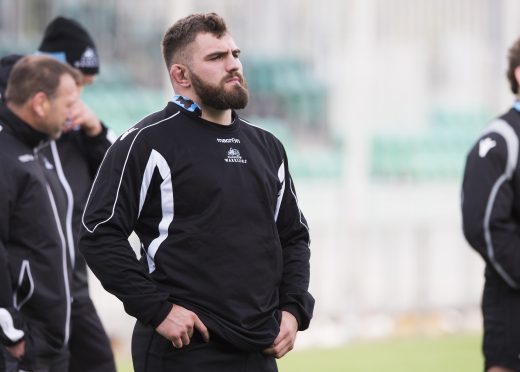 Hauling carcasses in the abattoir makes locking horns with the best tight-heads in European rugby a breeze for Jamie Bhatti.
This week's European Rugby Champions meeting with Leinster will mark ten games into his first professional season and the 24-year-old former slaughterman from Sauchie has played in every one for the Glasgow Warriors, and wouldn't blink if Dave Rennie said he had to play in another ten-in-a-row.
"I'll play every game if I'm allowed to," he said. "Only five months into my first pro contract and it's been brilliant.
"There's been a few injuries, to Oli (Kebble) and a couple of others, and I've been fit and firing and putting my hand up for selection.
"It helped having such a good pre-season, I think. I was here for the full thing when the Scotland boys were away on tour and you know you want to push on and get the first games in the season under your belt."
Bhatti, who came up all the way from the minis to the first XV at Stirling County before playing the last two seasons with Melrose as he moved from the slaughterhouse to being an Academy player, is as surprised as anyone with his progress.
"I wasn't expecting it, I don't think anyone was," he said. "I had six games out of the Academy last year and the first one was down against Scarlets when we got really horsed.
"I remember thinking after that `this is a bit of a step up from playing on a Saturday at Melrose'. But it's like anything, the more you play the more you get up to the pace.
"But when you get to this stage, you don't have time to sit back and think, `wow I've played ten games in a row'. You just focus opn what's next and keep going."
Bhatti's first experience of European rugby was a pretty brutal one at Exeter, and he definitely felt the rise in intensity from his PRO14 experiences.
"The physicality was right up there with anything I've faced, but you just have to front up, it's not exactly going to get any easier in this pool with Leinster and Montpellier," he pointed out.
"Exeter was tough but we allowed ourselves to be put under pressure and gave away too many penalties which let them into the game. If we keep the ball, don't give away so many penalties and execute better, that should do the job this week.
"Leinster are a physical team with a few Lions boys in there, and they played well against Montpellier.
"There's no escaping it, it's a must win for us now. We're at home and we definitely have to win this game."