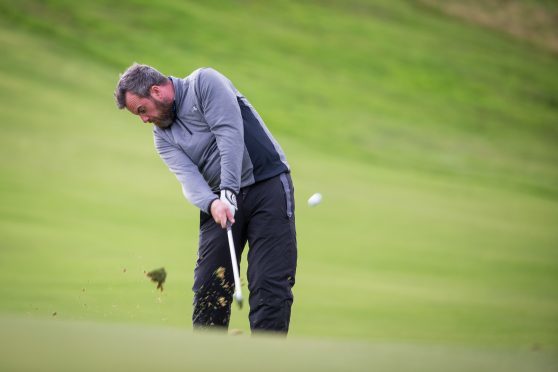 Chris Kelly won't be fooled by anything, not even a five-stroke lead on a King's Course where he's won the M&H Logistics Scottish Professional Championship before.
The 40-year-old, twice a winner of the national title at Gleneagles, has been struggling for form for so long that even the impressive ten-under score and a comfortable cushion with 18 holes to play in the weather-shortened event can convince him to look on the bright side.
"A five shot cushion can go in five holes here," he said. "Paul O'Hara (in second place) is leading the Order of Merit and he's been playing solid all season.
"I played with a good player today," he added, referring to playing partner, multiple Order of Merit winner Greig Hutcheon. "Guys who can beat Hutch over a season can definitely play."
Despite his pessimistic protestations – "it may all come crashing down pretty quickly" – Kelly is clearly in command of his own destiny for a third title to go with those he won in 2003 and 2015, and join a select band who have won one of the oldest titles in golf more than twice – including legends like John Panton, Eric Brown (eight each), Sam Torrance (five times) and Bernard Gallacher (four).
Kelly followed his 63 on Tuesday with a three-under 67 in trickier and tougher conditions, with the wind coming from the opposite to the usual direction.
"I couldn't even reach the saddle at the 18th, and I can't remember when that last happened," he said of the wind. "Normally here you reach the 9th and take a deep breath because you've got through the really hard half, but today was different."
He had a lost ball for a double bogey on the seventh but bookended that with an eagle of the sixth and a bounceback birdie on the short eighth. Despite the wind against, he still got his regulation birdies at the short par four 14th and the 18th to set a distant target for O'Hara and the chasing pack.
"I've played this for long enough to know it only takes a little thing to go wrong and a 67 turns into a 77," he said. "I'm astounded by where I am. I've not played a lot of golf recently, but I've played well this week and every time I leave myself a tricky one for par I seem to knock it in.
"I'm happy that I'm playing well, but there's no plan other than to go and enjoy playing golf tomorrow. I think it shows deep down somewhere, the ability to play really well is still there."
O'Hara won't give up the chase quite yet but couldn't make up any ground yesterday, once again playing better into the wind than he did with it in his favour.
One-over at the turn, he picked up two-putt birdies at 14 and 18 to finish with a 69, but well adrift of Kelly.
"I never really got going," he said. "My driving was my strength and I had a lot of chances from 10 to 15 feet but didn't get any of them.
"One bogey over two rounds, and in the rough only the once, I'll definitely take that."
Greg McBain from Newmachar is alone in third after rounds of 68 and 69.
Meanwhile in the Middle East Scot Robert MacIntyre, in only his second event since turning professional, won the Sahara Kuwait Golf Championship on the MENA (Middle East and North Africa) Tour.
The left-hander, who played for GB&I in the Walker Cup just last month, shot rounds of 65-66-65 to win the first prize of €9000 by two shots. MacIntyre, from the Glencruitten club in Oban, finished in a tie for second in his first pro start, also on the MENA Tour in Jordan.