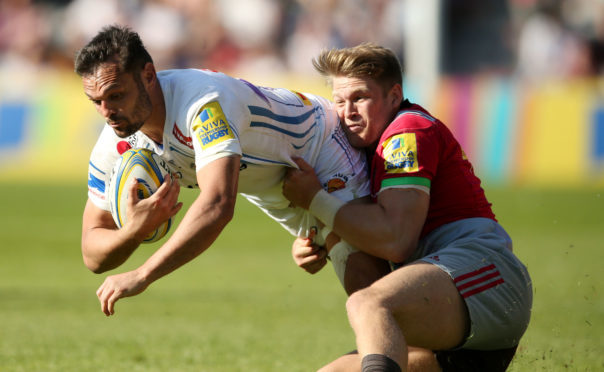 International eligibility has become "a competitive market" with nations battling for up and coming names who are dual-qualified, believes Scotland coach Gregor Townsend.
Townsend doesn't believe the RFU and English clubs have started "flexing their muscles" by insisting players stick with English eligibility, such as in recent cases like former Scotland captain Bryan Redpath's son Cameron, who it's rumoured could tour with England to South Africa this summer at just 18.
The Scotland head coach has picked Harlequins' Middlesex-born utility back James Lang in the touring party which will play three tests in the Americas this summer rather than try to convince the young Redpath, who only graduates from the Sale Sharks Academy this summer, to join up with the Scots.
"I would hope so," said the coach when asked whether Redpath could be convinced to declare for Scotland in the future. "He is obviously just 18 years old and has a big season ahead of him next year, leaving school and becoming a professional, joining that Sale group full-time.
"I'm sure he's going to have a busy summer whether he's with England Under-20s in the World Cup or if Eddie Jones takes him to South Africa with the England team.
"Of course, if he becomes a better player, which we all hope he does, and gets on to the horizon of playing international rugby, I would love him to play for Scotland like his dad did. But I don't think it would be right to take him on a tour like this.
"If the senior England team are seriously considering taking him on tour, that's their decision. But he's got a big season next year as he leaves school and tries to improve as a professional rugby player."
Scotland hadn't changed their approach to finding eligible players to augment a small player base, but maybe England had, suggested Townsend.
"In the history of our game we have always brought in players who are qualified for more than just Scotland, there has not really been a change there," he continued. "A number of our players have been brought up in England and there are a number of exiles in our age-grade teams.
"From our perspective we obviously wanted to make sure we did that job as thoroughly as possible. Having a scouting network is about trying to make sure we don't miss anybody.
"These players are more on the horizon for England than before, which is a credit to them as players. Maybe England are putting more emphasis on it than before. Certainly it is a competitive market now."
As for Lang, they knew about his Scottish eligibility – his maternal grandfather was born in Cambuslang – and although he's played 10, 12 and 15 for Harlequins, they're looking at him as a kicking "second stand-off" operating at 12, the kind of role Peter Horne has had in recent seasons.
"We've know for a while James is Scottish qualified," continued Townsend. "I had looked at him and we kept an eye on him throughout the season.
"He had a cracking game against Wasps before Christmas and we tracked him a lot closer for the past two months.
"I spoke to him during the Six Nations to say we were (watching) and he could be in the mix for summer as a 12.
"He has that ball-carrying ability and his biggest strength is his ability to break tackles. But his ability to play 10 means we have a second receiver, a second kicker. That's something we want to explore."