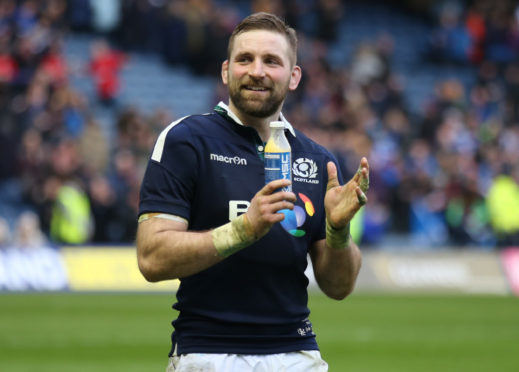 John Barclay's close friend Ryan Wilson is "the heartbeat" of the Glasgow Warriors, but the Scotland captain plans to leave him brokenhearted at the end of tomorrow's Guinness PRO14 semi-final at Scotstoun.
A former Warrior himself, Barclay will instead be leading out Scarlets in what could be his final game for the Welsh region – although quite clearly he'd prefer that to be in the Grand Final in Dublin.
"It might be my last game and it might not," he said. "I'm certainly aware it's my last couple of weeks here (before he moves to Edinburgh in the summer). But there's too much going on to think too much about that.
"It's going to be tough. It's a semi-final and that means you've got a couple of the top teams in the league going up against each other. We know it will be tough on the prize at the end of it is one more game in Dublin."
And Wilson, not the stars Russell or Hogg or Jones, is the man Scarlets must target, believes Barclay.
"He's captain and the heartbeat of that team on and off the pitch," added Barclay. "He's one of my best friends and I know he's passionate about where he is trying to take Glasgow and what they can do, otherwise he wouldn't have committed to re-signing for them.
"He's a very important player to them, he's involved in most of the good things they do, so it will be nice to have another game against him.
"I'll want to get the better of the one-on-ones, but it is impossible to follow someone around the pitch much these days."
Barclay doesn't think you can look too much into recent results, specifically the way the Scarlets were beasted by Leinster in the European Cup semi-finals or their comfortable win over the Warriors in their last meeting a month ago.
"I don't think it was that game was that one-sided," he said of the last mereting. "We kind of got away from them in the second half.
"We played quite well and it was one of those days when they probably didn't fire as many shots as they wanted to. We'll have a look at it and find areas where we felt we did well against them, but I know how disappointed they were after the game.
"They've had a really good season and their record at home is outstanding. We know it's a big challenge."
Personally, Barclay had just one season at Scotstoun before he left for Wales but even then felt the club had found their home at last.
"It did feel like that so I obviously felt a connection, and sure enough the growth of the club since the move has been incredible.
"I've not played there for a couple of years – I think our fixtures have been during the Autumn international stuff, but it is always nice to go home and see some of the old faces
"My last game there was my 150th for Glasgow, but we had a semi-final the next week, so it didn't feel like my last game. It was Graeme Morrison's last game as well, obviously we are best mates so we ran out together, which is a nice memory."
And if it starts this weekend or next, Barclay is due a well-deserved rest having been excused tour duty with Scotland – although far from voluntarily.
"I always want to play for Scotland but I understood that it was my heart rather than my head speaking," he admitted.
"I'm gutted, disappointed to miss the tour but there's a lot going on in terms of moving clubs ahead of another long season, and with hopefully the World Cup coming over the horizon, it was the right decision."