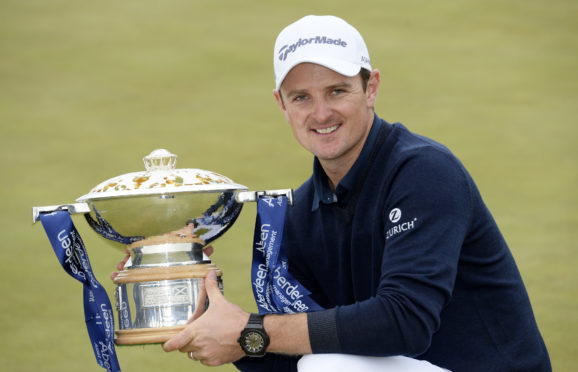 Justin Rose is gearing for a couple of months where he can make an assault on the World No 1 – and where better to get there in the fortnight of the Open Championship and the Aberdeen Standard Investment Scottish Open.
The 2014 champion at Royal Aberdeen has confirmed his presence for the 2018 event at Gullane in July, and his belief that two weeks of links golf can get him to the summit of the game, recently taken by Justin Thomas from Dustin Johnson.
"I haven't focused on it at all until last week, when it was brought to my attention that it was a possibility," he admitted.
"Of course it's a goal, a dream to say you are the No. 1 player in the world, but it's a by-product of playing great golf.
"Justin Thomas nipped in there last week but there are a lot of guys – Jordan Spieth, Jon Rahm, Dustin Johnson – who are right there and it could trade around quite a bit in the coming weeks.
"But the chance to make that No 1 spot mine with some great golf coming up, it's a huge motivation."
Rose treasures his Scottish Open victory at Royal Aberdeen, and it's made it so mucyh more than just a week to prepare for the Open Championship.
"It's always easy to say that the week before a major championship, you want to prepare for the major, but the Scottish Open is such a big event in its own right.
"It's a Rolex Series event. Aberdeen Standard Investment have supported it for a long time, Martin Gilbert is clearly passionate about golf – and the Scottish government have put a lot of time and effort behind this.
"They've grown it into the event it should be, with the history of golf in Scotland, the home of golf.
"This event should be at the very top of the tree in terms of the Race to Dubai and the European Tour."
But it does provide perfect links preparation.
"Winning at Royal Aberdeen was a big moment in my career, winning on a links golf course, something I'd never achieved before.
'What I love is you have so many options. You can be aggressive, thread the needle through pot bunkers and have a wedge in your hand.
"Or you can do what I did at Royal Aberdeen, play four and five irons off the tee, hit mid-irons into the green. That's how I closed out that tournament.
"I remember thinking I wasn't playing too well and I'd been playing with Lee (Westwood) the first two days.
"Then Billy (Foster, Westwood's caddie) came over to me at the end of the second round and said `Well played, mate, you're going to be hard to beat this week.'
"That gave me confidence, thinking maybe my game looked better than it felt."
And with Carnoustie to follow, Rose thinks the fortnight shapes up perfectly for him.
"Tough courses are good for me, that's how I frame it in my head," he said. "The places where par is a good score and shooting under par means you're making inroads to winning.
"Carnoustie will be that way. We all saw 1999, but I've also shot low rounds during the Dunhill Links, so I've seen it play both ways.
"You can't fake it around that course. You have to play really good golf. But I think it fits into my wheelhouse."