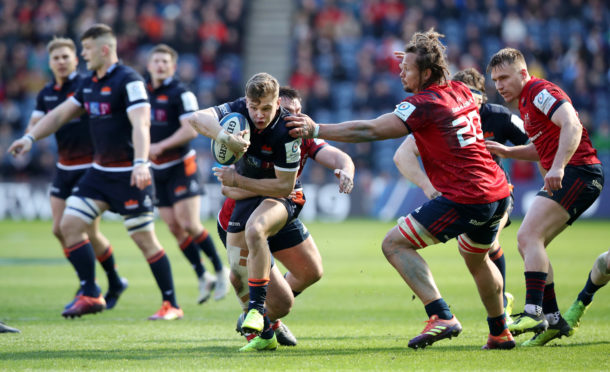 Richard Cockerill believes "massive" games are still to come in this season, but it didn't feel that way in the aftermath of Saturday's Heineken Champions Cup quarter-final.
Edinburgh's 17-13 defeat to Munster was a game that tested the resilience of both teams and found the Irish team's just a little more robust. The trick for Cockerill now, with an uphill battle to make sure his team reach the premier competition next season and only three games to secure it, is to try and re-energise his squad after this one got away.
"We'll recover, we'll get ourselves right, and the reality is we've got three games left in the season," said Cockerill. "We need to be right for them.
"What happens in the next three weeks will have an impact on what happens over the next 12 months. We need to make sure that the next three games are solid and we try to get into the play-offs for the PRO14 and qualify for Europe."
There will be no navel-gazing or hanging back, the head coach promised.
"There's no point in resting people for these three games," he said. "What are the resting for? The beach?
"These lads, are not a protected species. They need to learn to rock up week in, week out, look after themselves properly, prepare properly and play to win. We did it last week and we've shown it today, and we've got to do it again next week and the week after.
"We go to Glasgow at the end of the season. Our season is not dead. We've got to play every minute like it matters until we can't go any further."
It sounds simple enough, but the deflating nature of Saturday's game can't be understated.
Munster did what Munster do, standing up and fighting and being in the mix at the end so that they can take the rare chance that might come their way. But Edinburgh will rightly feel that this was a milestone win that somehow slipped from their grasp.
There were plenty of turning points in the game – strangely for a contest so slow moving it must have been fairly torturous for the uncommitted – but two stood out glaringly.
The obvious one was prop Pierre Schoeman's  off-the-ball hit on Tadgh Beirne that allowed the officials to confer to reverse a key penalty that was going Edinburgh's way, and instead hand Munster the field position from which they scored Keith Earls' decisive try. Schoeman, a possible candidate for man of the match until that moment, was crestfallen afterwards although exonerated by his coach.
But it was deeply ironic given a key element of Edinburgh's play during their European run this season was that their discipline was so good – single figure penalty counts in all their games. They conceded just nine to Munster's 12 on Saturday.
But the other turning point was when Edinburgh had a penalty in the shadow of the Munster posts just a few minutes before and a simple chance to go 16-10 up. They had turned down a couple of makeable penalties – Jaco van der Walt has one of the best placekicking records in Europe this season – to kick for the corner in the first half and been stalled by Munster's swarming defence.
Despite not taking those scoring chances, they had a chance to turn the screw, and it seemed even more acute Munster had chosen to scrum a penalty in the Edinburgh 22 just a few minutes before and had been driven off their ball.
Edinburgh's scrum was solid enough but did not force pressure – Simon Berghan had replaced WP Nel in the time between the two scrums – and when they moved it wide the ball was defended into touch far too easily.
16-10 would have meant tjat a Munster try would probably have done – once ahead you felt there was no way they were going to let it slip – but it would have crucially changed their mindset for the final minutes.
Cockerill will be annoyed because he got so many of the key calls right. Darcy Graham was inspired at full-back, possibly the only cutting edge player on either side on the day, and Damien Hoyland, despite next to no matches since returning from injury, was also excellent.
The way in which the team steeled itself to come back with Chris Dean's try after those early setbacks – failing to punch in the early try-scoring opportunities and then conceding Earls' first try when Beirne was in the sin-bin –  was exemplary and seemed to suggest that same old Edinburgh, too nice and without the resilience to compete at this level, were finally gone.
In the end there was just a little deficit in experience between the sides, and Edinburgh's plan to "out-Munster Munster" probably floundered for want of a tough more of Darcy Graham's kind of flair than brute force.
Last year when Glasgow's European campaign floundered their season spluttered to a stop with it. You've got to wonder if the same will happen after the Warriors' embarrassment at Saracens.
Edinburgh have to prove in these last three games that they are made from stronger stuff. The only way to put Saturday to rights is to get back in the competition and do better next season.