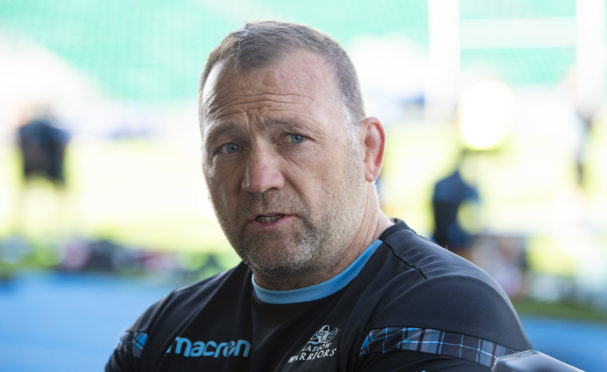 Jonathan Humphreys would only give up his place in Scotland when the Welsh international team called, so it will be a huge wrench to leave his adopted home after the final game at Scotstoun this week.
The forwards coach was with Scotland and then Glasgow for the last two years, and Friday's Guinness PRO14 play-off semi-final is his final game at the Warriors' home ground, a thing he'd tried to put out of his mind.
"I have been putting off thinking about that and you are making me think about it now," he admitted. "I have loved it, being in Scotland has been incredible for me.
"I love the people, the people I coach with, it has just been brilliant. It will be a massive wrench to leave, but the key is now to make it go on for the next couple of weeks."
The Warriors will have been idle in a competitive sense for nearly three weeks when Ulster arrive for the semi-final, but there has been plenty going on in preparation.
"It is a challenge because we had good momentum up past the Edinburgh game and a good feeling amongst the group," he said. "We had that two weekends to make sure where we have to be, to get to Friday and be better than we were in the last game we played against Edinburgh.
"We knew what happened last year and we hoped we would be in the play-offs again, but wehave been thinking about that all year and working on energy, confidence and momentum.
"We have got that after the Saracens game and the squad has been unbelievable to beat Ulster, Leinster and then Edinburgh."
That defeat to Saracens in Europe has become a cathartic moment for the Warriors, and even the fact that the English team went on to win the Heineken Champions' Cup so impressively hasn't taken the edge off the hurt from the quarter-final.
"We want to get better and we don't put a ceiling on that," continued Humphreys. "Saracens are the best team in Europe, but we didn't perform that day. That gave us the kick that we needed.
"Every time we go out on the training field we need to be better when we walk off compared to when we walked on. The level of performance against Edinburgh was good but we have to be better."
Ulster will be a tough proposition even if they were the first team Glasgow beat in the current run of victories.
"This is the play-offs," he said. "This is where everybody wants to be at this time of year so we are expecting a real fired up team, a real physical team but we believe if we play well we have a great chance of winning.
"The guys have been brilliant this last few weeks. It has been great to welcome some of the players back from injuries and niggles but this is the way we have operated for long parts of the season.
"There is no guarantee whatever your name is. Just look at the way Tom (Gordon) emerged against Edinburgh having waited for his chance. There is huge competition within this group.
"Everybody is aware that regardless who you are, regardless of your reputation, you will get a chance in this team. The competition is massive."