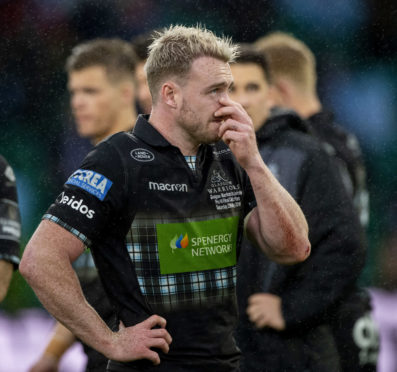 It seemed a ludicrous decision at the time, and hasn't been placated by watching it back later.
No, not that one – we'll get to it in time – but Fraser Brown's blindside, no-arms clearout on Luke McGrath midway through the first half of the Guinness PRO14 final.
Brown, a placid enough soul off the field, sometimes sees red on it but he didn't even see a yellow card for his somewhat petulant – he'd just had a lineout throw stolen – smash on the defenceless Leinster scrum-half.
Nigel Owens and Ian Davies, the TMO, decided Brown was going for the ball. No matter that McGrath, blamelessly, was in his way, that there was more shoulder than anything involved. It was not more than a yellow card, but a stonewall one, mystifyingly not given.
Later, of course, came the incident that had Glasgow and their fans in fury, Rob Kearney taking out Stuart Hogg as he went for a high ball. The mitigation was that Kearney was focused on the ball (despite no real evidence of that) and that Hogg landed on his shoulder.
Still, Hogg was concussed and out of the game. Even allowing that a red card for Kearney would have meant he missed only another five minutes of the final – during which he was entirely unlikely to touch the ball given Leinster's style of play – there is a principle here that goes beyond any effect of the incident on the result.
It's that rugby fluctuates wildly between "player care" and "benefit of the doubt" in these collisions, meaning there's no consistency. Owens was probably applying the letter of the law with Kearney and Brown, but it's still wrong.
The old rule that intent didn't matter seemed unfair, but it really wasn't. Instances like these were going out of the game thanks to the strict interpretation. Now they're creeping back in, and a mid-air assault somehow counts for less if the victim, in instinctive self-preservation, throws out an arm to break his fall.
Kearney getting red probably wouldn't have helped Glasgow – as Dave Rennie pointed out, they lost Hogg anyway. But it would help the game of rugby.