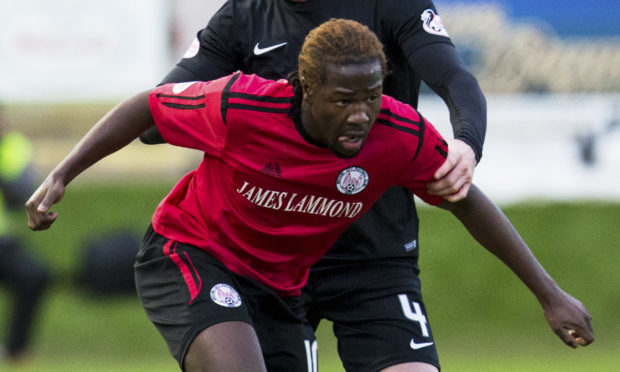 A former Brechin City footballer put his hands up the skirt of a woman at a Hallow'een party.
Isaac Layne's victim, a Stirling University student, said the striker would not leave her alone at the event at a nightclub in Stirling.
On the club dance floor she suddenly became aware of a tall black male in an unbuttoned shirt – who turned out to be former Brechin striker Layne – dancing "very, very close" behind her.
She said: "He came up behind me and put his hands on my waist. He was trying to grind on me. I was trying to get away. I moved my shoulder back to try to brush him off and put my hand up.
"He wouldn't go away.
"He put his hand under my skirt on my thighs, three to four inches above my knee. I felt his hands graze my underwear. They were on the bikini line of my pants.
"I was shouting at him to go away and my friend was also telling him to go away, but he wouldn't, it just progressed.
"He was putting his hands on my legs and moving them onto my thighs.
"I could feel his hands going on to my upper thighs."
The woman went to the toilet, where she burst into tears, and then went out for a "breather", but after a friend calmed her down she agreed to go back on the dance floor, only for Layne to move again.
She said: "We went back into the club to find my housemates. He came back up behind me again.
"We were dancing right in front of the DJ.
"I tried to move back with my friends but he continued trying to dance with me, again being very 'handsy', putting his hands on my waist."
She added: "I was quite unnerved and scared."
Eventually, the woman's friends spoke to bouncers and Layne was ejected from the club, Dusk, in Stirling.
The incident occurred on the night of October 31 and November 1, 2017.
After summary trial at Stirling Sheriff Court, Layne, 23, of Springburn, Glasgow – formerly of Alloa – was found guilty of sexually assaulting the woman by rubbing her thighs under her skirt.
Sheriff Wyllie Robertson said there was no evidence to support a further allegation that he had also touched the woman's private parts, and this was deleted.
Layne did not give evidence, but his lawyer, Robert Smith, said it had been a case of mistaken identity. He submitted there had been an American Football team in the club that night, 60% of them black players.
Sentence was deferred until October 25 for reports and assessment of the risk that Layne, whose previous clubs include Brechin City, Southend, Stirling Albion, Billericay Town and Alloa Athletic, poses to women.
He was placed on the sex offenders' register and released on bail.