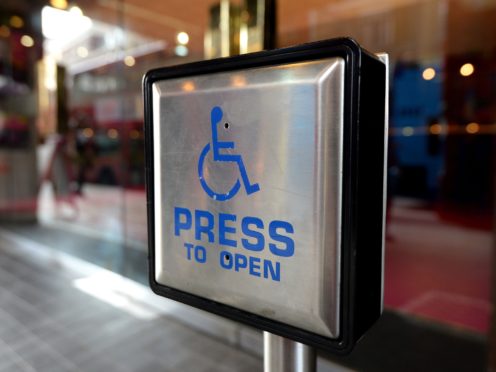 Representation in the arts has faltered, with the low numbers of disabled people in creative careers remaining largely unchanged, an annual study indicates.
Only around 4% of workers in the arts in England are disabled, despite 20% of working age adults in the UK registering disabilities, according to the Arts Council Report into diversity.
Organisations funded by Arts Council England are required to promote diversity but disabled representation has remained more or less static in museums, theatre and music.
Campaigners have called on the arts world to better reflect the "rich diversity of society" and not overlook the contribution disabled people can make.
From 2015-16 to the 2017-18, the proportion of disabled people in groups funded by the arts council in England rose from 4% to 5%.
In museums receiving the same funding, it remained at 4%, while in leadership roles the proportion of disabled staff was around 6% and in artistic roles it was 3%.
Phil Talbot, of disability equality charity Scope, said: "Above all sectors, arts and culture should reflect the rich diversity of society and not overlook the contribution disabled people can make.
"All organisations need to talk with disabled people to understand where they are going wrong and what needs to change.
"When disabled people don't see themselves represented, talent and potential go unrecognised and we lose the opportunity to challenge stigma and stereotypes.
"We need to recognise the huge benefits disabled people can bring to the arts."
Despite funding being dependent on promoting diversity and an increase in grants for disabled-led projects, attempts to increase representation in the arts has stalled,
Grants for majority disabled arts projects were 2% in 2015-16 but have rose to 6% of all grants for the arts valued at 4.3 million in 2017-18.
Representation has not grown at the same rate as funding.
Prominent institutions have low numbers of disabled workers according to Arts Council England data, with the Royal Shakespeare Company recording 3% disabled staff at the last survey.
Sir Nicholas Serota, chairman of Art Council England, said: "In some respects there are improvements; in others we are still treading water. In all areas, we intend to do more.
"We recognise the scale of change we want to achieve will take time, but we would like to see the pace of change accelerate so that both the sector and the Arts Council better reflect the diversity of the local communities we serve up and down the country."
Arts Council England allocates government and National Lottery money, with a commitment to diversity expected from organisations receiving funding.