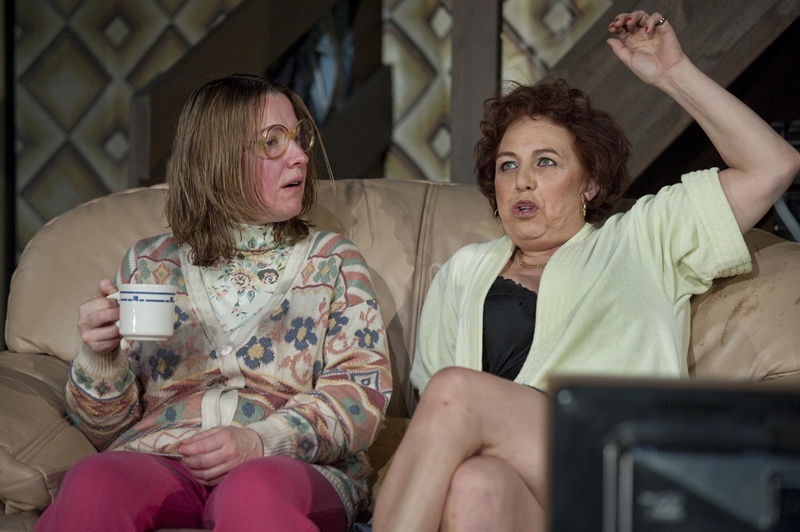 It's been said that comedy is tragedy plus time, and nothing demonstrates this equation more effectively than the Rep Ensemble's new production of Jim Cartwright's The Rise and Fall of Little Voice.
In a first act punctuated by power cuts in the dilapidated Yorkshire home of Mari Hoff (Irene MacDougall) and her painfully shy daughter Little Voice (Ensemble graduate Helen Darbyshire), side-splitting humour contrasts sharply with the reality of lives brimming with poverty and sadness.
The revolving two-floor set designed by Janet Bird gives an extra dimension to the characters as they play out their roles in what resembles a rickety doll's house that could collapse at any minute. Dirty dishes and pyrotechnics every time the kettle is turned on add to the already depressed living arrangement.
There is also an imaginative use of space at the front of the stage, with round tables and ambient lighting creating the effect of being at a cabaret show. When the tinselled curtain falls, the audience is at the "club" where LV will perform.
Originally written to showcase the talents of actress and singer Jane Horrocks, Little Voice was first produced for The National Theatre in 1992 and was later made into a feature film starring Horrocks, Brenda Blethyn, Michael Caine and Ewan McGregor.
Darbyshire is fragile and intriguing as LV, who obsessively listens to her late father's record collection her only remaining connection to him, and a source of solace. Her silent demeanour clashes explosively with MacDougall's Mari, a brash and brazen floozy with a motor mouth filled to bursting with witty remarks and bad language.
MacDougall has the audience in stitches as she totters round her house dressed in the least appropriate attire imaginable and forms part of a double act when supported by her monosyllabic bespectacled friend Sadie May (Emily Winter) whose body language, manner and comedic timing prove delightfully entertaining as she croons "Okaaay" to most things Mari tells her.
Yet, beneath her muted front similar to that of LV's it's clear Sadie has a heart of gold and is aware that Mari's energy and volume may be having a detrimental effect on her daughter.
To escape from reality, LV sings along with the divas from her father's records and, when the music stops, a beautiful voice cuts through the silence. It's clear Darbyshire has an excellent range and her impersonations of singers such as Petula Clark, Dolly Parton, Brigitte Bardot and Peggy Lee win deserved applause.
Robert Paterson's performance as ladies' man Ray Say Mari's latest conquest is also a highly entertaining one charged with soaring levels of testosterone. It is obvious from the minute he hears LV singing in her room while canoodling with Mari on the couch that he wants to cash in on her talent, so her turns on the charm to get what he wants.
John Buick is an excellent crowd-pleaser as Mr Boo, the manager of a seedy night club who finally gives LV her big break, while Rep Ensemble graduate Tony McGeever quite literally shines as Billy, the light-obsessed telephone technician who single-handedly looks out for LV when everyone else is attempting to control her.
The Rise and Fall of Little Voice is packed with entertainment, from the idiosyncrasies of the characters to the witty dialogue and catchy tunes, but in the quieter moments the poetic language of Cartwright's writing filters through, revealing raw truth and emotion behind the apparent lightheartedness.
No part of director Jemima Levick's production is more gripping than when LV finds her voice in a fiery penultimate scene with her mother, but there is also a spark of hope she may finally be able to find a place in the world where she truly belongs.The Rise and Fall of Little Voice runs at the Dundee Rep until March 19. See www.dundeereptheatre.co.uk for more information.